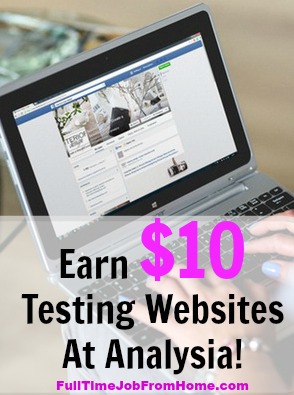 I've recently been on a kick of running into Website Usability Testing sites to review. One I recently found was Analysia, a site that hires almost anyone to complete tests and earn $10 per each test completed.
If you're not familiar with Analysia or usability testing, basically companies hire these sites to hire normal people like you and me to give feedback on their website. For example, you will be recorded and may be asked to navigate a website or add items to your shopping cart. All you need to do is let them know what you like and what confused you.
Usability Testing is a great way to earn an extra income, although each test pays $10 there are not enough tests to make this a full-time income. If you're looking for a large online income, check out My #1 Recommendation, it's how I made over $13,000 online each month!
It really is that easy. Let's go ahead and jump into this Analysia review and learn how you can earn $10 per each usability test.
---
Analysia Requirements

The requirements for Analysia are very simple like I said they are looking for normal people just like me and you. But you will need a computer, internet connection, webcam, and microphone. It also looks like they pay with PayPal only so it is a requirement to have a PayPal account. If you do not have a built-in webcam I highly recommend this high-quality webcam on Amazon.
Other then the main requirements they list you'll need to be able to communicate pretty well so you can provide good feedback for the companies.
---
How Analysia Works
If you've done any usability testing in the past you know exactly what's going on, basically you will be asked to take a look at a company website. While you complete the test you'll be recorded. Most tests require you to complete a few tasks and give some feedback on what you saw.
For example, a shopping website might ask you to add a few items to the cart or navigate to a particular item. All you need to do is tell them what makes sense, what was difficult, and basically your opinion of what they're asking.
As long as you provide quality feedback you'll get paid for your time. From what I've seen most tests take from 10-15 minutes to complete.
---
How Much Does Analysia Pay?
Analysia pays $10 per test you complete. As I mentioned before they pay with PayPal. After you submit your response to the test, your test will be checked for quality and if it's good to go you will have funds available for payment shortly after.
Most tests take around 15 minutes to complete so getting paid $10 per test is a pretty good rate!
---
How Much Can You Make With Analysia?
If you're familiar with Website Usability Testing you know that there are not enough tests to make this a full-time income. It seems that you can expect to receive 2-4 tests per month on average.
With that being said there are many other companies that offer this type of work. If you sign up for multiple sites you can maximize the number of tests you will receive and make a decent extra income off of this type of work.
To see some other sites check out my recommended work at home jobs.
---
Is Analysia A Scam Or Legit?
Analysia is not a scam. It's a completely legit way to make money online. As I mentioned it's not going to be a full-time income, but if you sign up for multiple sites it can be a decent extra income. I've taken a few tests with this company and am pretty happy with how it turned out. I was paid on time and the test took right around 15 minutes.
If Usability testing is something you're interested in you can apply on Analysia's website. I also recommend checking out these other Usability Testing Sites at Scam Free Work From Home Jobs.
---
Usability Testing Not Your Thing?
Some of you may not be interested in usability testing, or might not have the equipment to meet all requirements. Don't worry here are some other sites where you can make some extra income online.
If extra income isn't what you're looking for check out My #1 Recommendation, it's how I made over $13,000 online each month!
Thank you for reading this Analysia Review. Have you done usability testing in the past? Have more information about this company? I'd love to hear your thoughts on Analysia in the comments section below!
If you usability testing isn't for you, check out these helpful links to other ways to make money online:
Work At Home Companies Hiring Now
Extra Income Sites That Pay Me Each Month
How I Made Over $13,000 Online Last Month
Summary
Reviewer
Review Date
Reviewed Item
Author Rating