Clixsense is now called ySense. Throughout this page if I refer to Clixsense it's now ySense!
Several times a week I get emails or comments stating that all of the recommendations I make are not available in your country. So today I'd like to take the time to cover my favorite extra income sites that's available worldwide.
The site is called Clixsense, and it's what some refer to as a "get paid to" site. Clixsense offers many ways to earn and also pays cash via several payment types.
Clixsense is completely legitimate, they have paid me several times (I'll show proof below,) but keep in mind that it's just extra income.
If you're looking for a larger online income, My #1 Recommendation also works in any country.
Let's get started, here's more information on my #1 recommended extra income site for readers worldwide.
---
What Countries Can Join Clixsense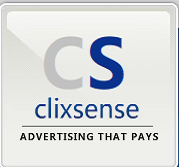 Since Clixsense is my recommendation for international readers, I thought I'd cover what countries it's available in first.
Clixsense is available Worldwide in any country you can get a PayPal, PayToo, Neteller, or Payza account.
You'll need to be able to sign up for one of the sites above to get paid. As long as you have a way to get paid, you can join Clixsense and earn!
---
How To Earn At Clixsense
Clixsense offers a variety of ways to earn, I've covered them all below.
View Ads
The main way to earn at Clixsense is by seeing ads. Visit the ads wall to see all of the ads available. If you click on an ad, a new tab will open, and you're required to stay on the site for 5-30 seconds. When the time runs out, you can close the tab and view another ad.
Most ads pay $.01-$.001, so this won't be a huge income. There're usually 15-25 ads to view each day.
Surveys
Clixsense offers surveys from several providers, so there're usually 20-50 surveys available at any time. Most surveys pay $.50-$2.50 and can take up to 30 minutes to complete. Keep in mind that you'll need to qualify for all surveys to get paid.
Offers
Just like surveys, Clixsense has offers from several providers. Most of these offers require you to join a free site or mailing list, but some do require you to start a free credit card trial or make a purchase. Free offers usually pay $.50-$5, but paid offers can pay $10-$20 a piece.
Tasks
Tasks are short activities you must complete for a small income. These jobs are usually unskilled and are incredibly easy to complete. For example, categorizing information or giving your opinion. Most tasks pay $.01-$.10 per task, but take less than a few minutes to complete.
Refer Friends
Clixsense does have a refer a friend program which they call an affiliate program. You'll earn around 10% of your referrals earnings, but it does differ per category. This is by far the easiest way to make money because your friends make money for you!
---
How Does Clixsense Pay?
Clixsense offers several ways to get paid, but some countries may be limited to only one option. Clixsense pays via PayPal, Payza, Neteller, PayToo, and mailed check. The minimum cash out amount is $10, but some of the payment methods take a fee out.
ySense now also offers over 80 gift card options starting at $3!
It usually takes around 48 hours for payments to show up in your account.
---
Clixsense Payment Proof
As I mentioned, I've been paid by Clixsense several times, so I've included payment proof below. I usually cash out a couple of times a month via PayPal.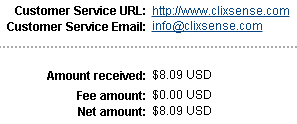 ---
How To Join Clixsense
Now that you know how Clixsense works and that they do pay, it's time to join. You can join for free by visiting ySense.com!
Please keep in mind that the premium paid membership is not required, but does have benefits if you plan on referring lots of friends.
Although Clixsense is extra income my #1 recommendation for worldwide readers you can still take advantage of how I make a much larger income in any country. Visit Start Your Own Blog to learn more about this process!
Summary
Reviewer
Review Date
Reviewed Item
Author Rating