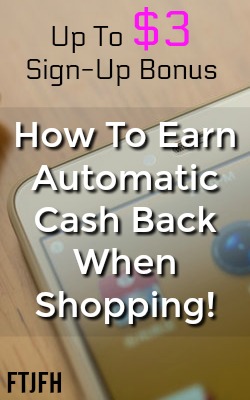 If you've been on my site before, you know that I love to earn an extra income any way that I can, and that includes receiving cash back on my shopping.
Over the last few years, I've been using and promoting a few apps that pay you to shop by scanning your receipts.
Over the last few months, some new apps have come out that I've been using and have found them to be much more convenient than some of the other apps I've been using in the past.
Today I'd like to cover these apps and give you a detailed breakdown of how they work and how you can earn automatic cash back just by linking your debit or credit card. Before we go any further, it's required to connect a debit or credit card for the automatic cash back, so if you're not comfortable with it, check out these extra income sites.
If you don't mind (I've been using them for months without any issues) I highly recommend taking advantage of these apps.
If you have any questions, feel free to leave comments below!
Let's get started, here're two apps that can earn you automatic cash back without having to scan receipts!
---
2 Shopping Apps That Pay Automatic Cash Back
The first app I'd like to cover is called Drop. Drop is free to use and available in the US & CA. Drop is easy to use, and once you link a card, you can start earning cash back automatically. Some of the participating companies include McDonald's, Walmart, Target, Uber, Walgreens, Sam's Club, and many others.
Most of the companies pay 2-10 points per $1 spent, which is around 2%-10% cash back! This app is still new, so they're adding new offers all the time.
Once you earn $5, you can cash out via gift cards to Starbucks, Amazon, Whole Foods, and many others.
Here's proof that Drop paid me a $10 Amazon gift card: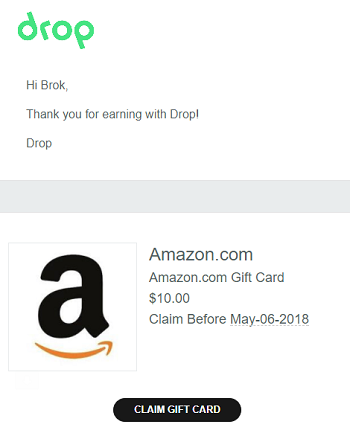 To learn more, feel free to visit my Drop Review. To join visit EarnWithDrop.com to get started!
You'll earn a $1 sign-up bonus once you join and link your card!
Dosh is another app that pays you automatic cash back in-store, online, and for booking hotels. All you need to do is join for free and link a card. When you make a purchase at a participating store or online retailer, you'll earn cash back.
Most of the participating stores pay 2%-10% cash back, and you can earn $20-$100 per night when booking a hotel.
You can earn cash back at almost any hotel, and some of the participating stores include Jack in the Box, Sam's Club, and many others. If you live in a decent size city, you should have tons of offers available.
Dosh pays via Paypal once you earn $15. Here's proof of my latest payment from Dosh via PayPal: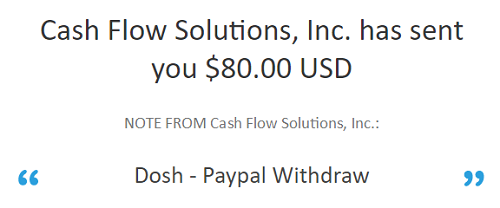 To learn more, read my full Dosh App Review. To join, visit Dosh.Cash to earn a $1 Sign-Up Bonus!
---
Automatic Cash Back Concerns & Complaints
Linking Cards
Most of us won't have any issue with this, but some will still be concerned that linking a card to the app can lead to a potential problem. I've been using both of these apps now for several months without any issues, but that's not to say there will never be an issue.
What I recommend is if you have any issues or concerns with linking a card, just skip this and stick with the sites that pay you to scan receipts.
Just Extra Income
Keep in mind that this is cash back, so you'll have to make purchases to earn. Is this the best way to make money online? The answer is no, but if you're going to shop at participating retailers, you might as well earn some money back when you do.
Everyone will earn different incomes from these apps depending on how much you spend but know it won't be a huge income.
---
More Ways To Make Money Online
I hope you enjoyed this post on apps you can use to earn automatic cash back. These apps are new and are adding new retailers all the time, so I expect them to continue to grow. If you have any questions, please leave comments below.
Making money with cash back isn't the only way to earn that I recommend. Check out these other helpful links:
Work At Home Companies Hiring Now
How To Start A Profitable Blog
What are your thoughts on these new apps? I'd love to hear your experience with Dosh or Drop in the comments below!