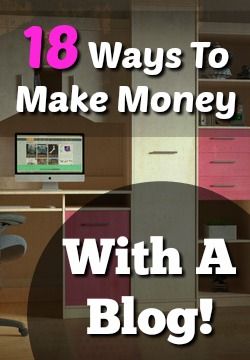 There's an endless amount of ways for bloggers and website owners to make money, but today I'd like to go over some of the most popular ways and give you an idea of the different ways you can make money with your blog.
I've been blogging since 2013 and have made money in nearly every single way on this list. I've even helped you out a bit and found some great sites to get started making money with your website and listed below each category.
If you're new to blogging, you may want to check out Wealthy Affiliate; it's a program that taught me to make money with my website. You can even get started learning for completely free!
Let's jump into this list of legitimate ways to make money with your blog!
---
18 Scam Free Ways To Make Money With A Blog
1. Affiliate Marketing
Affiliate Marketing is in my opinion, the best way to monetize a blog, and is by far this blogs biggest income. If you're not familiar with affiliate marketing, check out my affiliate marketing 101 post.
Affiliate marketing is promoting products and services and getting paid a commission per sale or lead. For example, if someone visits your affiliate link to Amazon and makes a purchase, you earn a percentage of what they spend, a commission.
Not all affiliate program require someone to make a purchase, some pay per signup or email collected. Most affiliate programs pay monthly or on a net 30 basis. Here're some of the most popular affiliate networks and programs.
Share a Sale – Share a Sale is one of the most popular affiliate networks with offers in almost every niche. They pay every month via Check, PayPal, or Direct Deposit if you have earned $50.
Commission Junction – CJ – Very similar to Share A Sale, has affiliate offers in almost every niche. They also pay monthly via Check, PayPal, or Direct Deposit if you have earned $50.
Panthera Network – Read Review – Panthera Network offers a ton of CPA offers in the "make money online" and "save money" niches. Pays via Check, PayPal, or Direct Deposit monthly if you've earned $50.
Linkshare – Similar to Share a Sale and CJ, has offers in almost any niche. Pays monthly via Check, Direct Deposit, or PayPal once you've earned $50.
ShopHer Media – A very popular network with mom bloggers, has a lot of offers based on coupons.
MaxBounty – A very popular CPA affiliate link that has offers in many niches and does have "make money online" offers. Payments made monthly once you've earned $100.
Viglinks – Viglinks is an automated affiliate program that automatically adds in-text affiliate links to your content. They pay monthly with no minimum cash out amount.
2. Ad Networks
Another way to monetize your blog is through ad networks. Most of us probably link of Google Adsense, but some alternatives can help you earn more. Once you apply and approved, you get HTML code to post on your blog. You'll get paid for every click and impression you generate.
Google Adsense – Easy to get accepted. Payments are made monthly once you earn $100.
Monumetric – Can apply if you receive 10k monthly page views. Payments are made via PayPal or Direct Deposit twice a month. (My daily ad revenue went from $10-$30 after switching)
Media.Net – Yahoo and Bings ad network, pays monthly via PayPal and Direct Deposit once you earn $100. I used them before Monumetric and saw ad revenue increases over Adsense.
BlogHer – Has ads targeted to women. Your blog needs to be at least three months old, and you can not be a part of another network.
AdThrive – You'll need at least 100,000 monthly page views to apply. They make payments monthly via Direct Deposit. They do offer an ad management service.
InfoLinks – Consider an in-text advertising site that easy to sign up for. Payments are made monthly via PayPal or Direct Deposit. You must have $50 in earnings.
3. Sell Ad Space
Usually using ad networks is going to give you the most ad revenue, but you can sell ad spots on your blog. I also highly recommend having a page on your blog where you offer advertising for sale, it's the most profitable way to sell ad space, but using the sites below put you in contact with more advertisers.
BuySellAds – Connect directly with advertisers, offer different ad spots for an upfront rate and set your own price. BuySellAds takes a 25% commission for connecting you with advertisers.
AdProval – Currently in beta, but you can sign up, and they'll send you an email when you can join. They let you sell ad space, sponsored posts, and you can easily connect with other influencers. As I mentioned, still in beta so not a ton of information at this time.
4. Sponsored Posts
I've only used this method a few times, but for a lot of bloggers, sponsored posts are one of their biggest earners. You need a pretty big audience for brands to be interested in sponsored posts, but they can be very profitable when you are going to write new content anyways. I highly recommend listing an option for sponsored posts on your advertising page.
Linqia – Partner with companies to promote their products on social media or through a blog post. Must be in the US and have 2,500 monthly blog visitors or social media followers. Always pays within ten days of completing an advertisement.
Tomoson – Partner with companies and get free products in exchange for a review on your blog or social media accounts. Some ads are in exchange for a product, while others are paid (average paid gig is $20.)
Social Spark – Partner with companies and get free products and cash for sponsored posts on social media and your blog. Blog most be over three months old to apply.
5. Create Your Own Product
Creating your own product related to your niche is probably the most profitable method if done right. You can write an e-book or create an online course. The awesome thing is you only need to do the work once, and it makes you money over and over as it continues to sell.
I highly recommend taking the How To Start An Online Course and the How To Write and Sell an e-book course at Udemy.
I'm actually in the process of creating a course here on my blog and am using an awesome feature of Thrive Themes. It's called Apprentice, and it lets you quickly build online courses and sell them on your blog!
---
How To Blog E-Courses
I've already covered tons of ways to make money with your blog, but before you can make money, you need to know how to start a blog and how to drive traffic to your content. Luckily there're are a few courses that I highly recommend. You can also take a look at how to start a profitable blog to learn more about the process for free.
Wealthy Affiliate – This is the course I took in early 2013 to learn all the basics of building a website and making money online. It's completely free to join, but they do offer a paid membership that has a ton of benefits. You'll get seven modules of training, access to a community of thousands of other bloggers, free hosting, free keyword research and much more! If you have any interest in making money with a blog, I highly recommend joining Wealthy Affiliate for free!
Elite Blog Academy – EBA is a course I took in early 2016. Since applying the training, my monthly income went from $1,000 to over $4,000 in just four short months. Unfortunately, you can only sign up for the course once a year, but they do offer awesome freebies all year round. They currently are sending out an e-book called 7 ways to increase your blog's income overnight. If you get the free e-book, you'll get some other awesome freebies and will be notified when the course is open!
---
Other Ways To Make Money Online
Blogging not for you? Don't worry here're some other ways to make money online.
If you're looking for a work at home job, I highly recommend checking out my Work At Home Job Directory. I have 100s of job leads in many categories you can check out.
Just looking for some extra money? Make sure to check out all the extra income sites I use!
Are there any other ways you use to monetize your blog? I'd love to hear your thoughts on this list of ways to make money with your blog! 🙂