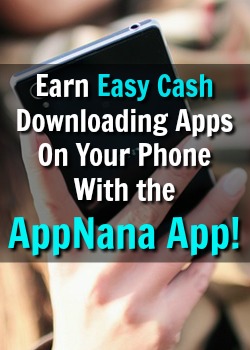 In the past, I've reviewed a few apps that pay you to download other apps. Today I have another one of those apps called AppNana. The whole idea of this app is you earn points, they call them nanas, for downloading and using apps.
As you earn points, you can exchange these for cash or paid apps in your mobile app store.
I've seen some reviews saying that AppNana is a scam, but it seems like these are people trying to beat the system and use cheats. In this review, I'll show you that AppNana is not a scam if you use the app correctly.
Also inside this AppNana Review, I'll show you how it works, how you earn nanas, and how you can get paid.
---
How Does AppNana Work?
1) Download The App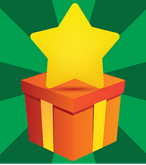 The AppNana app is available on Apple and Android mobile devices. You can easily download the app from the Android app store. But with Apple products, you'll need to visit appnana.com on your mobile device. You can download the app from there; the app is called AppNana Sync.
2) Sign Up and Enter a Code
Once the app is installed, you can sign up quickly by entering in your desired email, password, and referral code. Use the code:b12022527, to earn an additional 2,500 nanas when joining!
3) Start Downloading and Using Apps
Once you've joined, you can make nanas by downloading and using apps. You can see all the apps you can download inside the app. Just click the app, and you'll be redirected to the app store. Download the app, open it, and use it for a bit. Shortly after, your earnings will be added to your account.
4) Exchange Nanas For Prizes and Cash
Once you've earned some "nanas" you can exchange them for paid apps, PayPal payments, and gift cards to stores like Amazon.
---
AppNana Review
Name: AppNana
Price: Free
Score: 85 Out Of 100
Verdict: Legit 
In this AppNana App review, I gave them a good score and marked it legit. I've reviewed a few other apps that pay you to download other apps, and I honestly have to say that I prefer AppNana over all of them.
I like that you can get paid with PayPal and a few other options. I also like that you not only get paid to download apps, but some will pay you to use them.
This isn't going to be a huge income for you, but if you play games on your smartphone, or just use apps, you can make some extra cash with AppNana.
---
What Apps Are Available on AppNana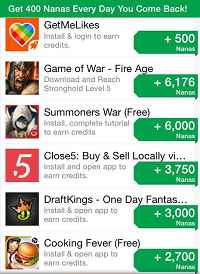 Within this review, I've said you get paid to download and use other apps. So I wanted to cover exactly what I mean.
When you go to the list of apps, you'll see the name of the app, how much it pays, and exactly what you need to do to get paid.
Some just say download the app. For these just download the app and open it. Usually opening it for a few seconds works, but sometimes it requires you to use the app for a few minutes.
Other apps require you to download the app and use it. For example, you can see in the picture to the right, the Game Of War offer says to download the app and reach level 5.
You won't get paid for just downloading the app, but do get paid a large amount once you reach a certain level inside the app!
Most apps pay around 2,000-15,000 nanas depending on what's required!
---
How To Get Paid By AppNana
AppNana has many options for payments. You can exchange your "Nanas" for some popular paid apps such as the paid version of Angry Birds. You can also exchange your points for gift cards to PayPal, Amazon, iTunes, Xbox Live, PlayStation, Facebook Coins, Steam, and Bitcoin.
Most gift cards start at $5-$10, but Amazon starts at $1, and PayPal starts at $2. All gift cards seem to cost a different amount of Nanas depending on popularity and monetary value, but the $1 Amazon gift card is 30,000 Nanas, and the $2 PayPal payment is 45,000.
Gift Cards are delivered straight to your email and can be seen inside the app.
The 30,000 Nanas sounds like a ton, but it adds up quick, you get 10,000 just for joining, 400 every day you use the app, and most apps pay from 2,000-15,000 nanas when downloading and playing.
---
AppNana Cheats and Tricks To Earn More
Sorry I won't be teaching you how to cheat and trick the system to get free nanas. My advice is not to do anything you find online because your account will be banned, so you'll just be wasting your time. But don't worry I've come up with a few tricks to earn more with AppNana, which I cover below. So here's some AppNana cheats that are completely legit, legal, and won't get your account banned!
Refer Your Friends
One way to earn more with AppNana is to refer your friends. They give you a referral code, mine is b12022527, have your friends use this code when signing up and they get 2,500 free nanas when joining!
For inviting your friend, you'll also earn 2,500 nanas!
Use The App Everyday
The easiest way to earn more with AppNana is by using the app every single day. Every day that you open the AppNana app, you'll earn 400 points. You don't even have to do anything inside the app, just open it and get paid 400 nanas!
---
Is AppNana A Scam or Legit?
The AppNana App is not a scam; it's a completely legit app that can earn you some extra cash just for downloading and using other apps.
I really like that they offer many ways to get paid and I love apps that pays via PayPal.
As long as you know this won't be a huge income, you should be pretty happy making some extra cash with AppNana.
To get started, download the app on your mobile device. To earn some extra free Nanas use the referral code: b12022527, during the sign-up process.
AppNana isn't going to make you rich, but you can make a decent sized income if you combine it with some of these extra income apps and sites.
If extra income doesn't sound like enough. You can see an awesome way to Work At Home and make a full-time income at My #1 Recommendation.
Do you think the AppNana App is a scam? Let me hear your thoughts on my AppNana review in the comments section below!
Summary
Reviewer
Review Date
Reviewed Item
Author Rating