AppBounty is a cool app that pays you to download apps on your mobile device. I had someone contact me and ask if AppBounty is a scam, so I decided to write this detailed review to cover the whole process.
AppBounty is available in the apple and android app store, so almost everyone should be able to take advantage of this app.
Please understand that getting paid to download apps only pays a few cents per app, if you're interested in making a large online income, check out My #1 Recommendation, it's how I made over $13,000 online last month!
In this review, I'll cover how App Bounty Works, how you earn, and how you get paid. Let's go ahead and learn more about AppBounty.
---
How Does App Bounty Work?
1) Download the App
The App Bounty App is available for apple and android mobile devices. On Android Devices you can simply download the app in the app store, on Apple devices you need to go to AppBounty.net on your mobile device.
2) Click On Apps In The Offers Section
Once you have the app installed, you can click on the offers tab. This is a list of all the apps they'll pay you to download. Click on any app and you'll be redirected to the app within the app store. Simply download the app like you would any other.
3) Use the App
Once you've downloaded the app, open the app and use it normally for a few minutes.
4) Get Paid! 
Once you've used the app for a bit, you can return to AppBounty to find the points added to your balance.
---
How To Earn With AppBounty?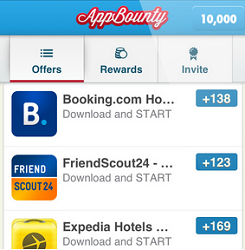 AppBounty lets you earn points by downloading apps. I covered exactly how it works, but I want to go into more detail. When you open AppBounty on your mobile device, you'll see a list of apps that they'll pay you to download.
You can click on any single app, and it opens the app store on your device. All you need to do is download the app and open it. From what I can see using the app for a minute will be enough to get you credit, but I'd leave the app installed for a few days just to make sure you receive credit.
Once you've used the app, points will appear in your account, and you can exchange these points for gift cards.
---
How Does AppBounty Pay?
At this time there're a few different gift cards available to exchange for points. You can transfer points for iTunes, Amazon, Steam, PlayStation, XBox, and Minecraft gift cards.
The Amazon gift cards start at $5 and cost 2,500 points. Most of the other gift card options start at $10 for 5,000 points.
Once you reach the minimum point value of 2,500, you can cash out at any time. Gift Card codes will show up directly inside the app, usually within 24 hours of cashing out.
---
How To Earn More With AppBounty?
AppBounty does offer another way to earn, through a referral program. They give you a direct link to share along with a code that can be entered in when your friends join.
You'll receive 250 points for every friend that you refer that installs the AppBounty App and downloads at least one other app. Your friend will receive an additional 50 points for joining through you!
---
Is AppBounty A Scam?
AppBounty is not a scam, I've messed around with the app a bit and have received credit for everything I've downloaded, but there're some complaints that some people have. I decided to cover a few below:
Where's My Points
Personally, I haven't had an issue with this, but a few reviews in the app store have brought up not getting credit for app downloads. My advice is to make sure that you have cookies enabled on your mobile device browser and that your not in private or incognito mode.
Also, the reason apps advertise with App Bounty is to get you to use the app. Just opening the app will get you credit sometimes, but using the app for a few minutes gives you a much higher chance of getting credit.
Like I said, I haven't had this problem, but some have.
Not a lot of Cash
Most of the apps available to download pay from 75-200 points each. In the payments section, I mentioned that the lowest $5 gift card is 2,500 points. As you can see, this isn't going to make you rich or be a huge income.
A lot of people don't think it's worth it, but if you're interested in finding new apps and would like to get paid for it, you'll enjoy App Bounty.
No Cash Option
I'm a big fan of getting paid in cash, for example with PayPal. At this time AppBounty only pays with gift cards. I'm happy to see that Amazon is an option, but do hope they add PayPal soon. Either way having a $5 Amazon gift card as an option is still pretty good.
---
How To Join AppBounty?
App Bounty is a scam free app that pays you to download other apps on your mobile device. It's not going to earn you a huge income, but it can monetize something you probably already do, which is download apps.
If you'd like to learn more or join you can visit the App Bounty Website, or visit App Bounty on your smartphone and enter the code: cjlhdqfw for 50 extra sign up points!
App Bounty isn't for everyone, to see other ways to earn with your smartphone take a look at these ways to earn an extra income. If extra income isn't your thing check out My #1 Recommendation for making money online, it's how I made over $13,000 online last month!
Do you think AppBounty is a Scam? Have more information for this review? Let me hear your thoughts about AppBounty in the comments below!
Summary
Reviewer
Review Date
Reviewed Item
Author Rating