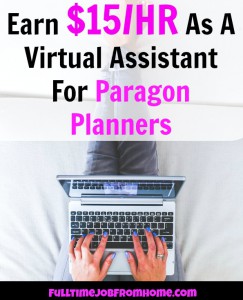 If you're interested in working as a virtual assistant scheduling appointments then I have a perfect online job opportunity for you. It's called Paragon Planners and they've been hiring Virtual Assistants to help companies schedule appointments since 2002.
They also have a few other positions that they hire, such as marketing, but this review is going to cover the Virtual Assistant position because it's where they hire the most people and have the most openings.
Paragon Planners is not always hiring, but it's a good company to get involved with if they are. Lets go ahead and get started with this review and learn more about working as a virtual assistant for Paragon Planners.
Make sure to check out 30 days or less to VA Success! It's an awesome course that teaches you how to become a success Virtual Assistant For a limited time, get a copy of their free ebook: 150 Services You Can Sell As a VA!
---
Virtual Assistant At Paragon Planners
As a Virtual Assistant for Paragon Planners, most of your work is going to be over the phone scheduling appointments for your client.
They don't give an exact answer to what you will be doing but does seem that work varies based on clients needs.
---
Paragon Planners Requirements And Application
Paragon Planners is looking for VA's with some experience. I struggled to find exact requirements, but based on similar jobs you will need a computer, high-speed internet access, and most likely a phone line since most work seems to be phone based.
The application starts by sending over your resume to the email listed on their website. If they are hiring and are interested they will send you some additional information to fill out.
After the questionnaire, the forums are saying that they will at least conduct one interview with you to make sure you're suitable for the position.
If all goes well you should hear something back from the company, but a few people have complained that they didn't get the job, and never heard anything back from the company.
---
Full Time Or Part Time Job?
When you begin work with Paragon Planners they do limit your hours. When starting out you will probably receive around 10 hours a week.
From what I see if you're successful and prove your skills you will be scheduled for more hours after a few months.
Paragon Planners does like to keep you on a strict schedule, so when joining you must provide the times you're available to work and they will set your schedule.
I'd say that if you're a good VA then you should have no problem turning this into a full-time position, close to 40 hours a week. But don't expect to get that many hours in the beginning.
---
How Much Does Paragon Planners Pay?
It looks like pay is based on prior experience, from what I can find most beginners start out around $12 an hour. Some more experienced VA's may get as high as $14-$15.
I was a bit surprised that they paid hourly since most phone jobs are commission per call, but you will get paid hourly for your work and payments are made monthly.
---
Is Paragon Planners A Scam Or Legit?
There's no doubt in my mind that Paragon Planners is legit. But there isn't much information or testimonials across the internet from people that actually work for them.
You can find some on their website, but of course, they won't post any bad reviews. I'm still in the dark on some information about this company, but I'd say overall this is not a bad position to apply for.
I do like that it pays hourly and the wage is not bad for a starting rate, but I would like to hear a bit more feedback from people who have actually worked for the company.
But overall there is no negative feedback either so I'd say Paragon Planners is a scam free work from home job. If you're interested you can find the email on their website here.
New to working as a VA? Make sure to check out the 30 days or less to VA Success. It's an awesome course that will teach you everything you need to know! For a limited time, get a copy of their free ebook: 150 Services You Can Sell As a VA!
---
Other Ways To Make Money Online
If phone and Virtual Assistant work don't sound like you, check out some of the other work from home jobs I recommend. 
If you'd like to learn how I make a full-time income creating websites and helping people like you check out my #1 recommendation. 
Of course for the people just looking to make some extra cash on the internet check out the scam free supplemental income sites I recommend.
Thanks for reading this Paragon Planners Review. Hopefully, I helped make clear what this job entails, but if you have any additional information make sure to leave me a comment. I have to say Paragon Planners is legit and scam free, but if this site doesn't interest you check out some other opportunities above.
Summary
Reviewer
Review Date
Reviewed Item
Author Rating