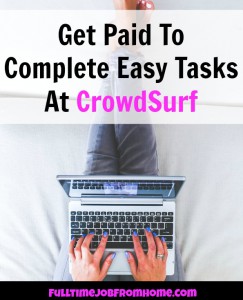 I recently ran across CrowdSurf a MTurk site that specializes in Transcription. I was a bit surprised to see all these jobs can actually be found on Amazon MTurk, but this is just an easy way to keep it separate and only see transcription jobs that your interested in.
In this CrowdSurf Review I will be giving you some information about how the site works and giving you all the details to this work at home job.
Lets get started and learn more about becoming a MTurk at CrowdSurf.
---
CrowdSurf Review: How It Works

I was honestly was pretty confused on what CrowdSurf offered when I first came across it. Here is the deal. To sign up for CrowdSurf you need to have an Amazon MTurk account.
Crowdsurf is basically a separate site associated with Amazon MTurk that has additional transcription "hits." From what I can see, this site is set up to get rid of the clutter and give you jobs that may interest you more.
All CrowdSurf hits can be found on Amazon MTurk, but this is a way to find transcription jobs easier.
---
CrowdSurf Requirements
The requirements are pretty simple for CrowdSurf. As mentioned before you will need an Amazon MTurk account, which only takes a few minutes to sign up for.
Anyone can apply to CrowdSurf after joining Amazon MTurk, but past work will determine your level. For example if you've not completed any CrowdSurf hits on Amazon MTurk you will have to prove your skill before unlocking most jobs.
Other than an MTurk account you need a working computer, internet, and some way to listen to audio files. I suggest a headset, but that is not required.
---
CrowdSurf Work Schedule
Just like Amazon MTurk you are free to set your own schedule and work as much or little as you choose. One thing to keep in mind is CrowdSurf does require you to complete 20 hits per week to stay active and get paid.
As long as you set a side a few hours a week you should have no problem because most hits are under 30 seconds long.
---
How Much Does CrowdSurf Pay?
There is no definite answer to this question, but from what I can see most 30 seconds of audio pays around $.10-$.20. If you compare this to $10 per audio hour like most transcription sites it is pretty much industry standard.
When you complete hits on CrowdSurf your earnings will be transferred to your Amazon MTurk account every Monday, Wednesday, and Friday.
From there you can deposit payments into your bank account as normal.
---
Benefits of CrowdSurf
Some of you are probably wondering why you'd even consider joining when all their hits are available on Amazon MTurk. I understand, but CrowdSurf does have some advantages.
The biggest benefit is all the transcription jobs are right in front of you, which makes it easier to find hits that you're interested in.
Another huge advantage is that the CrowdSurf transcription platform is steps ahead the Amazon MTurk method.
Since CrowdSurf mainly deals with Transcription they have a ton of resources that can help you become better and earn more money in the process.
The last advantage is CrowdSurf does offer room for promotion. As a level 1 member you may transcribe, but at level 2 you may transcribe and review work. There are many other levels that unlock more jobs and higher pay.
---
Is CrowdSurf Legit or A Scam?
There is no doubt that CrowdSurf is legit. It's associated with Amazon MTurk, which is a reputable company and all CrowdSurf jobs can be found on Amazon MTurk.
If transcription is your thing, this site can be a major advantage to you because their transcription software is top notch, there is room for promotion, and you won't have to search through all the other hits to find what you want.
Overall CrowdSurf is scam free and worth a join if you're into transcription. To join visit their website.
I'm not a huge fan of turk work, but here are all the work at home jobs I am a fan of. It really comes down to preference, but you may find something you'd like better on this list.
If a work at home job isn't for you check out my #1 recommendation or some of my supplemental income sites.
Have you used Amazon MTurk or Crowdsurf? Have a better site to do transcription work? I'd love to hear your thoughts about this review in the comments below!