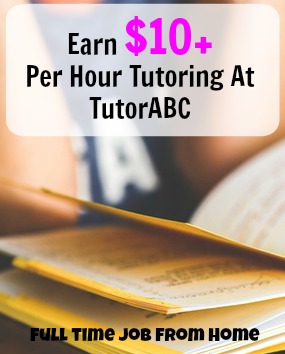 If you're interested in teaching English to international students than TutorABC might be a great work at home job for you. Tutor ABC is a bit different than a lot of tutoring sites that I've seen, so I wanted to write you a review and explain exactly what working at this company is like.
First off this is a scam free company that has nothing but positive feedback in the forums from previous workers. It's a pretty flexible job that sounds pretty cool as long as you can meet the many requirements.
In this TutorABC Job Review, I'll cover all the requirements, the nature of the work, and how much you'll get paid!
VIPKid, another ESL company is actively searching for new tutors. They pay up to $22 an hour! Learn more by reading my full VIPKid Review!
---
TutorABC Requirements

TutorABC does have some strict requirements when it comes to what they're looking for. I've listed them below. One thing to mention is on their site they say if you don't have a degree but have the experience you should still apply!
University Degree or Previous Experience
TESOL/TEFL Certification (or be able to obtain one)
Willingness to commit to a consistent schedule
Computer Literate
Ability To Motivate and Teach Students
Along with these requirements, you'll need a high-speed internet connection, webcam, and headset.
---
TutorABC Application Process
If you can meet the requirements they've set, you can begin to fill out an application on their website. Here are the steps to the application:
English Proficiency Test
Background Information Ex: Past Experience
Record A Short Video Introduction
After you complete the application process, you should receive a confirmation email within 30 minutes. If they like what they see, they'll invite you back for an additional interview. If all goes well, you'll be hired.
---
How Does TutorABC Work?
Once you're hired, the first thing is the teaching style. TutorABC believes that holding a conversation is the best way to learn a foreign language. Most of your teaching will be done through talking to students.
But here's how it works. TutorABC schedules what they call classes. Classes can have between 1-6 students in them. Most of the students will be between 20-65 and Asian.
A typical class will last at least 45 minutes, and you'll be in front of the webcam. From what I've heard the students can see you, but you won't be able to see them.
Once you're done with a class, each student will rate you as an instructor. This can lead to a higher pay rate and payment bonuses.
---
How Much Does TutorABC Pay?
This is where TutorABC differs the most from other tutoring sites. Before beginning to teach, you'll need to agree on a pay rate per class. The rate will depend on your experience along with how many students you have in the class and your past ratings.
You may also earn bonuses for consistent positive feedback and full classes. I found on a few forums that most people are averaging around $10 per hour, but the website doesn't release or publish any average amounts of pay.
TutorABC pays monthly by PayPal and Direct Deposit!
*Base Pay $7.50  per hour in the US. Base pay is different in other countries. Please refer to comments to learn more. 
---
TutorABC Schedule
The cool thing about TutorABC is they operate 24/7. This means the schedule is flexible and you can find something that works for you. They do say that you'll need to at least work some during their peak hours. Unfortunately, they don't say when these are, but more information about the schedule will be discussed after applying.
To me, this isn't a login and tutor any time site, but it does seem to be flexible and can be done in your free time with some planning.
---
Is TutorABC A Scam?
TutorABC is not a scam. They have a lot of tutors that are very happy with the job. I like that the schedule is flexible in the fact they work around what you have going on, but that you set times to hold your classes. This avoids logging on and waiting for students that need help, which you usually don't get paid for.
If you can get accepted this looks like a site where you maximize your income in your spare time. I also like that payments are simple with PayPal and Direct Deposit.
To me, TutorABC is a good option for people looking to work at home and tutor the English language. To learn more or start the application process visit TutorABC Jobs.
If this isn't for you, here's some other Work At Home Jobs I recommend or check out my #1 recommendation for working at home!
Have More Information For This TutorABC Review? Know How Much They Pay Per Hour? Let me hear your thoughts in the comments below!
Summary
Reviewer
Review Date
Reviewed Item
Author Rating