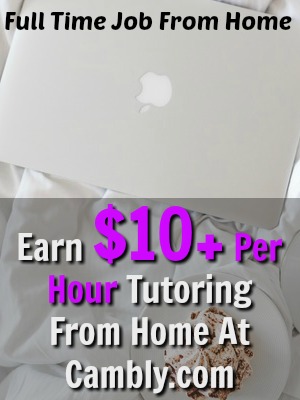 I recently came across a very cool opportunity at Cambly that pays you tutor students in English. This is on of those flexible jobs that allows you to log on anytime and make some extra money.
The job consists of tutoring English Students from around the world. Cambly pays you per minute and payments are quick and easy.
I decided to write this tutoring job at Cambly Review because it's very flexible and open to most people. In the review I'll cover the requirements, how it all works, and how much you'll get paid.
A similar company called SayABC is currently actively hiring and paying up to $28/HR! Make sure to check them out!
---
Cambly Tutor Requirements

Really there isn't many requirements for becoming a Cambly Tutor. Since you'll be tutoring in English you'll need to be fluent in the English language and from the US. Other than that anyone can sign up for Cambly.
I cover this in detail, but you'll be webcam chatting with students, so you'll need a webcam. It doesn't have to be fancy, and if you have a laptop most likely you have one built in already. Other than a webcam you obviously need an internet connection.
As you can see, the requirements are very simple, making this almost open to everyone!
---
How Does Cambly Tutoring Work?
Once you create an account, there's some training to complete to just show you how it all works. This won't take long and you can begin working.
You can log on at anytime and wait for students to request a tutoring session. Once you enter a tutoring session you'll simply hold a conversation with the student. The founders of Cambly believe that the best way to learn a foreign language is to speak it with a native speaker.
All you need to do is talk, and provide any help that's needed. Since you're a native English speaker this should be pretty easy.
There's no requirement for how long students must stay on the line so conversations could last a few minutes and some much longer. Once the conversation is through, Cambly will pay you per minute you tutored.
---
How Much Does Cambly Pay?
As mentioned above Cambly pays on a per minute basis. They pay $.17 per minute which comes to $10.20 an hour. Of course these rates are only paid when you're tutoring. If you log on for an hour there's no guarantee you'll spend most of that time in a chat.
It does look like they will pay you for your time if you sign up for a two hour session and don't receive any tutoring requests.
With that being said work's not guaranteed and the rate of $10.20 is a bit misleading. Just know that you're paid $.17 per minute during a tutoring session.
Payments are made via PayPal. They make payments twice a month on the 1st and 15th. There's a minimum cash out amount of $20. Earnings less than $20 do roll over to the next payment cycle.
---
What's Your Schedule Like?
One thing that makes Cambly a good option is the schedule. There's no requirement for how much or when you work. You can log on at anytime and complete tutoring sessions, as long as there's work available.
With that being said this is a part-time extra income opportunity. Realistically even if you worked 24/7 I don't think there's enough work to keep you busy all the time. I consider this a good option for someone who wants to earn some extra money in their spare time.
---
Is Cambly Tutoring a Scam?
Thanks for checking out this Cambly Tutoring Review. Cambly is not a scam, there's a lot of positive feedback, but do keep in mind they only pay when you work and this isn't going to be a full-time income.
People that go in knowing this seem to be pretty happy with it all. The only thing that concerns me is since this is open to almost anyone how much work can you really get? In the forums people say they consistently get work, but the entries are a bit outdated.
Overall Cambly's a good way to make some extra cash in your spare time. To learn more or to join visit Cambly Tutors.
If you're worried about how much work you'll actually get, check out some of my other extra income sites or my #1 recommendation!
If anyone has knowledge on how much work you actually receive I'd love to hear more in the comments below!
Summary
Reviewer
Review Date
Reviewed Item
Author Rating