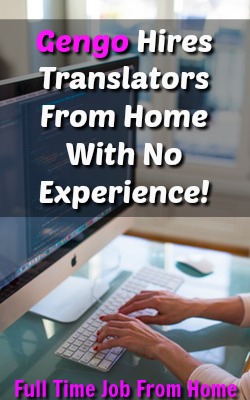 If you're interested in doing translator work from home, MyGengo is a great option. I decided to write this review because it's one of the more flexible and easy to join translation job sites that I can find.
If you're not familiar with translation work you'll be translating web content from one language to another usually from one language to your primary language.
In this MyGengo translator review I'll cover the requirements, application, pay rate, and all the important details of this job.
---
MyGengo Requirements
Really there aren't many requirements for this job. You don't need any experience, but of course you need to be bilingual. Unfortunately I couldn't find the exact list of languages they accept, but the main ones like Spanish, Chinese, Etc. are accepted. They only accept translators in the US.
You'll also need a computer with high speed internet access. Other than that you should be ready to apply.
---
MyGengo Application Process
Application is pretty simple, you'll need to create an account. This can be done with Facebook, Google Plus, or by email.
Once your account profile is filled out with your personal information and languages, you'll need to take the language tests. From what I can see most people say these are easy. If you're fluent in the language you should have no problem passing these tests.
The tests will be checked by a MyGengo Senor Translator and they'll get back with you shortly with the verdict.
If you don't pass the tests the first time you have three attempts to retake the test.
Once you've passed the test, you're free to log on and translate at anytime.
---
Typical Translation Process
Once you're accepted you can work through the jobs available. On the jobs page it clearly shows level, language, word count, rate per word, and some other important information.
Each job has multiple documents inside. It may be 10,000 words, but this would be broken up into multiple short documents.
Once you select a job, you'll need to translate the documents. There is a deadline on all documents so make sure to meet all deadlines. Once you're done with the translation submit your work.
The customer will then have 5 days to leave feedback for your work. They can approve, request changes, or deny. MyGengo says they have less than 1% request changes rate, so you shouldn't have this issue very often.
Once work's been approved you'll get paid.
---
How Much Does MyGengo Pay?
MyGrengo has three rates of payment based on the difficulty and type of job. I've listed them below:
Standard: $.03 Per Word/$.0018 Per Character 
Pro: $.08 Per Word/$.0048 Per Character
Proofread: $.04 Per Word/$.0024 Per Character
You'll see some documents that pay more, but these are most likely harder to translate.
Payments are made by PayPal and Skrill in USD. They pay twice a month, on the 10th and 25th. One thing to keep in mind is payments are not automatic, you'll need to request a payment anytime you'd like to get paid.
Payments for the 10th must be requested before the 3rd and payments for the 25th must be requested before the 18th.
---
Full or Part Time?
MyGengo is similar to a transcription site where you can log on at anytime and complete work. One thing to keep in mind is work is not always available.
For this reason this is more of a part time job. They usually have plenty of work to keep you busy in your free time, but not as a 40 hour work week.
With that being said the schedule is super flexible, you can work whenever you want part-time.
---
Are Promotions Available?
They do offer a promotion that they call a senior translator. Basically this would be considered a manager of the rest of the translators. You'll be in charge of proofing others work and responding to support quires.
To apply for this position you'll need to be a Gengo Translator and proved that you're capable of high quality work, great communication, and attention to detail.
Becoming a senior translator is still a part time position and flexible like the normal translator job, you'll just have new duties and higher pay.
---
Is MyGengo Translation A Scam?
MyGengo is not a scam, there's a lot of positive feedback on the company and the rates they pay are pretty good. I like that there's room for advancement within the company, and it's easy to apply and get accepted. From what I've researched, translation seems to be a very competitive field and most companies require 3 years experience. I also noticed that payments are easy and the schedule is extremely flexible.
MyGengo is a good option for anyone that's bilingual and looking to make some extra income translating. If you'd like to learn more or to apply visit Gengo Translation Jobs.
I recently published a list of translation jobs you might want to check out. Just keep in mind most of them require experience. If translation doesn't seem like your thing, check out some of my other recommended work at home jobs or extra income sites.
If you'd like to see how I work at home providing you with job information, visit my #1 recommendation.
Have information to add to this MyGengo Translation Review? Any other Translation Jobs you recommend? Let me hear more in the comments.
Summary
Reviewer
Review Date
Reviewed Item
Author Rating