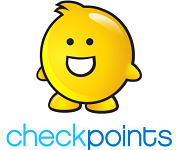 I'm a big fan of earning a little extra income everywhere I can, so that's why I'm a big fan of making money with smartphone apps. Recently I came across a pretty cool new app called CheckPoints. This app will pay you for a variety of different things kind of like a "get paid to do" site, but of course on your smartphone.
I decided to write a review of this app and find out exactly what all the hype was about.
Please understand that CheckPoints and other make money apps will never give you a large income, they usually pay you a terrible hourly rate. If you're serious about making a full-time income online, check out My #1 Recommendation, it's how I made over $13,000 online last month!
In this review I will show you how the app works, how you can earn, and see if they actually pay.
---
How Does The CheckPoints App Work?
Checkpoints is a really cool app that allows you to earn points for checking in to stores, watching videos, and much more. All you need to do is visit your smartphone app store or their website to download the app.
Once you're inside the app you can sign up with Facebook or an email address. Once you're signed up can you can start earning points. You can earn points in a variety of different ways, which I cover in the next section.
With the points you earn you can exchange these for gift cards and sweepstakes entries.
---
How Can You Earn With CheckPoints?
In-Store Check-Ins
This is probably the main way to earn with CheckPoints. They call them in store check-ins. All you have to do is check in at different stores in your area to earn points. Once you have the app click on the check-ins page. This will bring up all the local stores you can get paid to check in at and the amounts they pay. Once you're in the store all you need to do is scan an item in the store. Once you've scanned the item you'll get paid for "checking in".
From what I can see most stores pay from 15-25 points just for being in the store.
Watching Videos
The next way to earn is through watching videos. This does not require you to be in a specific location, you can watch videos anywhere. CheckPoints seems to have 50 plus videos available at one time. Most are movie trailers or advertisements for products.
When you click on a video you'll be shown a short 15-second ad. After the ad, your video will begin to play. It seems that most are 1-3 minutes long and pay anywhere from 10-25 points per video.
It does look like there's a limit of 500 points a day via watching videos.
Offers
If you're familiar with "paid to do" sites, then you have an idea of what to expect. The offers page will have different tasks that can be completed for points. This might be filling out a form to a sweepstakes entry, taking a survey, signing up for apps/sites, and much more.
Offers usually pay a bit higher than the other forms of earning, most ranging in the 15-100 point range depending on what you have to complete.
Refer A Friend
CheckPoints does pay you to refer your friends. You'll be given a referral code once you join. Mine is bwebb39 if you'd like to earn some extra points when you join.
Basically, you'll earn 100% of the points your referral earns within the first two weeks of joining.
This does not include any points earned via sweepstakes, but all points from checking in, videos, and offers.
---
What Rewards Does CheckPoints Have?
CheckPoints offers rewards in a few different ways. The most useful way is gift cards. You can find gift cards to stores such as Amazon, Walmart, GameStop, Target, and many more stores. It looks like most gift cards start at $10, but sites like Walmart, Amazon, and Target start at $1 and cost around 340 points.
The second way you can get paid is by physical products. Some products listed are tablets, game systems, and other electronics. As you can expect these items are worth a ton of points, so most will probably prefer to get small gift cards so they can cash out faster.
The third way to spend your points is with Sweepstakes entries. Sweepstakes entries usually cost from 50-250 points and the prizes usually range from 10,000-50,000 CheckPoint points. I'm not really a fan of Sweepstakes, but maybe you're luckier than me.
You can cash out any of these rewards at any time. For gift cards, you should receive them within 1-3 business days to your email. Physical products will take longer since they'll be shipped to you.
---
Is CheckPoints A Scam Or Legit?
The Checkpoints app is not a scam. It's a completely legit way to make some extra income, but you should know that this app isn't going to make you rich. The rewards cost a good amount of points and that's just for the $1 gift cards. If you're interested in making a few extra bucks each month doing things you already do then you'll be happy with CheckPoints.
Honestly I feel like it's worth it because I make money with a bunch of different sites and all the income adds up each month, but I understand some people won't feel like it's worth it.
Really as long as you know it's just extra income, you should be very happy with the CheckPoints App.
If you'd like to learn more or to download the app you can visit the CheckPoints website or download the app in your smartphone's app store. Enter the promo code: bwebb39 during the sign-up process and you'll get some extra points just for signing up.
Please remember that Checkpoints is going to be a tiny income, if you're serious about making a full-time income online, check out My #1 Recommendation, it's how I made over $13,000 online last month!
If you didn't find what you were looking for here, check out these helpful links:
Extra Income Sites That Pay Me
Work From Home Companies Hiring Now
How I Made Over $13,000 Online Last Month
Do you think CheckPoints is a scam? Is the small income worth it? Let me hear your thoughts on this app in the comments below!
Summary
Reviewer
Review Date
Reviewed Item
Author Rating