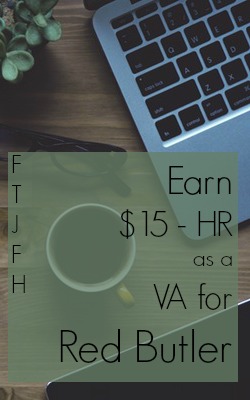 Red Butler is a company that's been around since 2003. They hire Virtual Assistants to help with their various clients. I decided to write a review of the VA job at Red Butler because I know that finding VA work can be very difficult.
If you're interested in becoming a VA, getting hired by a company like Red Butler can be a huge success because they match you with clients. If your client decides to leave you'll be matched with another client and still have work.
In this review we'll cover what working at this VA jobs like, the requirements, and how much you can expect to get paid.
Make Sure To Check Out 30 Days Or Less To Virtual Assistant Success. It's an awesome course that teaches you the in and outs of working as a virtual assistant! You can also get their Free E-book 150 Services You Can Sell As a VA!
---
Red Butler VA Job Requirements

Red Butler does have some requirements that'll need to be met before applying. First you'll need a laptop or computer that has high speed internet access. There are special programs that you'll need if you have a special skill such as graphic design, but most likely you already have these programs if it's a specialty of yours.
They do require at least 3 years of experience in the industry. This can be freelance or a job with a similar company. You'll need at least a 4 year college agree to apply.
Additional requirements include excellent verbal and written communication skills, internet research skills, team player, can do attitude, detailed oriented, and very organized. Having foreign language capabilities is a plus.
---
Red Butler VA Application Process
Red Butler has an application that you can fill out on their website at anytime. This application includes basic personal information, how much you'd like to work, past work experience, an assessment of the skills you have, and a resume you'll attach.
If they're interested, they'll contact you shortly after with additional information. From what I can see they'll set up an interview with you and you'll have to pass a few skills tests just to make sure you're ready for the job.
If accepted they'll assign a client for you to work with.
---
Typical VA Work At Red Butler
Once you're accepted you'll be assigned a client, or be placed on a team that works with larger clients. Either way you're able to choose how much you work as long as it's agreed upon by the client.
Like most VA jobs there's a wide variety of tasks you may be asked to complete. This could be over the phone customer service, scheduling appointments, internet research, and some specialty work like writing blog posts, graphic design, and website building.
It really all depends on your skills and what the client is needing. I wish I could tell you exactly what you'll be doing as a VA, but it usually differs day to day, which is why a lot of VAs enjoy the work.
---
How Much Does Red Butler VA Pay?
Like most VA jobs rate of pay is based on how much prior experience you have. I found that most Red Butler VA start out around $12-$15 an hour. For some specialty work like graphic design rates may be higher.
It doesn't seem like there's much room for promotion other than getting paid a higher rate once you've been with the company and clients are very happy with your work.
It looks like Red Butler pays by PayPal once a month. Update 4/29: A reader left a comment stating that Red Butler now pays via Direct Deposit. You'll be hired as an independent contractor so if you make more than $600 you'll have to report your income come tax time.
---
Red Butler VA Typical Schedule
This is going to depend on what client you get matched up with, but when you apply you can choose full or a part time position. From the forums it seems that most members are working somewhere in between 10-30 hours a week.
It does say even if you apply for a full time position there's no guarantee you'll get 30 plus hours each week. It really all depends on the clients needs.
I will say that this job can be a full or part time job, and Red Butler tries to meet your needs, depending on what you're looking for.
---
Is Red Butler VA  A Scam?
I can't find a ton of information with feedback from current or past workers, but from what I can see most VAs are very happy with the work at Red Butler. They do require some experience, but if you have experience you should have no problem getting hired.
It looks like they'll work with you on the hours and try to meet your needs as best as possible. Pay rate is pretty close to industry standard, so most people are pretty happy. It seems that most VAs are interested in sites like Red Butler because it does give you consistent work, which can be an issue when freelancing. I'd say Red Butler is a good site to apply to if you're looking for steady virtual assistant work.
If you'd like to learn more or to apply visit Red Butler VA Jobs.
Not sure if VA jobs are right for you? Make sure to check out an awesome course called 30 days or less to VA success! It will teach you all you need to know about working at home as a virtual assistant!
To see some other VA jobs I recommend check out the list at Scam Free Work At Home Jobs. You may be interested in how I make an income online, you can see some of the ways I work at home at extra income sites and my #1 recommendation.
Know more about Red Butler than what's in this review? Already applied for this VA Job? Let me hear your experience and knowledge in the comments below!