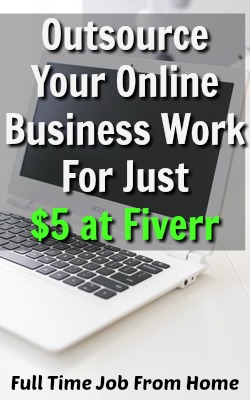 Fiverr.com is a relatively new website where people perform tasks and jobs for only $5.
At first, I wasn't a huge fan of Fiverr because it seemed to be a site where people would do stupid things if you paid them five bucks. My opinion of Fiverr has completely changed as it has expanded.
As Fiverr has become more popular, the type of work that you can get done for $5 has grown as well. Luckily for us, this includes things like writing articles, SEO help, keyword research, email lists, and much more!
Once I saw that Fiverr was an excellent opportunity to get some cheap work done, I jumped on that opportunity and have been using it ever since!
---
I have already touched on this, but Fiverr is a site where you can pay people $5 to do just about anything. The jobs or tasks you pay people to do are called gigs. Once again each gig cost $5. There are tons of gigs on Fiverr that can help you grow your blog. I will be covering that next!
---
What Type Of Work Should I Outsource On Fiverr?
There are tons of gigs on Fiverr that can be used to outsource some of the work for your blog.
Article Writing: Most of these gigs offer 400-500 word articles on a topic of your choice
Proofreading: If you make a lot of mistakes (like me,) there are proofreading gigs usually a 500-700 word limit
Back Links: Most of these gigs offer 30-75 backlinks to your site (I do not recommend these types of gigs)
Video: Most video gigs are short videos a few minutes describing or promoting your product. You can also find a few that will do tutorials.
Keyword Research: These gigs usually give 50-100 low competition keywords for your given niche.
Social Marketing: These gigs usually give you a large amount of friends, followers, likes, subscribers, retweets, and any other social sharing phrase you can think of. Be careful with this one because most of what your receiving is spam accounts.
Logo Design: These gigs will let you have a custom logo designed.
Web Design: Usually consist of creating a particular portion of a website.
There are tons of different categories of gigs that can be useful this is just a good start and overview. If you have a particular thing you need in mind, go on over to Fiverr to see what you can find
---
What do I Think?
I use Fiverr to outsource some of my blog work and I also offer gigs myself. I am a huge fan of the site because it gives you the opportunity to get some cheap work done for your site. If your interested in starting your own gigs make sure to keep in mind it's only $5 (actually $4 with fee taken out). Make sure you don't offer something that will take up tons of time and work!
---
How Do I Get Started On Fiverr?
It's completely free to join Fiverr as a buyer and seller. If you'd like to learn more or to join as either, visit Fiverr.com to get started!
If you're interested in becoming a Fiverr seller, there's an excellent e-book called Fiverr Success that I highly recommend checking out!
Outsourcing your work of Fiverr is great, but it's awesome good to know how to do the work too! You can see the site that I used to learn how to build websites, write content, and do keyword research with at My #1 Recommendation!
Have you used Fiverr to outsource work? Let me hear your experiences in the comments below!
Summary
Reviewer
Review Date
Reviewed Item
Author Rating