One of the most popular freelance sites today is called Fiverr, most likely you've heard of it. Fiverr has helped millions of people make some extra side cash and has helped a lucky few create a full-time online business.
One popular product is called the Fiverr Success E-Book, created by Corey Ferreira, a top rated Fiverr seller. As a Level 2 Fiverr seller, I decide to write a review on this E-Book to see if it's worth the price, or just a scam to get your hopes up on becoming a top rate Fiverr Seller.
In this Fiver Success Review, I'll cover what Corey teaches, the complaints I have, and see if this product is a scam!
---
Fiverr Success E-Book Review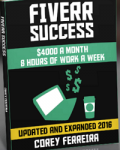 Product: Fiverr Success E-Book
Price: $17 + Up sells 
Score: 90 out of 100
Verdict: Legitimate
In this Fiverr Success E-book Review, I gave it a good score and marked it legitimate. I've reviewed a few Fiverr products in the past, and as a fellow Fiver seller, I have to say that this product is pretty damn good. I'm not saying that you can't become successful without this product, but you'd most likely learn everything in this e-book on your own before you became successful.
With that being said, I do have a few complaints about the e-book, but overall this is an excellent way to learn what you need to know to become a successful Fiverr Seller up front before wasting your time learning on your own.
Overall a good and probably the best Fiverr training out there. For $17 it's not a bad purchase to learn some tips and tricks to earn more on Fiverr.
---
What Is Fiverr Success
Fiverr Success is a $17 60 page e-book that covers how to sell on Fiverr, how to get your gigs ranked 1st in search results, how to make more money with gig extras, and the keys to becoming a top rated seller.
Fiverr Success is created by Corey Ferreira, a top rated Fiverr seller, and he shares what he's learned on his journey.
---
What You'll Learn In Fiverr Success?
There's a huge list of things you'll learn in this E-book so I thought I'd just hit on the most important points.
Fiverr Account Set Up and Gigs In Demand
The first portion of this e-book takes you through the process of signing up for an account, filling out your profile, and creating your first gig. You'll also get a list of some of the most popular in-demand gigs today.
Getting Your First Orders & Reviews
You'll learn the keys to getting your first orders and how to set up your gig to attract more views and orders. He will also teach you how to get great detailed reviews and the importance of reviews.
Ranking Your Fiverr Gigs
In this section, you'll learn how to get your Fiverr Gigs in front of the most eyes possible. You'll learn how to rank high for target keywords and how to get displayed on the Fiverr homepage and category home pages.
Gig Extras & Gig Cross Promotions
You'll learn the importance of gig extras to making more money and how to set up gig extras to increase orders. You'll also learn how to cross promote your gigs to attract repeat customers and more sales with less work.
Outsourcing & Scaling To Top Rated Seller
Some of the last information covered is how to outsource work once your Fiverr business begins to grow. You'll also get some tips on how to become a top rated seller and how to maintain that status from a Top Rated Seller himself.
---
What I Like About Fiverr Success
I enjoyed this product, but I was already pretty familiar with Fiverr and am a level 2 seller. Most of my gigs have to do with advertising on my websites, so it's not something I'm interested in scaling to a huge income, but I was interested in what he has to say about ranking Fiverr gigs because that's the key to getting more orders.
He did an excellent job explaining this section in detail and giving some examples of how to rank Fiverr gigs.
I also really liked the plan to getting your first orders and reviews, it's a good guide for a beginning Fiverr Seller! Although I liked a few parts more than others, the whole e-book is very detailed and does a great job of explaining each section.
---
Fiverr Success Complaints
Up-Sells
I usually hate any product that has upsells, but honestly, Fiverr Success isn't too bad. On their sales page, you have the option to buy the Fiverr Success e-book or choose to receive a few other e-books that cover some of the topics in more detail.
I did not purchase all the e-books so I can't comment on how good the content is, but I'd say that you can learn what you need to learn with just the $17 Fiverr Success e-book.
Outsourcing
One thing that always ticks me off about products is they assume you have the financial ability to outsource. Luckily Fiverr Success doesn't rely on outsourcing, but it's a suggested method to scale your Fiverr business.
He goes into detail on how to Outsource, but I think that most people will need to do all the work themselves until they start to get a ton of gig orders. I guess it's good that it's covered, but it won't apply to most people purchasing this product at first, if ever.
---
Is Fiverr Success A Scam?
The Fiverr Success E-book is not a scam and is a legitimate way to learn how to sell and scale your Fiverr business. It's a long 60-page e-book that covers a lot of important information about selling on Fiverr and becoming a top rate seller.
The big question here is "is it needed." In my opinion, it's not 100% required, as you get more experience on Fiverr you would eventually learn most of this information, but it would help to know it all up front, and I think this book will help you get started off on the right foot. For $17 it's a pretty low price to pay to ensure that you're setting yourself up for success.
I'd say that if you apply the techniques in this e-book, you'd get your first sales much faster than doing it all on your own and just figuring it out. I have to say that I recommend Fiverr Success if you'd like to learn how to sell on Fiverr and make it as a Top-Rated Seller.
To learn more or to buy, visit MakeFiverMoney.com and purchase the Fiverr Success E-Book for $17.
Fiverr is a great way to make some extra cash online and maybe turn it into a larger income, but it's not for everyone. If you'd like to learn how I make extra cash or how I make a full-time income online, visit My #1 Recommendation to learn more!
Do you think the Fiverr Success E-Book is a scam? 
Summary
Reviewer
Review Date
Reviewed Item
Author Rating