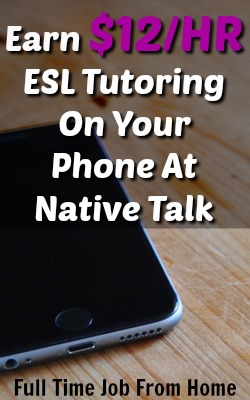 NO LONGER AVAILABLE CHECK OUT THE REST OF THE ESL COMPANIES HIRING. 
The Native Talk App is an ESL app that's available on Apple Mobile Devices. It's a relatively new company that hires a flexible work at home ESL teaching job.
There are a few requirements, such as attending/graduating from a particular list of universities, but if you have the desire to teach I'm sure you can get accepted.
In this Native Talk Teacher App review I'll cover the requirements, application, how it works, how much they pay, and if this ESL teaching job is a scam!
VIPKid, another ESL company is actively searching for new tutors. They pay up to $22 an hour! Learn more by reading my full VIPKid Review!
---
Native Talk Teacher Requirements
To become a Native Talk Teacher, you must be Fluent in English and attend/graduated from a select university in the US or UK. There's a long list that I won't cover here, but check the list on their website to see if your school is available.
You'll also need a smartphone (need WiFi connection to chat with students).
They say that any degree is welcome to apply and if your university is not on the list, you can still apply, if you seem like an excellent fit they will accept you.
---
Native Talk Teacher Application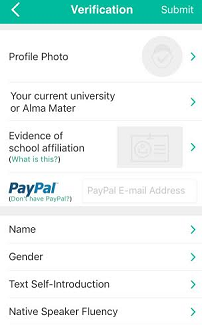 The first step in the application is downloading the NativeTalk Teacher App, which is available in the Apple Store.
To sign up, you'll need to confirm your email address. Next, you'll need to provide some information including profile picture, Current University/Alma Mater, Evidence of School Affiliation, PayPal email, Name, Gender, Text Introduction, and Voice Introduction.
Evidence of School Affiliation can be a picture of a student id, transcripts, or diploma. They say you can cross out any important information on the documents.
The text introduction is seen by all students, just state your name and a little bit about yourself.
The voice introduction is also heard by all students, make sure to introduce yourself and list university, hobbies, interests, and anything you'd like to share.
---
How Does Native Talk Teaching Work?
Once you're accepted as a Native Talk Teacher, you can log on to the app at any time and set your status to available. Wait for students to request a tutoring session. Once you have a student, online there're powerpoint conversation prompts that help you keep the conversation and tutoring going.
Stay on the call as long as the student likes and get paid for every minute that you're talking.
---
How Does Native Talk Pay?
Native Talk pays you $.20 per minute tutoring. That works out to $12 an hour. Payments are made weekly via PayPal. I can't find the exact day they pay or if there's a minimum cash out amount, but based on similar apps you can cash out any amount of earnings.
One thing to keep in mind is you're only paid for the time you're talking to students. You'd need to talk to a student(s) for a whole hour to make $12, waiting for students is not paid.
---
Native Talk Teacher Schedule
This is one of those opportunities where you can log on at any time and tutor students. Work as little or as much as you'd like with no restrictions.
One thing to keep in mind, the students are foreign and won't be in the same time zone as you, most likely. There are peak hours that might not fall into your desired time of tutoring.
With that being said, you can log on at any time and get paid to talk as long as there are students available.
---
Native Talk App Teacher Complaints
Not Enough Students
I've reviewed a few other similar apps, and they all seem to have the same issues. They have more teachers than they need. This means it's hard to log on and get a student right away. There's no guarantee any students will be available when you log on to teach.
The app is relatively new, so hopefully, the student base will grow, and they keep the number of teachers to a minimum.
Only Select Universities
I was happy to see that they do have a long list of Universities that they accept and you don't have to be attending school now to work for this company.
They do say that if your University is not on the list, they will still consider you. It does require a few extra steps, but at least you still have a shot.
---
Is the Native Talk App A Scam?
I honestly could not find much feedback on teaching for Native Talk. The app is new, so there's not much information out there. I can say when I emailed them with a few questions they responded quickly and answered my questions directly.
Overall I'd say Native Talk is not a scam and is worth trying out to make a few extra bucks each month.
If you'd like to learn more or to join, visit NativeTalkApp.com to begin the application process.
Native Talk isn't for everyone if you don't have a college degree (or attending a university) you can't apply. But here's some other ways to make an Extra Income Online and there're no education requirements.
If extra income isn't for you, don't worry. All I have is a 2-year junior college degree, but that didn't stop me from perusing My #1 Recommendation and starting a profitable blog. Now you can learn how for completely free.
Thank you for taking the time to read my Native Talk App Teacher Review. If you've applied or have any additional information about this tutoring job I'd love to hear about it in the comments below! 🙂