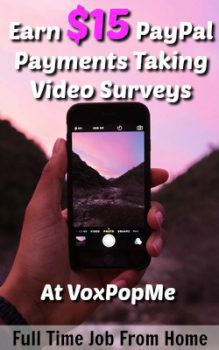 The VoxPopMe app is available for Apple and Android devices. The app pays you to respond to video surveys. I've seen a few similar apps, and I think this might be my favorite.
With that being said, there's some complaints about the app and it might take a while to reach the cashout amount. From what I've seen the app does pay, but you'll have to complete quite a few surveys to cash out!
Please keep in mind that VoxPopMe and other apps are just extra income apps and won't make you much. If you can make $5-$15 a month with these apps you should be happy. If you're interested in making a full-time income online, check out My #1 Recommendation, it's how I made over $13,000 online last month!
In this VoxPopMe App Review, I'll cover how the app works, how to get paid, the complaints, and if this app is a scam!
---
VoxPopMe App Review

App: VoxPopMe
Type: Video Survey App
Score: 83 out of 100
Verdict: Legitimate
In this VoxPopMe Review, I gave them a good score and marked it legitimate. I'm a pretty big fan of this app and their video surveys. The surveys are short and only take a few minutes to complete. The payment isn't huge for most surveys, but if you consistently take surveys, you'll make a decent side income.
The cash out amount is a bit high for surveys that just pay $1 or less, but I do like that they pay via PayPal quickly.
Overall VoxPopMe is a pretty good app, the surveys are easy to take, and you can make a few extra bucks in your spare time.
---
How Does VoxPopMe Work?
1) Sign Up For Free
The first step is to visit VoxPopMe.com and decide what device you'd like to install the app on. It's completely free to join and only takes a few minutes.
2) Find A Video Survey
Once you sign up, you'll see a few video surveys available. Everyone will have the chance to record a survey about where you heard of the app. Feel free to mention me :).
You'll see the full list of video surveys available. Once you view a survey you'll see exactly what you need to answer, how much it pays, and the usage rights (more on this in complaints).
If you think the survey is a good fit you can move on to record your video response.
3) Record Your Video Response
Once you find a video survey to take, it's time to record your video. Use the app to record a video using your front camera. Make sure that you're in a quite environment and your face is visible.
All you need to do is record a response answering the question; that's 15-60 seconds long.
Once you're happy with your video, submit it.
4) Wait For It To Get Approved
Once you submit your video, it usually takes up to 48 hours for the VoxPopMe agent to accept your response.
As long as you're visible, easy to understand, and shared your opinion, your video should be approved.
Once your video is approved, earnings are available in your account balance where you can cash out via PayPal once you reach $15.
---
How Does VoxPopMe Pay?
VoxPoxMe pays via PayPal once your account reaches $15. You can cash out at any time once you reach the $15 amount. They say that payments are processed and show up in your PayPal account within 72 hours of cashing out.
Most surveys pay $1 or less so you'll need to take quite a few video surveys to reach the cashout amount.
---
VoxPopMe Referral Program
The VoxPopMe app does offer a referral program that pays you and your referral $1 after they join and complete their first video response.
You can easily share your referral link inside the app through text, email, or any social network. The link opens up the VoxPopMe website in a mobile browser, and then they choose what type of device they'd like to install the app on.
Referring your friends is an easy way to reach the $15 cash out amount much faster!
---
VoxPopMe App Complaints
Not Many Surveys
When I first joined the app, there were four different surveys available to take. They do have additional text surveys you can take to unlock more surveys, but there's a limited amount.
Most of the reviews in the app store also mention this. When you think about the $15 cash out amount, you'll need to complete 15-20 video surveys to reach the amount.
Limited surveys means you won't be able to reach the cashout amount right away, but if you take surveys over time as they become available, you'll be able to make a decent side income.
Giving Out Personal Information
Honestly, you won't be able to make money taking surveys without giving personal information to companies. I checked the FAQs, and they say that the company can see your first/last name, gender, age, hometown, and country.
Before you answer any video survey, you'll see how your video can be used. The two options are internally or publicly. Internally means the company employees can see the video. Publicly means it could be used on social media.
If you have an issue with that, just make sure to check the usage terms or just skip this opportunity altogether.
---
Is VoxPopMe A Scam?
VoxPopMe is not a scam if you record decent quality videos you should have no problem getting paid for your opinion. Do keep in mind that this is just extra income, most videos pay around $1, which means it takes some time to reach the cashout amount.
If you stick with it and take the surveys that become available, you should be able to cash out in a month or so.
If you'd like to learn more or to join, visit VoxPopMe.com.
Remember, to make money with this app you have to record yourself talking. If you're not comfortable with this, just skip this app and check out some other ways to make extra income online!
If extra income isn't enough and you'd like to make a full-time income online, survey apps are not for you! Check out My #1 Recommendation, it's how I made over $13,000 online last month!
If you didn't find what you were looking for here, check out these helpful links to other ways to make money online:
Work From Home Companies Hiring Now
All The Extra Income Sites That Pay Me
How I Made Over $13,000 Last Month
Do you think the VoxPopMe App is a scam? Have proof it's legitimate? I'd love to hear your thoughts in the comments below! 🙂
Summary
Reviewer
Review Date
Reviewed Item
Author Rating