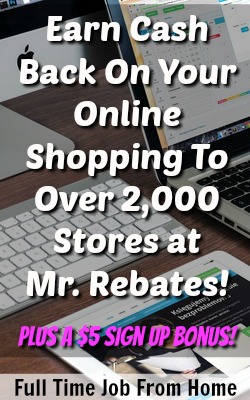 Mr. Rebates is a cashback shopping website in business since 2002. It's a popular cash back portal that offers cash back to over 2,000 stores.
If you're not familiar with how cash back works, it's incredibly simple. Just visit stores through Mr. Rebates and make a purchase as you normally would. You'll earn a percentage of what you spend back.
Mr. Rebates seems to be scam free and legitimate, but in this Review, I'll cover some details such as rates and payments to see how good Mr. Rebates is!
---
Mr. Rebates Review

Site: Mr. Rebates
Type: Shopping Cash Back
Score: 85 out of 100
Verdict: Legitimate
In this Mr. Rebates Review, I gave them a good score and marked it legitimate. There're no signs of Mr. Rebates being a scam, but you'll see some complaints from members not getting credit for some shopping. Unfortunately, this is just part of it; you'll have that with any cash back site.
I prefer Rakuten or Swagbucks over Mr. Rebates because it's user-friendly and is more visually appealing. Overall the rates seem to be pretty fair, and they do have a large selection of stores.
It comes down to personal preference, but if you sign up for Mr. Rebates, you'll be joining a legitimate cash back site.
---
How Does Mr. Rebates Work?
1) Sign Up Earn $5
The first step is to sign up. It's completely free to join, and when you visit Mr.Rebates.com here you'll earn a $5 sign up bonus after your first purchase!
2) Find Your Favorite Stores
Mr. Rebates offers cash back to over 2,000 stores. I guarantee you can find at least one store you frequently shop on the list.
All you need to do is visit Mr. Rebates and click the link to your favorite store. A new tab will open, and you'll be eligible for cash back on your purchase.
3) Shop Normally
Once the new tab opens, you can shop normally. Feel free to visit multiple pages of the website and browse as you normally would. When you're ready, add items to your cart and complete the checkout.
4) Earn Cash Back
Usually, within 3-5 business days, your cash back credit will show up on your Mr. Rebates account as pending. As long as you don't return the item, your cash back should be approved within 30 days.
Once your cash back is approved, you can cash out at any time once you reach $10.
---
What Stores Are Available?
Mr. Rebates offers cash back to over 2,000 stores. As you know, I won't be listing all of them here. Pretty much any major store is available for cash back.
The most sought after store is Amazon. Amazon is available on Mr. Rebates, but only in certain categories. The categories usually change throughout the year.
My advice is to visit Mr. Rebates; you can see all the stores available before joining.
---
How Does Mr. Rebates Pay?
Once you earn $10 in cash back, you can request a payment from Mr. Rebates.  Mr. Rebates pays via mailed check or PayPal.
You can cash out your earnings at any time, once you earn $10, but the payment won't be processed until the 1st of the following month. For example, if you cash out August 1st-31st, you'll receive payment on the 1st of September.
---
How To Earn More At Mr. Rebates?
The easiest way to make more cash at Mr. Rebates is referring your friends. The Mr. Rebates referral program is very easy to use and can be very lucrative.
You'll earn 20% of your referrals cash back for life. They also receive a $5 sign up bonus just for signing up through your link.
Mr. Rebates lets you send custom emails, share on Facebook/Twitter, and has some awesome banners you can place on your blog/website.
Start referring your friends to earn some extra cash through Mr. Rebates.
---
Mr. Rebates Complaints
Only Online Cash Back
This isn't a huge deal because there're other options out there for in-store cashback and I like that Mr. Rebates is specialized, making sure they do online cash back as good as possible.
With that being said, Rakuten, a competitor, is starting to offer in store cash back along with online cash back. There's also apps like Ibotta that provide in-store grocery shopping cash back.
Not a huge complaint, but you'll have to use an alternative site/app to get in-store cashback.
Where's My Cash Back?
I've already mentioned this, but with any cash back site, there's a chance you won't get your money for every purchase you make. The cash back sites, like Mr. Rebates, use cookies that aren't always 100% accurate. There are a few instances where an error may occur, and Mr. Rebates won't get paid for your shopping.
The rule of thumb is if Mr. Rebates gets paid for the purchase, you'll get paid your cash back. Sometimes issues happen, really it's out of your control, but they do have advice you should follow to avoid problems.
---
Is Mr. Rebates A Scam?
Mr. Rebates is 100% not a scam. They've been around for a long time and have a wide variety of stores available. Overall the cash back rates are pretty good, and it's always awesome to see Amazon available, even if it's only a few categories.
I personally prefer using Rakuten and Swagbucks, but Mr. Rebates is still a good option. The advantage of Mr. Rebates over the other two is Mr. Rebates has faster payments than Ebates and has way more stores available than Swagbucks.
Trakutenhe choice is yours, if you'd like to join or learn more, visit Mr.Rebates.com to get started and earn a $5 sign up bonus when you make your first purchase.
Online Cash Back is awesome, and I highly recommend everyone using a cash back portal, but it's not the only way to make extra money online. Make sure to check out the other ways I make an Extra Income Online.
Extra income is great, but if you're looking to replace a full-time income, you should look at My #1 Recommendation.
Have you used Mr. Rebates in the past? Think this site's a scam? I'd love to hear your thoughts on my review in the comments below! 🙂
Summary
Reviewer
Review Date
Reviewed Item
Author Rating