MemoLink Review: Is MemoLink a Scam?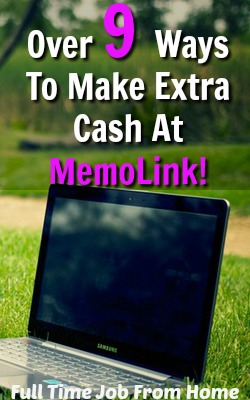 MemoLink is a rewards site that pays you to do a lot of different things. Honestly, MemoLink is not a scam, but it's not my favorite rewards site either.
If you're already a member of MemoLink, you're on a legitimate site that will pay you, but if you're not already a member I recommend checking out the reward sites that I recommend over MemoLink!
I decided to write a MemoLink review to cover the different ways to earn, rewards, complaints I have, and to make sure this site is not a scam.
---
MemoLink Review
Site: MemoLink
Type: Rewards
Score: 80 out of 100
Verdict: Legitimate
In this MemoLink Review, I gave them a decent score and marked them legitimate. MemoLink has a lot of different ways to earn and a decent amount of reward options, but I'm not too crazy about the point system that they use.
Last Month I Made

$13,841 Online
I Bet You're Tired Of Making Pennies Online. No More BS. If You're Serious About Making A Full-Time Income Online You Need To See The TRUTH. Stop Wasting Your Time With The Next Big Thing When There's Already A Proven Method That Works!
Why 16,000 points are equal to $10 doesn't make much sense to me!
If you join MemoLink and earn enough points, you'll get paid your earnings, but I feel like there're much better reward sites out there.
---
How To Earn At MemoLink
Shopping
Memolink offers cash back to hundreds of stores. It works similar to Swagbucks if you're familiar. You'll earn so many points per dollar spent. All you need to do is visit the store you'd like to shop at through Memolink. Then shop normally and make a purchase to earn cash back.
Surveys
Memolink has a long list of surveys available. You'll need to qualify for all surveys before taking the survey and getting paid. Most surveys last from 10-30 minutes and pay from $.50-$2.
Search & Win
Memolink has it's own search engine that you can use to earn points. Again, it's very similar to the search at Swagbucks. Use the search bar to search the internet normally. Every once in a while, you'll earn points for your search. Most winning searches pay 20-50 points.
Watch & Click
This section has videos that you can watch and websites you can visit for cash. Most videos and website visits are under 2 minutes long and pay 10-30 points a piece.
Download Apps
Get paid to download apps on your computer or mobile device. Most apps pay from 100-500 points.
Free Trials
Most sites call these offers. You'll have to join a free trial that usually requires you to put in your credit card information. These offers pay from 500-2000 points.
Trivia
Get paid to answer trivia questions. You get 25 seconds to submit your answer and earn 5 points for every correct answer.
Polls
In this section, you'll find a few short polls but mainly surveys from other companies. Most pay around 300 points per survey.
Invite Friends
MemoLink does have a referral program that can help you earn more. You'll earn 5 points for every friend who joins and confirms their email. You'll also receive 10% of their lifetime earnings.
---
MemoLink Rewards
All MemoLink Rewards start at $10 or 16,000 points. You can cash out via Check, Amazon Gift Card, or Walmart Gift Card.
They make payments twice a month. If you request a payout on the 1st-15th, you'll get paid on the 30th. If you request a payout on the 16th-31st, you'll get paid on the 15th of the following month.
---
How To Earn More: MemoLink Gold
There is one way to start making more as a member at MemoLink, and it's by becoming a Gold member. To become a Gold member, you have to use the site and earn 100,000 points, confirm your email, and complete your profile.
As a gold member, you'll earn 10% more points and have access to higher paying gold opportunities. The Gold membership last for one year, you'll need to earn 100,000 points again to continue as a Gold member.
---
MemoLink Complaints & Concerns
Cash But No PayPal
I was pretty excited to see that MemoLink paid with cash, but was a bit disappointed when the method of cash payment was check. I would like to see PayPal or Direct Deposit as an option for payments.
Although you'll get paid about 15 days after cashing out, it will take up to another seven days to receive your check, so payments via cash are the slowest reward option.
---
Is MemoLink A Scam?
Memolink is not a scam; there's a ton of members that enjoy this reward site and make some extra cash each month with it. Personally, I recommend some other reward sites over MemoLink. One site that's very similar is called Swagbucks; it's probably my favorite rewards site. It has even more ways to earn and has better rewards available!
If you're set on MemoLink, it is a legitimate website; you can learn more or join at MemoLink.com.
Extra income is awesome, but you could be making a much larger income online. Here's how you can start your a profitable blog for completely free with My #1 Recommendation. You can even work directly with me for free!
Do you think MemoLink is a scam? Have thoughts on my review? Leave me a comment below! 🙂
Summary
Reviewer
Review Date
Reviewed Item
Author Rating