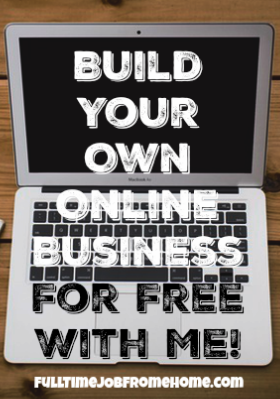 What's up, my name is Brok and you're currently on one of my most successful websites, Full Time Job From Home. If you're not familiar with me yet, I'm a 22 year old from Illinois that has been making money online since 2013, building my own online business!
For a limited time only, I'll be giving lucky visitors a chance to work with me building your own online business. On this page you'll find the exact details of how the process works, what you'll learn, what you'll get from me, and much more!
This year I'm taking a bit of a break from creating new content on my website, and would like to devote more time to teaching others what I know and helping you get your online business off the ground!
Keep on reading to learn more about this opportunity and what it entails.
---
How To Build Your Own Online Business
In this section I'll cover what I do and how the process of building your own online business works.

1. Pick A Niche/Hobby/Passion
First, I want you to think of a hobby or passion you might have? To give you some examples it could be video games, makeup, investing, birdhouses, or anything else. The first step in the process is picking a topic to build your website and business around.
Your Niche can be any hobby or passion that you can think of. Any niche is profitable and can be turned into a full-time online income.
You don't have to make a decision just yet, but start thinking about something that you really enjoy!
2. Create A Website
The second step will be to build a website around your passion. This is probably the most scary part! At least it was for me, but don't worry, I'll show you how you can build a website in under 30 seconds!
I'll also teach you all you need to know about creating, editing, and maintaining your website!
3. Traffic Is Key
Once you have your website in place it's time to get some traffic! You can't make money at a local business unless you have traffic to your store, right?
I'll teach you how to create content and get completely free traffic from Google!
4. Traffic Turns Into Money!
Once you have some free traffic coming in, it's time to make some money. I'll be teaching you my favorite way to make money online called affiliate marketing. It's where 95% of my online income comes from and millions of dollars are made each year with this method!
Turn Traffic Into Money For Free
---
What's Included In Working With You?
Now that you know the process I took and the process you'll learn, let's talk about what you get for working with me! The whole working with me program will also give you access to Wealthy Affiliate, which is actually My #1 Recommendation! Here's what you'll get:
5 Modules of Training: 10 Lessons Each
The first thing you'll receive is 5 modules of online business training. Here's exactly what you'll get:

1. Getting Started: Learn How the Process Works, choose a niche, create your website, 1st step to creating content
2. How To Get Traffic: Understand How the Traffic Process Works, how to create content that gets traffic, keys to more traffic
3. Making Money!: Understand How To Make Money, How Affiliate Marketing Works, how to monetize your website
4. Social Social Social: Understanding the importance of free social traffic, how to make your website social friendly, tips and trick on every social network
5. Content Creation: The key to writing great content, how content will make you more money, how to grow your business
These are the 5 main modules of training, which all have 10 lessons and cover much more than what's listed here. But that's not all the training you'll receive!
11 Topic Specific Classrooms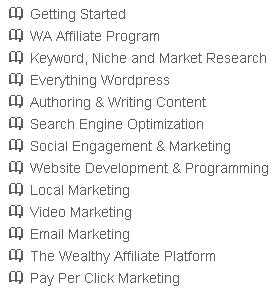 After you complete the 5 modules of training there's specific classrooms where you can go to learn more and ask questions about certain parts of an online business. You'll have access to 13 classrooms, some of the key and most helpful classrooms include:
1. Keyword, Niche and Market Research
2. Everything WordPress/Website Help
3. Search Engine Optimization/SEO
4. Email Marketing
5. Writing Content
These 13 classrooms are set up to help you. If you have a question just ask or dig in and learn more about a specific part of your online business!
Access to Huge Helping Community
Not only will you get to work with me, but you'll get access to a community of 1,000s of members. Members include complete beginners, intermidiate members making some extra cash, and advanced members that work from home full-time building their own online business.
If you have questions you can reach out and find your answer quickly and effectively.
The #1 reason why people building an online business fail is because they don't have the support they need! If they get stuck they just give up, but not here. If you get stuck there's 1,000s of eager to help members to assist you, and of course me too! 🙂
Free Website Hosting
When you try to start your own online business there's tons of fees you'll have to pay, but not here. You'll get completely free hosting of unlimited websites. Some hosting programs I've seen range from $10-$1,000 a month!
As you build out your business, hosting can become a huge expense, but when you work with me you can host your website for free Forever!
Weekly 1 Hour Webinars
If there wasn't enough training already, each week there's a 1 hour long webinar covering a specific topic. You'll be able to watch along and ask questions. Some of the most recent topics include:
1. Ways To Get Your Content Noticed
2. Finding High Traffic Keywords
3. 10 Steps For Free Top Ranking On Google
These are just a few of the last 1 hour long webinars that you'll be able to watch live or replay at a later date!
24/7 Private Message Support From Me!
Not only do you get more training than any other program and access to 1,000s of community members, but you also get 1 on 1 support from me. As soon as you join I'll be contacting you, I'll comment on all of your activity in the community, and be there to answer any questions you might have.
I've been building websites and making money online for 2 years. Every single day I learn something new and you can pick my brain to learn what I already know!
I'm always just one private message away!
---
Lets Talk Price
If you've seen other gurus training products, you probably expect me to drop a bomb right now….. but this membership lets you try for completely FREE!
That's right you'll receive training, 1 on 1 support, and free website building all inside your free membership! I can't stress enough how good of a value this is compared to what you get!
If you have any interest in building your own online business, I strongly recommend at least trying this out for free, and see if it's really something you'd like to pursue.
Start For Completely Free Here
---
How Will Working With You Benefit Me?
I've currently been building websites and making money online with them for over 2 years now. It took me a while to really understand how the process worked. Once I understood the process there was still a ton to learn! Now, 2 years later I'm still learning what does and what doesn't work every single day!
The biggest benefit of having direct access to me is being able to pick my brain. I'll be honest with you, tell you exactly what you need to do, what changes to make, and get you started on the right track. I'll be available 24/7 through a private messaging system. Where you can ask me questions about how the process works, feedback on your website, or just what to do next to be successful!
I've helped 100s of people make money online and I want to make you one of them!
DISCLAIMER: This process is not easy! For you to make money you'll have to apply yourself to the training, put in time to work on your online business, and listen to recommendations others make. But if you do all of these things there's a huge income possibility that I'd like to help you achieve!
---
How Do I Get Started?
To be honest, if you're planning on learning how to build an online business this is a great deal. I know of many guru's 1 on 1 programs that cost $1,000s of dollars, plus all they do is try to get you to purchase more products.
In this program you'll get a Wealthy Affiliate Membership/Training/Community, Free Website Hosting, 24/7 Private Messaging with me, and all the information you need to be successful building your own online business for Free!
To get started you can join Wealthy Affiliate as a Free Member Here
[thrive_megabutton mt="Work With Brok For Free!" st="" color="blue" link="http://www.wealthyaffiliate.com/a_aid/c92060ca/data1/work with brok" target="_self" align="aligncenter"]
The next page you see will look exactly like this:
All you need to do is fill out your name, email, password, and desired username. Then click "create your free account"
I will contact you shortly on your profile to help you get started!
I am extremely excited to work with you building your own online business! I've been doing this for over 2 years and know that it's the best way to build an online income!
[thrive_megabutton mt="Work With Brok Now For Free" st="Create A Free Wealthy Affiliate Account" color="green" link="http://www.wealthyaffiliate.com/a_aid/c92060ca/data1/work with brok" target="_self" align="aligncenter"]
Hope to see you inside shortly!
Brok