I recently came across a site called Instant Rewards. Instant Rewards is a site where you get paid to refer members. There's a few hoops to jump through, but after that you'll get paid good money per referral.
I've seen a few sites like this, one being the instant rewards network. Overall I'm not a huge fan of these sites. I can't call them scams, but the opportunity to make money isn't as easy as you might think.
That's why I decided to write this Instant Rewards Review and show exactly why it's not as legit as it may seem.
In this review I'll cover the whole process of how it works and show you why this system is close to a scam!
---
How Does Instant Rewards Work?
Before I cover what you'll need to do to make money, here's how the whole process works. When signing up you need to complete offers to become active. Once a member does this they can begin to refer others to make money. Refer other members and if they become active they get paid. Basically the whole point of the program is to refer people that are interested in making money with the system. Since they have to become active before they make any money, you get paid when they become active.
1) Sign up and Become Active
Before you can make any money with Instant Rewards you'll need to sign up and become active. To become active you need to complete at least 1 offer point.
Now not all offers are worth 1 point, so it can be a bit confusing. But basically you need to complete offers that will add up to at least one offer point.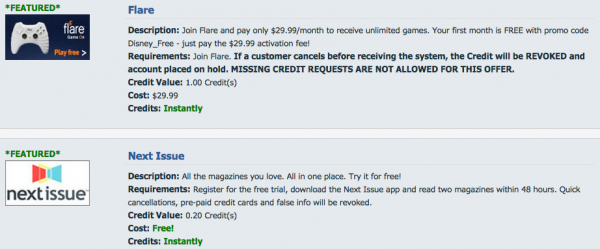 I've included a few example offers above. You can see that the first is actually ordering the product. This is going to cost you $30, but does give you the 1 credit you'll need.
You'll also see some ones that say Free. Truth is these are free trials so if you don't cancel your membership you'll still get charged. Also if you sign up, get credit, and immediately cancel, you'll probably get your credit revoked, meaning you'll no longer be active.
Basically to become active you'll have to pay for a product or at least give out your credit card information with the chance of getting charged.
2) Set Up Your Referral Account
Once you've completed 1 credit worth of offers you'll become active. You can then set up your referral link and sales page to direct people to.
They do offer a bit of customization and has back end reports that you can access.
3) Start Referring Your Members
Once you have everything set up it's time to start sending people to your page. Instant Rewards recommends inviting your friends and sharing on social media.
4) Get Paid
For every member you refer that completes one offer you'll earn $20!
---
Instant Rewards Complaints
I Thought it Was Free?
When I came across Instant Rewards one big selling point was it's Free to join. Honestly you can get active without spending any money if you do everything correctly, but the easiest way to get approved is to spend money on an offer.
Even if you don't spend any money you'll have to sign up for free trials and give out your credit card information.
I've been involved with a few sites like this over the years. Every time I did a free trial there was some hidden fee or I ended up getting charged something for the free trials.
When you tell people it's free and they end up paying, they're usually not very happy. To me this is not an ethical way to make money online. No it's not a scam, but you'll have to watch your words to avoid really pissing people off!
Where Do You Find Referrals?
So here's the big concern for me and why I don't think this is a good business model/long term business.
Truth is getting referrals isn't that easy, even on sites that are free to join (which this really isn't).
The main ways you'll probably get your first few referrals is through bothering your friends or family then maybe sharing on your social media.
From my experience most friends and family don't really care, but a few might sign up just because your the one involved. On the social media side of things, most people don't have tens of thousands social media followers, this means you may be able to grab a few referrals from your existing followers, but it's not something that's going to roll in referrals all the time.
Since you only get paid once per referral the only way to make this a long term money maker is bringing in referrals all the time. To me, without a website and the right training, this isn't going to be something you can make good money with for a long period of time.
---
How Much Does Instant Rewards Pay?
You probably saw in the how it work section that each member that becomes active pays you $20. Payments can be made via PayPal or Direct Deposit.
I know that this review has been negative, but Instant Rewards will actually pay you your earnings. Income depends on how many you can refer. Like I covered above, I don't think there's a way to get a ton of referrals without pissing people off or just bothering your friends.
Although you might be able to make some quick money with Instant Rewards, I don't see it being a long term online income or business opportunity.
---
Is Instant Rewards Legit?
So you're probably wondering is Instant Rewards a scam? Honestly I can't say that Instant Rewards is a scam. If you refer someone and they become active you can get paid, which makes Instant Rewards legit.
With that being said I don't think this is a long term business model that can make you money without the right tools. The way they want you to bring in traffic won't be enough to consistently get referrals.
Since I have a website that has thousands of targeted visitors each day looking to make money online, I could make good money with this program, but most of you reading this probably don't.
Personally I wouldn't promote this product anyways, mainly because it's advertised as free when it's really not.
To me there's much better ways to earn an income online that are completely honest and don't require you to watch your words when promoting it.
If you'd like to see how I can promote legit programs like this and get tons of referrals with my website, visit My #1 Recommendation for making money online.
Having your own website is the best way to make a large income online, but it's a lot of work. If you don't think your up for the task, check out some extra income sites I recommend.
What Are you're thoughts on this Instant Rewards Review? Is it a scam or legit? Let me hear what you're thinking in the comments section below!
Summary
Reviewer
Review Date
Reviewed Item
Author Rating