5
How You Can Earn Extra Money Using Pinterest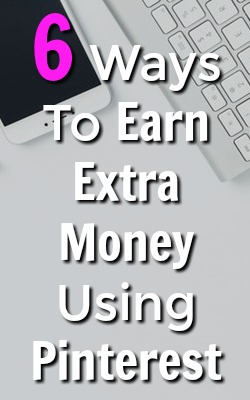 Have you ever used Pinterest?
Contrary to what many people think, Pinterest, which considers itself a visual search engine, is not just for moms looking for recipes, crafts, or play ideas with their kids. If you look around and do some searching yourself, you would soon find out that it is home to a variety of niches.
While most people use it as a way to bookmark inspiration and ideas, there is also quite a number of people who actually make money out of it.
Some people use Pinterest to earn money on the side, while they go about their 9-to-5 jobs, but there are also others who make a full-time income out of it, replacing their day jobs and even those of their hubby's.
You didn't think it was possible, did you?
Well, guess what…there are at least six different ways in which you can earn money off of Pinterest, and you can start doing that in a month, a week or even just a day.
So, how do people earn extra money – or even a full-time income – from Pinterest? Here are the ways.
---
6 Ways To Earn Extra Money Using Pinterest
1) Search For Ways to Earn "Extra Money" from Home Using Pinterest
As a visual search engine, you can find anything and everything you search for on Pinterest.
Do you want to know which sites provide extra income through referral bonuses? Do a search on Pinterest.
How do other stay-at-home moms earn money? Find them on Pinterest.
One of the easiest ways to earn extra money is by finding Pins on Pinterest that show ways you can earn extra money!
You should be able to do a search for almost anything and get pin results that link to blogs covering the topic.
Last Month I Made

$13,841 Online
I Bet You're Tired Of Making Pennies Online. No More BS. If You're Serious About Making A Full-Time Income Online You Need To See The TRUTH. Stop Wasting Your Time With The Next Big Thing When There's Already A Proven Method That Works!
2) Affiliate Marketing
Are you familiar with affiliate marketing?
In this setup, a person earns a percentage of the sale whenever another person makes a purchase through a special link. In this case, the affiliate marketer does not own the product (or service) but instead endorses and recommends it on behalf of the company.
It's a win-win situation – both parties earn money from the sale; the company does not have to spend a lot of money on advertising, they don't have to pay their affiliates if no sale is made, and the affiliate does not have to create or store the product or service.
What is great about Pinterest is that it allows you to directly pin your affiliate links on their platform, provided that you put a full disclosure that it is an affiliate link.
The secret to becoming successful at affiliate marketing, whether on Pinterest or on your blog, is to share affiliate products that are helpful and useful to your audience.
For example, if you are a mom, it would simply make sense to link to products that moms often use such as Instant Pots, baby strollers or books.
If you have grown a following on Pinterest due to your taste in fashion, then why not add a link to your favorite clothing items? You can link directly to the checkout section or to the storefront – companies usually credit any sale made through your links, regardless if it was the one that you recommended or not.
I highly recommend checking out Wealthy Affiliate to learn more about Affiliate Marketing.
3) Selling Your Products
Do you have digital or physical products to sell?
Have you ever thought about writing an ebook on a particular topic you are very knowledgeable about, and then selling them to other people?
Perhaps you have a small business selling clothing, jewelry, crafts or other items. That would work great, too.
The best thing about using Pinterest for selling your products is that you can skip the brick and mortar store (or you can use it alongside it) or the e-commerce platforms that just take a lot of money and time to set up.
You just have to make sure that your Pinterest pins go somewhere – a checkout section or a sales page where they can read more about the product – and you are all set to making money on autopilot.
If you do not have any product to sell yet, you can also use Pinterest to do some market research. Check out your competitors and see what they offer their audience – use it as inspiration and make a unique product that will solve your audience's pain points.
4) Selling Your Services
Another way people can make extra money from Pinterest is by promoting their services through the platform.
Do you have a service-based business? Pinterest is the perfect place for you to promote that!
All you have to do is create enticing pins that show what you can offer to your potential clients and link it to your website or to a sign-up form where they can answer a few questions, schedule an appointment or even get a discount. It's all up to you!
It is very easy to promote your business this way, and you do not even have to spend a lot of money, if at all.
All you need is to put together your services and packages, create an attractive vertical graphic to go with it, pin it to Pinterest and make sure that it goes to the correct link.
5) Sending Traffic to Your Blog or Email List
Aside from business owners who sell products and services, other people who make extra money from Pinterest include bloggers.
How do they do it?
Well, they simply promote their latest blog posts through an attractive Pinterest graphic and pin it on their boards as well as other people's boards.
A lot of bloggers have sworn to the effectiveness of Pinterest when it comes to sending traffic to their blogs. For some, their Pinterest traffic has even surpassed their search engine traffic – and we are talking about hundreds of thousands, to even millions, here.
Aside from their blog posts, bloggers also use their Pinterest pins to grow their email list either by sending people directly to their landing pages where their readers can leave their name and email addresses in exchange of a freebie.
Many times, they also create pins for their blog posts which comes with free PDF downloads, checklists, cheat sheets and other email opt-in incentives.
But exactly how do they make money from sending traffic to their blog or adding subscribers to their email list?
Once you start a profitable blog, you can earn income from it through affiliate marketing, ads, sponsorships and products and services. It's similar to the other ways you can make money using Pinterest, only that you have to maintain your own platform, which is your website.
Growing your email lists are also a great way to take their dependence off of social media platforms, allowing them to have more control of how and how often they reach out to their audience.
6) Becoming a Pinterest VA
A rather new but very interesting way to make a full-time income from Pinterest is by becoming a Pinterest VA.
What this means is that you provide Pinterest set up, audit, clean up and management to bloggers and other small business owners who use the platform to grow their audience and reach.
It is one of the most interesting services you can offer as a virtual assistant. Think about it: you get to pin all you want, all day, every day – and you get paid for it in the process. Cool, right?
And the best part is that you do not need to have a lot of experience with it, although it helps if you have results to show.
If you are just starting out or are looking towards offering Pinterest management as a service, you can start out building your own profile and growing your audience, reach, and most importantly, your blog traffic.
It can be through trial and error, or you can also check out several Pinterest courses offered by other been-there-done-that bloggers so you can fast-track your success.
BONUS: Tips for Becoming Successful with Pinterest
Like all other social media platforms and search engines in the world, Pinterest goes through a lot of updates and algorithm changes regularly. If you want to become successful making money from Pinterest, you need to make sure that you are constantly updated on these things.
A few pointers for beginners at Pinterest:
Create beautiful and attractive graphics. Pinterest is best for vertical, long-form graphics. Canva uses a template at 735px wide by 1102px long. Warm and bright colors such as reds and pinks often catch the eye more, and images without faces or people in them get pinned more.
Use multiple graphics. Just like any other marketing strategy, you need to do some trial-and-error to see which types of pins do well for your audience. While you can have the main graphic that you put on your blog, you can also directly upload a variation or two into Pinterest, pointing to the same link. Compare the performance of these pins and use the one that performs best.
Change your headlines. Aside from changing the layout of your pins itself, it also helps to test different headlines. Try to vary how you word your blog post titles (you can keep the title on your blog as-is). If you have any freebies included in your post, add that to your graphic. Knowing that they can get something out of visiting your post usually helps increase clickthroughs.
Use keywords. Because Pinterest considers itself as a visual search engine, it is important that you sprinkle keywords not just in your Pinterest pins but also throughout your profile. Keyword search is basically like searching for pins – just type in your main keyword and use the suggestions as additional keywords. Add them to your Pinterest profile name, description, board names, board descriptions, pin names, and pin descriptions.
That's it.
Pretty sure, you'll be a Pinterest expert in no time.
And even better is that you can do it in your spare time, while you have a 9-to-5 job, or even if you are looking after your kids. It's a great way to stay productive (and profitable) at home!
Best of luck and enjoy the ride as you try to earn side hustle income (or full-time income) from Pinterest!
---
More Ways To Make Money From Home
Hopefully, you enjoyed these ways you can make money using Pinterest. I have quite a bit experience driving traffic to my blog with Pinterest, and it's a very powerful traffic source. Even if you don't have a blog, there're several other ways to use Pinterest to make extra money, so choose one and get to work.
If you don't think making money on Pinterest is going to work for you, check out these helpful links:
Work From Home Jobs Hiring Now
Do you have experience making money on Pinterest? I'd love to hear your thoughts in the comments section below!