Ubiqus is a global leader in translation, language interpretation, transcription, and event services. They are currently looking for freelance contractors to fulfill an English Transcription position.
If you have any interest in transcribing from home, make sure to check out the course at TranscribeAnywhere. The course will teach you how to transcribe and how to find high-paying transcription jobs. You can also sign up for their Free 7-day course just to make sure Transcription is right for you! If you're interested in legal transcription, they also have a course on that!
Transcription is a great way to make money from home, but I prefer a much more passive income, check out My #1 Recommendation, it's how I made over $13,000 online last month!
In this review, I will cover the application process and requirements, look at the potential money you can make with Ubiqus, and also share what current and former Ubiqus freelancers have to say.
---
Ubiqus Requirements
A qualified candidate will have the following qualities:
US-based, native English speaking
1-5 years relevant experience, including editing or proofreading with a publishing company, secretarial experience, or work in education
If applying for legal transcription, you must have 1-5 years of experience as a legal secretary or equivalent
If applying for medical transcription, you must have 1-5 years experience in the medical field or have completed a professional medical transcription course
You must be able to make decisions and work well without supervision
Willing to accept feedback on submitted work
Must be able to meet deadlines
You need to have excellent communication skills
Must be proficient at using Microsoft Word
---
Ubiqus Application Process
Click here to start the application to be an English Transcriber for Ubiqus. When you get into the application, they ask for standard contact info. They want to know your highest level of education and years of relevant experience.
Regarding your internet connection, they want to know if you have a modem or DSL. 'No computer' is an option in the drop-down menu, but their website says everything is done remotely through the internet, so I think a computer is probably necessary.
Next, you will upload your resume and cover letter. You will also select the position for which you want to apply. There is a note which states that even though you choose a category, you aren't obligated to a specific transcription project. They will discuss the parameters of each job with you before accepting an assignment.
They want to know when you can start working.
Next, they ask what your salary expectations are if you were applying for a full-time position. And finally, they give you a blank field to give any additional information that you want them to consider along with your application.
---
How Much Does Ubiqus Pay?
Ubiqus pays freelance contractors per word submitted. Someone commented that they pay $0.00588 per word for legal transcription and $0.00695 per word for medical. For legal, at $0.00588 per word, that is just $5.88 for 1000 words, which could take you an hour or more to listen and transcribe.
No benefits are included since it is a contract position. This usually also means that if you make $600 or more for the year, you will be responsible for paying income taxes.
---
When Does Ubiqus Pay?
According to research, Ubiqus pays contractors every two weeks.
---
Ubiqus Schedule
This is a part-time contract position. Your schedule will be flexible because it is designed around your needs.
---
Ubiqus Feedback
The overall score on Glassdoor is not great. Ubiqus received 2 stars out of 5 possible, for 22 reviews. I narrowed the search to only see reviews from people who selected freelance, contractor, or part-time. The overall score went up to 2.3 stars, with an approval rating of 46% that would recommend to a friend.
Feedback from current freelance transcribers states that the pay is reasonable compared to other similar jobs. This person also said the hours are flexible as they allow you to set your own schedule. Feedback is only received occasionally, but enough to know how you are doing, and the instructions are pretty clear.
The downside to Ubiqus is that the work can be inconsistent. You can go weeks without receiving new work. And the pay seems to be extremely low. I'm sure that transcribing is something that you can get better at over time, but it's likely that you will on occasion, still come across poor audio, or someone who mumbles or does not enunciate well. Someone who speaks fast, or with a foreign accent will be very difficult to transcribe and could take longer than usual.
I found some reviews on a work at home forum that state they like the per-word format and feel like they get paid better that way, as compared to other companies who pay per line.
One reviewer said to call in to ask for work. She said that almost every time she does that, they are able to give her an assignment. This same person says she's worked as a freelance transcriber for Ubiqus for 10 years. Regarding pay, she said they have a grading scale, and she's worked her way up and is now making $0.00635 per word, up from approximately $0.0054 when she started.
---
Is Working at Ubiqus a Scam?
Based on my research, I do believe that Ubiqus is not a scam. But unless you can type extremely fast and with good precision, you won't make a lot of money as a transcriber for Ubiqus. On the other hand, to hear that several people have worked for them for 10 or more years, the pay must not be that bad!
Here's the link to apply if you want to give it a try!
If you're interested in transcribing, make sure to check out these other Transcription Companies.
The pay at Ubiqus is pretty low, make sure to check out the course at Transcribe Anywhere. The course is set up to show you how to find your own high-paying transcription clients and bypass the companies that take a huge cut of your earnings! You can learn more by taking their 7-day free course, just to make sure it's right for you! They also have a free course on legal transcription, which usually pays much more!
If transcription isn't for you, check out these helpful links for some other work at home ideas:
How I Made Over $13,000 Online Last Month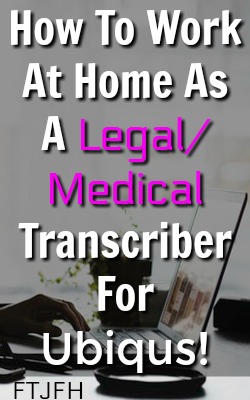 Summary
Reviewer
Review Date
Reviewed Item
Author Rating