Upwork, formerly Elance-oDesk, was founded in 2003 as an online platform for finding freelance jobs across many different fields.
Make sure to check out our recommended e-courses to build a huge freelance income!
---
Upwork Requirements
All that's required to freelance for Upwork is a computer and internet service. The jobs are virtual, so you find them and complete them via your computer.
---
What Job Categories Are Available In Upwork?
What job categories will you find in Upwork? The list is amazingly long! One hundred, maybe two hundred. But here are the main categories:
Accounting and Consulting
Admin Support
Customer Service
Data Science and Analytics
Design and Creative
Engineering and Architecture
IT and Networking
Legal
Sales and Marketing
Translation
Web, Mobile, and Software Development
Writing
---
Upwork Application Process
To freelance on Upwork, you will need to start by creating a profile. Once you've created your profile, the company will send you ideas for potential jobs that might be a fit for you based on your profile. The more complete your profile is, the easier it will be for you to get jobs.
But you can start searching for jobs immediately!
When you search for jobs and find a job that you want to submit a proposal for, you will click a button that says "submit a proposal." The process is very clear throughout.
---
How Much Does Upwork Pay?
You get paid 80% of the contract price, which can be anything. When you create your profile, you list your "rates," but you can change it every time you submit a new proposal. So how much you get paid depends on the job, the hours, and what rate you propose.
---
When Does Upwork Pay?
Upwork pays weekly via hourly or fixed-price contracts. They pay you by direct deposit, PayPal, or they have other options as well.
One advantage of freelancing through Upwork is that they have payment protection, to ensure that you get paid for successfully completed work.
You can set up automatic bank transfers when your account reaches $100. These payments are weekly. If your balance is under $100, as soon as it shows as available, you can request a transfer to claim your money.
At the end of the week, you will submit your hours via an Upwork time card app that you install on your computer. The client has a week to pay, and you can withdraw the money shortly thereafter. I would plan on waiting 2 weeks to start getting paid for a job. But once you get into a contract, you're basically getting paid weekly.
---
Does it Cost Anything to Freelance for Upwork?
There is no fee to create a profile. So you won't pay a fee to start searching and applying for jobs.
When you do land a job, a fee will be deducted from your gross earnings. Upwork takes 20% of your pay for the first $500 with a client. If you continue a contract with the same client, whether it's the same job or a new one, once you go over $500 in earnings, Upwork will reduce the fee to 10% for the work you do for that client. If you get to $10,000 with the same client, they will further reduce your fee to 5%.
But you don't actually pay the fee; it simply gets deducted before you get paid.
If you start off gangbusters and apply for several jobs, you might need to pay a little to keep applying. They call these "connects".
---
How "Connects" Work
You are given 60 connects per month for free. When you want to submit a proposal for a job, it will cost you anywhere from 1 to 5 connects, but 2 is most common. Imagine that you can send out 30 proposals at 2 connects a pop. After a month, your connects start over.
You can purchase more connects if you want to. They cost $1 per connect.
Sometimes you will be invited to submit a proposal. In that case, you don't use any connects to submit a proposal for that job.
---
Upwork Schedule
Your schedule with Upwork will depend on the individual jobs that you get. But it's all freelance, so your schedule will be as flexible as you want.
---
Upwork Feedback
The Glassdoor reviews are of the physical company behind the freelance website platform. There are 190 reviews and it's possible that some freelance reviews are mixed in, but every review I read was from an employee who goes into an office.
That being said, I can give you my personal feedback since I have a profile on Upwork.
I have received a handful of jobs on Upwork. I did one job that was $5 to register and give feedback for something. The highest paying job I landed was to help a small business owner with social media image creation and posting.
The only issue I ever had was that the client said I could go over the set hours to complete a project, but when I did, I only got paid for the exact number of hours we had agreed on. That was something that happened within Upwork, and I was able to get it straightened out by contacting the client.
Overall, freelancing for Upwork has been a positive experience. Anytime I get that feeling that I need more work, I log in to Upwork and submit some proposals!
---
Is Working at Upwork a Scam?
No, I know for a fact that working for Upwork is not a scam! I have personally gotten jobs off of Upwork and have been paid!
Unfortunately, there are still unscrupulous people who will try to scam you within Upwork, so you have to be careful. Upwork has measures in place to try to keep this from happening. If you stay within the Upwork system for all messages and communication, you will be protected and backed by Upwork.
Conclusion: Not a scam, and recommend!
If you want to start freelancing on Upwork, here's the link to create your profile and get started!
Not sure about freelancing for Upwork? Check out these helpful links for some other ideas: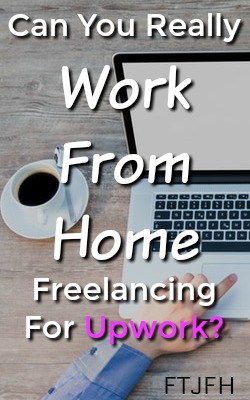 Summary
Reviewer
Review Date
Reviewed Item
Author Rating