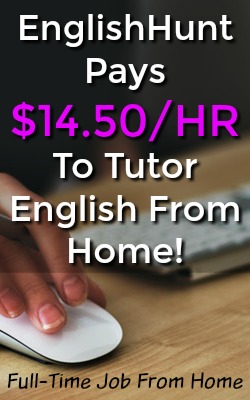 Englishunt USA is a branch of Englishunt Inc, which was founded in 2000 in Seoul, Korea. They held their first Live Video Class in 2001 and have remained a leader in e-learning and distance education classes via the internet.
Englishunt is looking for instructors to join their team to teach English to a wide range of students. In this review, I will talk about Englishunt in general, but I will also dive into their current job opening!
VIPKid, another ESL company is actively searching for new tutors. They pay up to $22 an hour! Learn more by reading my full VIPKid Review!
---
Englishunt Requirements
To become a teacher for Englishunt, you do NOT need to speak the students' native language. Some of the video classes, especially with younger students, will have an in-class bilingual teacher's aid to help.
Teaching experience is not necessary for the Live Phone Classes. But they do want you to have at least a two-year degree from an accredited institution. A teaching certificate is not required.
For the Live Video Classes, Englishunt requires their instructors to have a four-year degree. And many of the Live Video Classes will require you to have a teaching or substitute teaching certificate. But the good news is that your certificates can be expired! Having said all that, preference will be given to experienced teachers for the Live Video Classes.
You'll need to have a US bank account to receive direct deposit payments.
---
Englishunt Technical Requirements
Here are the computer and software requirements:
Computer with a minimum 2+GHz processor (2.5 GHz if only dual core) with a minimum of 4GB RAM
Computer headset with microphone (not wireless)
Windows Operating System (Vista, 7, or 8)
Antivirus Protection
Internet Explorer 10 or higher
Microsoft Office or Open Office
PDF viewing software, such as Adobe Reader
Microsoft PowerPoint or PowerPoint viewing software
If you are a MAC user, you'll need to install a copy of Windows 7 or later on your computer. You can do this through Bootcamp or virtual computer software.
---
Englishunt is Currently Hiring Virtual Tutors
When you click to apply now, you'll see they are currently hiring tutors for what they call the SRJ program, which is a virtual tutoring program from USA to Japan. The classroom software and curriculum is provided by Englishunt.
Instructors for this position will be required to have an ESL Certificate (English as a second language), or a teaching or substitute teacher certificate in any subject.
---
Englishunt Application Process
If you want to apply to teach English for Englishunt, you will start by submitting an application here.
You will be asked basic personal info such as name, email, and phone number. But you'll also be asked to upload the following items:
Photo
Resume
License, State ID, or Passport
Certification and or Transcripts
Cover Letter (optional)
---
How Much Does Englishunt Pay?
Pay rate is determined on a case-by-case basis for each instructor. It depends on the position that the instructor is filling. Some instructors will receive hourly payments. Some will be able to earn extra income doing things such as writing or editing, and reviewing student essays.
Englishunt likes to hire from within. If there is an opportunity to do another job and earn extra income, you will find out about it first as a current contracted employee.
The current position Englishunt is trying to fill will start at $14.50 per hour.
---
When Does Englishunt Pay?
Englishunt pays their instructors monthly. All payments are made via direct deposit. Englishunt will hire you as an independent contractor and issue you a 1099 for tax purposes.
---
Englishunt Schedule
Your schedule with Englishunt will be based on your availability. They like for their instructors to have a 2-hour window available. However, they will accept 1 – 6 hours. You will average 8 to 12 hours per week.
Many of the students are in Asia, so when you're teaching from the United States, the times will mostly be early morning, or evening hours, from 4-11 AM, 4 – 8 PM, or even 11 PM to 4 AM. (This could be really good if you're already working a full-time job!)
---
Englishunt Training
Training is done through a virtual classroom. All you need is a headset and a video or web camera on your computer for the live video classes.
---
Englishunt Feedback
Englishunt scores are excellent on Glassdoor! They have 4.5 stars out of 5, with 15 reviews. That might not seem like a lot, but still a good sample number. And the reviews are very consistent; people are happy working for Englishunt!
The reviews on Indeed are very similar; 4.9 out of 5 stars, with 17 reviews. The reviews are actually so similar that I wonder if any are duplicates.
Things people like about Englishunt:
Daytime flexibility, because your schedule is mostly in the very early morning or late evening
Weekends off
Paid training
Ability to insert your own teaching style
Gain exposure to different cultures
The cons:
Two unpaid breaks during the year, one in the summer and one in the winter, about 6 weeks each
No pay increase
Technical issues with platform
Messenger service used for communication; sometimes messages came across differently than intended
Inconsistent schedule
---
Is Working at Englishunt a Scam?
Based on the information I found, Englishunt is NOT a scam! If you are qualified and passionate about teaching, it actually sounds rather interesting. Here's the link to apply if you want to check it out!
VIPKid, another ESL company is actively searching for new tutors. They pay up to $22 an hour! Learn more by reading my full VIPKid Review!
If teaching English isn't for you, check out these helpful links for some other ideas:
Summary
Reviewer
Review Date
Reviewed Item
Author Rating