Contentmart is an online marketplace for writers to connect with clients from India and worldwide. It was founded in 2015 and is headquartered in India. In this review, I will dive into the application process and uncover how much you can make as a writer for Contentmart.
If you'd like to learn how to increase your freelance writing income; check out 30 Days or Less to Writing Success. They also have a free guide to becoming a freelance writer you should check out!
---
Contentmart Requirements
The only requirements to become a writer for Contentmart is that you complete the application process. Of course you'll need internet access too.
---
Contentmart Application Process
To become a writer for Contentmart, you start by registering with them. The registration begins with basic info, and some not so basic info these days: birthday including year, gender, and they also want the city and state you live in. Before submitting this info, you will agree to the terms and conditions.
You will immediately receive an email and you need to click on the link to activate your account. That dumps you into your account where you will give some information and skills. You'll choose your categories, such as technical writer, blog, white paper, Amazon descriptions, and creative, just to name a few.
Next they want to know your expertise and writing languages. In the expertise section, you can click on anything you want, but they want you to pass a test and submit 3 pieces of work to confirm your expertise for each item you select. For language, you just need to pass a test to confirm.
Next you need to fill out your profile; tell your potential customers about yourself. I started to fill out the application. But at the point they asked for my address and wouldn't let me move on without it, I stopped the process. Some writers and freelancers choose to have PO Boxes and this is one time I wish I had one. If I really wanted to write for them, I would probably give my address. But then I decided to input a phony PO Box address so I could go further into the process.
Now they want 500+ words about yourself. I wrote about my kids and why I love my VA business. Next they want to know your education and experience. It's like a full-blown application. I entered my education, including schools and dates. Then I entered my experience; I entered 2 former companies and dates. Now is where you add your best work. They want a sample of your writing. Title, 5-255 words, followed by the content, 5-3000 words. Then you select the category.
They note that 1 piece of content is necessary. You can't get any clients without showing a sample of your work. I found something I could paste in there to show my writing skills. I entered the title, and the body. I received a message saying that the company name should be between 2 and 255 symbols.
Once you complete your profile you can begin to bid on writing jobs.
---
How to Become a Contentmart Verified Writer
If you want to get projects faster and earn more money with Contentmart, you need to become a verified writer. Here's what you need to do:
Complete your profile
Upload sample writing
Pass advanced level test
Submit and essay
Earn positive ratings
Have a minimum of 10 completed orders
Have no warnings
---
Contentmart Schedule
Like any freelance job, your schedule should be as flexible as you allow it to be. But if you get a job, you need to stick to the deadlines set forth by that client. You CAN ask for an extension, but it's up to the client if they will allow for the extension. If you miss a deadline, your penalty is that you will forfeit 50% of the project price. If your client accepts your deadline change request, the project price does not change.
---
How Much Does Contentmart Pay?
Contentmart charges a 20% commission on all orders. Depending on your level, you'll earn $.0003 to $.07 per word before the 20% fee. You need to complete 3 orders with a rating of 4 or more. Then you get to the next level which includes more pay.
---
When Does Contentmart Pay?
Contentmart pays weekly via PayPal. The minimum amount you can withdrawal is $50. They process payment requests every week on Thursdays.
---
Contentmart Feedback
There was only one review on Glassdoor, and it was vague. I found some helpful reviews on G2Crowd. There are many comments that the layout is simple and easy to follow. Reviews claim that you can start earning money on day 1. One review says he gets regular work on a daily basis. Sometimes he has 3-4 projects in the works. Another review on Quora wasn't so favorable. It claims that a typical job will receive 25-60 bids. So your odds of winning the bid are slim.
---
Is Contentmart a Scam?
From my research on Contentmart, I think it's a real company, but it's not for everyone. I'm afraid you won't be earning much until you become a verified writer. At that point, you'll still only earn $.03 per word before the 20% fee.  I don't know anyone who would work so hard to get a job and accept less than $.03 a word. I don't care how fast you can type. But you're welcome to give it a shot! Here's the link to register if you want to see for yourself!
Contentmart doesn't pay well if you'd like to learn how to increase your freelance writing income, check out 30 Days or Less to Writing Success. They also have a free guide to becoming a freelance writer you should check out!
If writing isn't for you, check out these helpful links for some other ideas: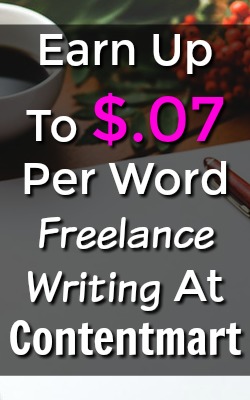 Summary
Reviewer
Review Date
Reviewed Item
Author Rating