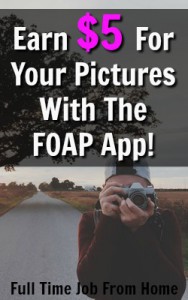 Foap is an app available on Apple and Android devices. The Foap App is a scam free way to upload your smartphone photos for sale.
Most of us take pictures every day; you might as well get paid for them. Companies and website owners are looking for photos to use.
An inexpensive way to do this is by finding pictures on Foap. When your photos sell, you'll get paid!
Making a large online income selling your photos is not easy, if you're having trouble getting started, check out My #1 Recommendation, it's how I made over $13,000 online last month and it can help you get eyes on your photos!
In this Foap App Review, I'll show you how it works, how much you can earn, and answer is the Foap app a scam or legit way to make money from your photos!
---
How Does The Foap App Work?
1) Download And Join Foap
The Foap app is available on Apple and Android devices. You can easily download the app and sign up through Facebook or Email. You will have to confirm your email before getting started!
2) Become Eligible to Sell
Nothing to worry about here, after joining, fill out your profile by entering your full name, date of birth, country, and payment information. Now you're ready to sell photos.
3) Upload Your Photos To The MarketPlace
Begin by finding the photo you'd like to upload on Foap. After uploading the image you'll need to name and write a brief description of the story behind the photo.
Next, you'll add tags to the photo. You should choose a few tags that are relevant to the photo. This will help your photos come up when people search those tags.
The last step is selecting the license. Answer a few questions about the photo and Foap will choose the license for you.
Your photo is now completely uploaded, comes up in search results, and is listed on your community profile.
4) Get Paid When Your Photos Sell
Once you upload your photo, you'll need to promote it. You can do this by using the community (I'll cover more on this later). Every time one of your photos sell you'll earn $5!
---
How Much Does Foap Pay, How, and When?
Foap charges $10 for every photo that they sell, but you get paid $5 every time one of your photos sell. One thing to mention is, each photo can be sold more then once. If you have a popular photo it could sell 10 or more times!
Foap pays via PayPal, but they only pay at the end of each month. You'll need to cash out by the 15th of the month to get paid at the end of the month.
Earnings roll over, and you can cash out at any time, but you won't get paid until the end of next month if it's past the 15th.
---
What Kind Of Photos Sell On Foap?
Here's the awesome thing about Foap. All kinds of photos sell on Foap, but obviously blurry and low-quality photos will never sell.
But as long as the photos are high quality and unique there's a chance of it selling.
---
Foap Newsfeed and Community
The Foap App isn't just a place to upload photos for sell, it's also a community and social media site to share photos. Having a large following only leads to more photo views, high photo ratings, and sales.
You should promote your Foap profile on other social media accounts and also get involved by following others inside the Foap community.
As you make sells, you'll naturally gain more followers and ratings on your photos, but it's important when starting out to get involved in the community.
The Foap community can only help you. Make sure to use it as a promotional tool to make more sells and money from your photos.
---
Foap Missions: Earn More With The Foap App
Foap Missions are a great way to earn more with with Foap App. These are basically contests created by companies that have a need for a certain type of photo.
For instance, right now there's a mission for photos looking up at big buildings in the city. There're exact requirements for each mission so if you upload a photo make sure to meet them all.
There will be tons of photos submitted to each mission. Once you upload a photo, users will be able to rate it. The top photos will be selected by the company and usually pay a nice cash reward of $100 or more.
There's no guarantee your photo will win, but it's a nice payday if your photo is selected.
---
Foap App Review Is It A Scam?
The Foap App is a completely legit scam free way to earn some extra cash for you smartphone pictures. The app is super easy to use and I like that they brought the social aspect into the app.
Now there's no guarantee your photos will ever sell, but they do give you the tools to promote your photos inside the app.
I like that you'll make a flat rate of $5 per sell and that your photos can sell multiple times.
If you'd like to learn more or to join you can visit Foap.com or just download the app on your mobile device. If you'd like a complete guide to starting your own photography business and selling your photos, this is the site I recommend checking out called Digital Photography School!
Foap not for you? Here's some other great ways to make some extra income online or check out my Free WAH Jobs Directory to see other ways to earn money from your photos.
Looking for a larger online income? Check out My #1 Recommendation, it's how I made over $13,000 online last month!
Have you used the Foap App? Think it's a scam? Let me hear your thoughts on this Foap App Review in the comments section below!
Summary
Reviewer
Review Date
Reviewed Item
Author Rating