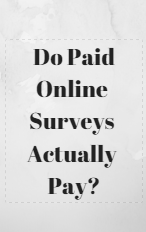 One of the most popular ways for beginners to make money online is through taking paid online surveys. So today I'd like to write the truth about taking surveys online for cash. Let me say up front that taking online surveys is legitimate and scam free, but not all survey sites are created equal, and people usually have the wrong idea of what paid surveys can do for them.
In this post, I'll cover how to make money with online surveys, how much money you can make, what makes survey sites a scam, and the complaints most people have when taking surveys.
Here's my take on paid online surveys, I think this will give you a really good idea of what you're getting into when you join survey panels.
---
How To Make Money With Online Surveys?
1) Join Survey Panels
The first step to getting paid to take online surveys is joining a survey panel. There's 100s of survey panels out there, but not all are created equal. I go over a few that I recommend at the end of this post or you can see all the surveys sites I recommend here.
2) Wait For Survey Invitations
Once you've joined a survey panel, wait for surveys to be available. Some survey panels have surveys available at all times, but others send you emails when surveys are available. When surveys become available make sure to click the link to start the survey.
3) Qualify For the Survey
Once you start the survey, you'll need to qualify for it. Unforatnetly you won't qualify for all the surveys you try to take. There will be a few questions to answer about your age, education, income level, and other demographics. After you answer the screening questions, you'll be told if you qualified or not.
4) Complete The Survey
If you are eligible for the survey, you can continue to complete the survey. Once you've completed the survey you'll get paid. If you did not qualify you can try another survey.
5) Reach The Cash Out Amount To Get Paid
On most sites, after you complete a survey the money will be added to your account balance. Sites usually have a minimum cash out amount that you'll need to reach before getting paid. Most sites offer PayPal, Direct Deposit, Check, or Gift Cards. Once you reach the minimum cash out amount, you can cash out via one of their payment methods.
---
Can You Really Make Money Taking Online Surveys?
Now that you know how most survey sites work I'd like to cover some "truths" about paid online surveys that will give you a better idea of exactly what you're getting into when taking online surveys.
How Much Do Surveys Pay
The most frequent question I get about paid surveys is how much do they actually pay? Unfortunately, there're many sites out there that advertise surveys that pay $50 or more, and that's not the case.
In general, most surveys pay from $.50-$5. Probably 95% will fall in between $.50-$2.50 with very few that pay over that amount.
The surveys that pay more have very specific qualifications and take 30 minutes to an hour to complete.
Just know that most of the surveys you'll have available to you will pay under $5.
How Long Do Surveys Take
Just like the sites that advertise surveys that pay $50, many sites say that their surveys pay a lot and only take a few minutes to complete.
I already said that most surveys pay from $.50-$5. Most of the surveys that pay in that dollar range can range from 5-30 minutes to complete.
When you really break it down you'll be making minimum wage or less while taking surveys.
---
Paid Online Surveys Complaints
Although taking online surveys is completely legitimate there's some complaints that many people have once getting started. Now there's many other complaints if you get on a site that's a scam, but these are just complaints about most of the legitimate survey sites out there.
Having To Qualify
If you're familiar with surveys, you know that before the survey starts you have to answer some screening questions to see if you are eligible for the survey. Most of the time it's just a couple minute process, but it's very annoying when you give out information, just to be told you don't qualify.
On most sites, you won't get paid anything for trying to qualify. This means if you try five surveys you could waste 10 minutes trying to qualify without any cash to show for it.
Not Many Surveys Available
Now every survey site is different, but there's a lot of survey sites out there that only send you surveys when they're available. This means you may get one or two surveys a week. Keep in mind that even though they send you the survey, doesn't mean you'll qualify and get paid to take the survey.
I just spent an Hour Making $5
The last major complaint about surveys is they don't pay much. I mentioned that most surveys pay in the $.50-$3 range, but some do pay more. For those that do pay more, they usually take 30 minutes or more to complete.
So when you break down the hourly wage, you make very little, almost always under minimum wage. Even if you find surveys you qualify for it can be a long time commitment to make any money and reach the cashout amount to get your money.
Giving Out Your Personal Information
When you go to qualify for a survey, you'll always be giving out your personal information. They always ask your demographics, education, and income level. Some people won't have an issue with this, but you should know that most sites and surveys do ask for this information.
Most sites say they do not sell any of this information, but when you do take a survey the company running the survey will have access to all of this information.
---
Online Surveys Scams: How To Find Them
Now that you know some complaints and expectations of what to expect, I'd like to cover some things you'll see on paid survey sites that are scams. Most likely you'll come across at least one of these when looking for a good place to take surveys.
Paying For Access
There's not a single legitimate survey panel that makes you pay to join. Every legit survey site is completely free to join and take surveys with.
Never pay to access a survey site. There's also some products out there that have a list of survey sites that they say they pay more than any other sites. These sites are also scams, and they take your money and give you a list of survey sites that can find for free.
Please never pay to join a survey or extra income site.
Make You Sign Up For Other Sites
I've seen a few places that make you go through a huge list of offers before you get to the member's area.
If a site takes you through and makes you sign up for other sites before you get to the member's area, it's most likely a scam that's just trying to get you as a referral on other survey sites.
Highest Paying Surveys
Pretty much all of the legitimate paid survey sites don't talk about how much their surveys pay, and if they do they'll give you a range of $.50-$5+.
The sites that advertise $75 or more per survey are lying. Some surveys pay more than $5, but they are hard to come by and have very specific qualifications that the general public won't qualify for.
If you find a site advertising a significant dollar amount per survey, it's usually a scam.
If you're wondering if a survey site is a scam, search this site for a review or leave a comment and I can check it out.
---
Legitimate Online Survey Sites
I actually am a member of many survey sites and actively promote and recommend survey sites to my readers, but you really need to know what you're getting into before joining. As long as you have the expectations of an extra income, all the survey sites I recommend will make you happy. Here's a list of some of my favorite survey panels that are free to join.
PaidViewpoint : Read Review This is by far the best survey site in my opinion. The reason is that they only send you surveys that you're pre-approved for. This means no more screening questions and being kicked out of surveys because you don't qualify. All the surveys are short, and payment starts at $15 via PayPal.
Fusion Cash : Read Review This another great option to take online surveys. Out of all the sites the rewards sites, Fusion Cash is my favorite place to take surveys. For some reason I seem to qualify for more surveys on this site, and if you don't qualify you'll still earn a few cents for trying. They also pay you to do things like complete offers, watch videos, and more. Payments start at $25 via PayPal, Direct Deposit, and Check.
Swagbucks : Read Review Probably the most popular rewards site out there, that offers tons of ways to earn. One of them being paid surveys, I really like Swagbucks surveys because they have a huge list of surveys available all the time. Payments start at $5 with gift cards to hundreds of stores.
InstaGC : Read Review Another great option to take surveys and get paid to do other things. They offer surveys from many different providers, so there's always plenty of surveys to take. Payment start at $5 via PayPal, Direct Deposit, or Check.
Full List of Sites I Recommend
---
Other Ways To Make Money Online
Hopefully this post gives you a really good idea of what paid online surveys really are and how much money you can actually make taking them. Surveys are very popular, but it's not going to be a huge income. It's what I like to call an extra income site. Surveys aren't the only way to make extra money online. You can see a full list of extra income sites that I recommend at Scam Free Extra Income Sites.
Although I really like to make money with extra income sites, this isn't the only way I make money online. I use a method called affiliate marketing to make a much larger income. You can learn how I do this by checking out My #1 Recommendation. You can even start for free!
Do you take paid online surveys? What sites do you use? Let me hear your thoughts in the comments below!