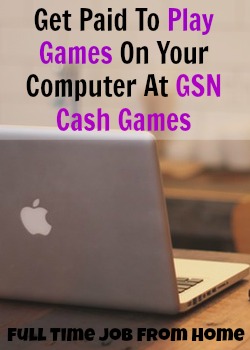 At WorldWinner.com there's something called GSN Cash Games that lets you play games online for cash. You'll be competing in competitions to earn money on over 20 games.
I decided to write this review on WorldWinner.com to see if GSN Cash Games is a scam or a legit way to make money online. First off, you'll have to pay to enter competitions, so right off the bat, you'll be spending money, but there's a chance you can win more with the games.
Even if you win big playing games, it's not a great way to make money online. If you're interested in making a full-time online income, check out My #1 Recommendation, it's how I made over $13,000 online last month!
In this review, I'll cover the games available, how competitions work, what rewards are available, and decide if this site is a scam.
---
WorldWinner.com Review
Site: WorldWinner.com
Price: Free To Join Cost $ to Play
Score: 40 Out Of 100
Verdict: Legitimate Not Recommended
In this GSN Cash Games and WorldWinner.com Review, I gave them a pretty bad score, but it's legitimate. Although it's legit, there're many complaints that members have had with this site. Such as not getting paid and being locked out of their accounts with money still available.
It hasn't happened to everyone, but it's something you should check out before joining and depositing money into your account.
I honestly don't believe playing games is a reliable way to make extra money online. It's more of a fun way to gamble. If you're looking to make money online, I'd check out some of these extra income sites first.
---
What Games Are Available
There're quite a few games available to play and win money through competitions. I've listed them all below:
Card Games: Pyramid Solitaire, Spider Solitaire, Solitaire Rush, Spades, Catch 21
Game Show Games: Wheel of Fortune and The Price Is Right
Arcade Games: Swipe Hype, Big Money, Bejeweled 2, Vegas Nights 2, Luxor, Bejeweled Blitz, SwapIt
Strategy Games: Cubis, Dynamite, Zen Gems, Mahjongg Dimensions
Word Games: Scrabble Boggel, Scrabble Cubes, Word Mojo
You can play all of these games for completely free or enter competitions for money.
---
How Do Competitions Work
To play games for cash, you'll have to enter a contest. You can enter a contest on any of the games listed above. To get started, you'll have to deposit at least $10 in your account. Once you've got some money you can enter competitions.
You'll be able to see how the competition works, how many people are in it, how much the prize money is, and how much it costs to enter. Once you find a competition you'd like to join, you play the game and try to get the highest score possible.
If you do good, you'll win one of the available prizes and it's added to your account balance.
---
How To Get Paid By GSN Cash Games
There're a few ways to get paid by GSN, but know that you'll need to increase your account balance by winning competitions before you can cash out. Also, they do have a deposit match; this can not be withdrawn from your account. It can only be used to play games at GSN.
Once you've won a few times, you can cash out that money via pre-paid credit card, PayPal, and Check. PayPal is, of course, the quickest option to get paid.
---
How To Earn More: Referral Program
GSN does offer a referral program that pays you in tokens. Tokens are used for the casino games such as slots. To me, there's no advantage of tokens, but they can be exchanged for a few prizes. I wish you earned cash, but tokens are what you'll receive. Here's what you'll earn when you refer friends:
100 Tokens when your referral joins
5,000 tokens if your referral makes a deposit and plays a cash game
15,000 tokens if your referral plays 100 cash games
Like I said tokens aren't that valuable, so it's not a real profitable referral program, but if you like the site you might as well invite your friends.
---
WorldWinner and GSN Cash Games Complaints
Small Income: Obviously playing games for cash is going to be a small income, and there's no guarantee you'll win any money. This is basically gambling. Even if you do win you won't win much, you'll have to be playing just for the joy of the game and thrill of gambling.
Not Available Everywhere: GSN Cash Games is not available in all states. So even if you want to bet money on games, you might be stuck with just playing the free games. A way to get around this is joining Swagbucks.
Accounts Being Closed: There're some complaints of people depositing money and then being told their account is closed due to unfair play. It seems that there's a lot of complaints about this company so if you do decide to join you may run into problems!
---
Is GSN Cash Games A Scam?
GSN Cash Games is 100% not a site that I recommend to make an extra income online. If you live in a state where it's available, and you like playing games, you can sign up and gamble. But this is not a good way to go about making money online. If you're looking for ways to make money online, look for completely free sites. Having to pay/bet is not a good strategy for making money. But if you're into playing games, I recommend Swagbucks. They let you spend points that you've earned already, so there's no spending money to play!
If you agree and would like to make money online, check out My #1 Recommendation, it's how I made over $13,000 online last month!
For you gamers out there, feel free to join GSN, you can play games for completely free if you'd like, but I can't recommend this site as a way to make money online.
Do you think GSN Cash Games and WorldWinner.com is A Scam? 
Summary
Reviewer
Review Date
Reviewed Item
Author Rating