8 Ways To Make Money On Black Friday & Cyber Monday!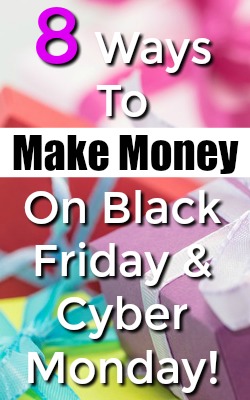 It's finally the holiday season, and we're just a few days away from the biggest shopping time of the year, Black Friday and Cyber Monday. Friday, a lot of us will be waking up early to get the best deals in-store, and probably even more of us will be getting awesome deals online the following Monday.
Today I'd like to cover some excellent ways you can maximize your earnings on these two money spending holidays, whether it be in-store or online. I'm not really a coupon/deals kind of blogger, so I'm going to focus on the most cash back possible, but I highly recommend looking for deals from your favorite stores.
Make sure to follow these steps closely to earn the most money back possible, if you have any recommendations, please leave comments below the post.
---
Ways To Make Money On Black Friday
1. Use a CashBack App
The best way to maximize your cash back earnings on Black Friday is to use a cashback app. My favorite app is Ibotta. They focus mainly on groceries, but you can also get paid to buy electronics, kids toys, apparel, and much more!
Sign up for Ibotta and earn a $10 sign-up bonus when you use the code: xsolsia . Of course, you can continue to use the app after Black Friday to make more!
*Ebates Now Offers In-Store Cash Back to Select Stores.
2. Use Other Receipt Scanning Apps
Ibotta pays you cash back on specific items, but some apps pay you to take pictures of any receipt. RecieptPal and Receipt Hog will pay you a few cents for every receipt you upload.
Make sure to get itemized receipts from all your Black Friday shopping and upload them inside the app.
Last Month I Made

$13,841 Online
I Bet You're Tired Of Making Pennies Online. No More BS. If You're Serious About Making A Full-Time Income Online You Need To See The TRUTH. Stop Wasting Your Time With The Next Big Thing When There's Already A Proven Method That Works!
3. Pay With A Credit Card
Nearly all credit cards offer cash back now. If you want to maximize your Black Friday earnings, charge it to a credit card.
*Make sure to pay off your credit card bill before you incur interest.
4. Store Rewards
Most stores have a rewards program, and if you're a frequent shopper, you're probably already a member. Most stores offer more rewards/coupons on Black Friday so make sure to sign up now to reap the benefits.
5. Unique Ways To Earn
These don't fit into a way to earn cash back, but you can take advantage of people wanting the best deals possible. Here're a few quick ways to make a buck on Black Friday.
Organize coupons for others
Stand In Line/Shop for others
Buy Products Cheap and Sell on eBay/Amazon
These require you to work for others or sell items, but it can be an easy way to make money. If you want to organize coupons, I'd offer your services on some couponing forums or craigslist. Craigslist is also a good place to post about your shopping/standing in line service.
---
Ways To Make Money On Cyber Monday
1. Use a CashBack Shopping Portal
Some of you may be familiar with cashback shopping portals, but I highly recommend using them for all of your online purchases. My favorite cash back portal is Ebates. They'll give you a $10 sign-up bonus, and they have cash back to over 2,000 online stores. I'm sure you can find an awesome Cyber Monday deal on one of them. Ebates also gives cash back at Amazon in certain categories.
To sign up, visit Ebates.com, and you'll earn $10 just for signing up!
2. Sell Your Unwanted Items
Cyber Monday is the biggest online shopping day of the year, so it's a perfect time to sell your unwanted items on eBay and Amazon. You can even find deals on Black Friday, then sell them online for profit!
Find all the items you'd like to get rid of and start listing before Cyber Monday!
3. Start A Blog
If you start a blog today, you'll probably miss out on earning money this Cyber Monday, but next year you can take advantage of the extra earnings. Use affiliate marketing to promote products on Amazon and other sites you trust and watch the affiliate commissions roll in.
You can learn more by visiting How To Start A Blog For Cheap.
---
Black Friday & Cyber Monday Deals
Again, I'm not a coupon/deals blogger, but I am a Work at Home blogger, so I wouldn't be doing my job if I didn't let you know about an excellent deal in my niche. My #1 Recommendation for blogging/building websites, is a site called Wealthy Affiliate.
They teach you how to start a blog, create content, drive traffic to your site, and make money with affiliate marketing and other methods. Along with the training, you'll have access to a community of thousands of other bloggers that can give you feedback and help you learn.
Wealthy Affiliate lets you join for free, but they also have a premium membership that's normally $49 a month ($588 a year.) On Black Friday they are offering a huge discount, $299 for one year!
To learn more visit Wealthy Affiliate and sign up for a free account!
---
More Ways To Earn!
I hope you enjoyed this list of ways to make money on Black Friday and Cyber Monday. I'd love to hear your thoughts and recommendations on how you'll be earning money on these holidays in the comments below!
If you haven't yet, check out over 50 ways you can make extra money for the holidays. It can help you have some extra spending money this holiday season!
Don't forget to check out Wealthy Affiliate and sign up for a free account!
How will you be earning money this holiday shopping season?