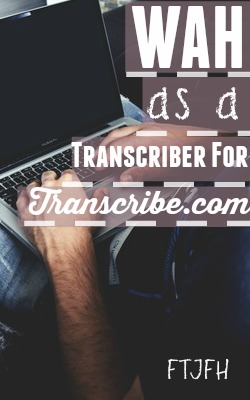 After searching and reviewing some transcription jobs, I naturally came across transcribe.com. From the start, I could tell that this site was not a scam and that it might be a great place for someone who likes transcription to get a job.
I decided to write this review because they have a lot of requirements, and there's a ton of information about this transcription job. If you're not familiar with transcription, transcribe.com probably won't be the best site for you. They do accept beginners, but they have a pretty hard test you must pass, and there're some startup costs. Beginners should check out this awesome course at TranscribeAnywhere. The course will teach you how to transcribe and how to find high-paying transcription jobs. You can also sign up for their Free 7-day course just to make sure Transcription is right for you!
Working at home as a transcriber is a great way to make money online, but I prefer a much more passive way to earn a full-time income online, check out My #1 Recommendation, it's how I made over $13,000 online last month!
As mentioned, this Transcribe.com Review is going to be very detailed so stick with me, and we'll cover all the important information about this job!
---
Transcribe.com Requirements

The only real requirements to work at transcribe.com is over 18 and a US resident. There is some additional equipment needed, which I will cover next. Experience is not required, but the test is pretty hard so it will help!
As usual, you'll need a computer with high-speed internet. The exact specs required can be found on their website. Transcribe.com also requires you to have some additional equipment that most sites that accept beginners don't.
They require you to have your own transcription software; they recommend Express Scribe, which is a really good program in my opinion. They also highly recommend a foot pedal, used to rewind audio files. In total, assuming you already have a computer and internet access, you'll be looking at an initial cost of $75-$100 just to apply. Which is why applying here isn't ideal for someone with no transcription experience.
*They recommend a quality headset, but it doesn't seem to be required.
---
Transcribe.com Application Process
I've already covered that you're going to need your own transcription software to apply, so there is an initial investment before getting accepted. Once you have the equipment, there're a few things you should do before you apply.
They leave a link on their site to the style and formatting guide. This is extremely important; the guide shows exactly how they'd like files transcribed. You'll need to review this and complete a few transcriptions in the format they provide.
After reviewing the guide, you'll download the audio file and transcribe it in your transcription software. One thing to keep in mind, they do require the file to have time stamps. Most transcription software does this for you.
After you complete the transcription, upload it to their website.
They'll get back to you within 2-3 days with an answer. If you're accepted additional information will be required, like payment information, and you can start transcribing.
---
How Much Does Transcribe.com Pay?
Transcribe.com does not have an exact rate for how much they pay for transcription. I can say that each project that you complete is clearly marked with how much it pays. Payments depend on the length of file and difficulty.
One thing to keep in mind is that pay rate is based on a percentage of accuracy. If you fall below the accuracy percentage, you'll still get paid, but it will be at a lower rate since they have to pay an editor to go back and fix your work.
Transcribe.com pays by PayPal daily. Most tasks you complete will be credited shortly after, so it's possible to get paid for tasks the same day you complete them!
---
Transcribe.com Work Schedule
The schedule is extremely flexible at transcribe.com. There's no minimum or maximum requirement to how many hours you work. You can log on at any time and transcribe as long as there's work to be done.
There are deadlines on jobs, so they do ask you to meet all deadlines if you decide to accept a job, but the hours you put in can be at any time.
This makes me think it's set up to be part time work, meaning jobs aren't always available, which is pretty standard with most transcription sites.
---
Is Transcribe.com A Scam?
Transcribe.com is not a scam. It's a completely legit site that members are happy with. I will say this probably isn't a site for people that don't have any experience, just because there's a small initial investment before applying.
If you're confident in your skills or at least want to try, I'd say go ahead and buy the equipment. If transcription is something you want to do you can get accepted somewhere else and the foot pedal will come in handy.
It sucks I can't find an average or at least give you an example of what a typical job pays, but they do say that they have part-time members making $500-$800 a month and top members making $2,250+ each month.
If you'd like to learn more or to start the application process, visit Transcribe.com Jobs.
If you're a beginner and don't want the upfront cost, check out some of the transcription jobs that don't require experience.
If you have any interest in transcribing from home, make sure to check out the course at TranscribeAnywhere. The course will teach you how to transcribe and how to find high-paying transcription jobs. You can also sign up for their Free 7-day course just to make sure Transcription is right for you!
If you'd like to see some other sites that can earn you an extra income or check out My #1 Recommendation, it's how I made over $13,000 online last month!
If you didn't find what you were looking for here, check out these helpful links to other ways to make money online:
Work From Home Companies Hiring Now
All The Extra Income Sites That Pay Me
How I Made Over $13,000 Last Month
Have more information on how much transcribe.com pays? Think this review is wrong? Let me hear your thoughts in the comments below!