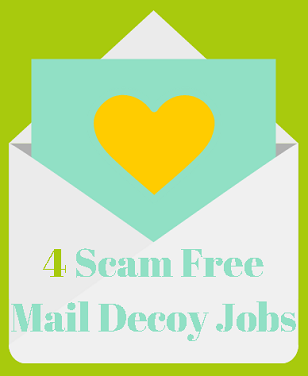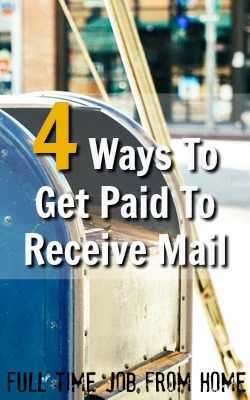 Did you know you can get paid to receive mail? Today I have four scam free sites that will pay you to be a Mail Decoy Agent.
If you're looking for mail decoy work, you need to watch out, because there are quite a few scams out there, but I've compiled a list of a few mail decoy jobs that pay.
As you guessed mail decoy agent jobs, don't pay much, but it can be a good way to earn a few extra bucks each month. It doesn't require much of your time, and you'll help businesses and the postal service improve!
Here are four legit mail decoy jobs to check out and what exactly Mail Decoy work is.
---
What Is A Mail Decoy Agent Job?
All the companies I have listed below differ a bit, but here's the basic concept. Business and postal services need to improve the efficiency in which they deliver mail.
As a mail decoy agent, it's your job to report when you receive mail that the company is looking for or has specifically sent to you.
For your time most of these companies will give you points to spend on gift cards or pay you cash.
Now I'll cover a few sites that can get you a mail decoy job.
---
4 Legit Work At Home Mail Decoy Agent Jobs
Is a work at home mail decoy agent job that pays you to send them your junk mail and junk emails. SBK stands for the Small Business Knowledge Center. Since they do research, your junk mail is gold to them.
Not all junk mail applies, but mail in the industries of Insurance, Investments, Banking, Credit Cards, Utilities, and Travel all do.
Each month you'll earn points for participating in the program. Points can be exchanged for $20 gift cards to major stores and restaurants. Most members report getting paid every 6-8 weeks.
ReportEZ is a company owned by IBM, that is set up to track the efficiency of the US Postal service. When you join ReportEZ will send you a scanner that plugs into your computer. You'll need to report receiving mail that they send to you along with business mail that has a bar code on it.
Each month you participate you'll earn points that can be exchanged for gift cards.
Hausernet Decoy Group – Read Review
Get paid for every piece of mail that you receive. All you need to do is report the date you received the mail and keep the piece of mail for a period after. Occasionally they'll require you to send the mail back, which they pay for, or you might receive free items.
I could not find the exact amount for sure, but it looks like for every piece of mail you receive you'll be paid around $.25.
Hires work at home mail decoy agents and pays $10 a month plus $.25 per piece of mail you receive. When you receive a piece of decoy mail, you'll visit their website and enter a bit of information about the piece including the date you received it.
---
How Much Do Mail Decoy Agents Get Paid?
As you probably figured out from the different numbers above, Mail Decoy Agents don't get paid much, and this is not an opportunity that can pay off bills. If you do join one of the sites above, you can expect to earn around $5-$30 a month.
It does all depend on location. If there's high demand in your area, most likely you'll receive more mail and earn more. If you're okay with the small payment for the minimal work it takes, try applying to some of the jobs above.
If it's not worth it to you, check out some of the other WAH Jobs in my Directory.
---
Decoy Mail Agent Work Not For You?
Now decoy mail jobs are a completely legit way to make some extra cash from home, but it's not for everyone. If you do choose to become a mail agent, the four companies listed above are all scam free and will pay you for your time.
I'd suggest applying to the sites that pay you cash first if you can't get accepted and still want to get paid to receive mail, try applying to a site that pays you in points.
If decoy mail work isn't worth your time, you can see some other ways to earn money at home on my Free WAH Jobs Directory or take a look at the extra income sites I recommend.
If you're looking for a larger income, you can see how I make one at How to Work At Home.
Have you tried any of these mail decoy agent jobs? Have more decoy mail work to add to this list? Let me know in the comments!
Summary
Article Name
4 Scam Free Mail Decoy Agent Jobs: Decoy Mail Work
Description
Did you know you can get paid to receive mail? Today I have 4 scam free sites that will pay you to be a Mail Decoy Agent.
Author