Today we will take a look at ySense.com. If you've been around my site before you've probably heard me mention a site called Clixsense, Clixsense has now closed, and they adopted a new name ySense.
For those who don't know, ySense is what I consider a rewards site, which means that you can earn by taking surveys, completing offers, referring your friends, and much more. I've been a member of Clixsense since 2013 and have continued with ySense after the switch. I've officially now been paid by ySense, so I felt that it's a perfect time to update my review.
Few things to mention before we get into the review, ySense is an extra income site, which means that it's not going to make you rich. You can expect a small income each month from ySense and other extra income opportunities. If you're looking to make a substantial online income, check out My #1 Recommendation.
ySense is available in most countries, which makes it a great option for readers outside the United States.
Let's get into this ySense Review; we will cover how to earn, how they pay, show you payment proof, cover the complaints, and answer if they are a scam or legitimate way to earn money online.
---
ySense Review
Site: ySense.com
Type: Rewards Site, Available Worldwide
Verdict: Legitimate, Small Income Opportunity
In this ySense review, we have marked them a legitimate rewards site that is available worldwide, but you need to understand that it's going to be a small income that some might not feel is worth it.
If you're in the US, ySense has a decent amount of ways to earn, but there're better sites out there like Swagbucks, FusionCash, InstaGC, and several others.
With that being said, if you're outside the US, ySense is an excellent option to make a small extra income.
---
How To Earn Money At ySense
ySense has five main ways to earn money online and a browser extension, which doesn't make you any money but will give an easy place to access ySense along with reminders of new ways to earn.
Surveys: ySense has surveys from many providers. I'm not a huge fan of how they have their surveys laid out on their site. It does tell you exactly how much it pays and an estimated time to complete the survey, but it does not tell you what the survey is about. Most surveys range from 5-25 minutes and pay $.25-$2.50, which is what you can expect from taking surveys. All you need to do is click on a survey, a new tab will open and you can begin to answer the screening questions. This means that you can spend time answering questions and be told that you do not qualify for the survey. The only survey site that pays you for every answer is PaidViewpoint, make sure to check it out!
Offers: ySense has its own offers along with offers from several other 3rd party providers. They have free and paid offers. Most free offers require you to sign up for a free website or mailing list. These offers usually pay $.25-$2. They also have paid offers that require you to make a purchase or start a free trial (you usually have to provide credit card information.) You can cancel before the free trial is up and still get paid. Paid offers usually pay within $2-$20.
Videos: ySense will pay you money for watching videos. Under the offers tab, you will see ySense watch, which is where the videos are located. You'll earn $.01 for every four short videos that you watch.
Tasks: ySense has it's own task tab, tasks are usually short unskilled tasks that pay a few cents a piece. This might be looking up information online, data entry, or transcribing.
Refer Friends: ySense does have a referral program that they call an affiliate program. You'll earn a signup bonus for each referral, a bonus for every referral that makes $5, and a percentage of what they earn. The rates all depend on the referral's country and how many active referrals you have, but you can earn up to $.30 a referral, a $2 bonus, and up to 30% of what your referrals earn.

Browser Addon: ySense does have a browser extension that won't actually earn you any money but can be a reminder of new ways to earn. If you plan on using ySense you might as well use this extension, so you're always ready to earn.
---
How Does ySense Pay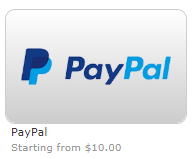 There're 88 ways to get paid at ySense with several gift card options such as Amazon, Walmart, Target, and Starbucks. They also have cash payments via PayPal and Payoneer.
The gift cards all have a different minimum cash-out amount, Amazon starts at $3, Walmart/Target/Starbucks start at $5, and most other gift cards start at $10.
With PayPal, you can cash out at $10.
I don't think I've ever redeemed a gift card from Clixsense or ySense, but their FAQs state that worst-case scenario, you will get your gift card in 10 days.
I have been paid via PayPal, the money was in my account the next day, yet their FAQs state that it could take 5-7 days.
---
ySense Payment Proof
As mentioned in the opening, I've been using Clixsense for years and have been paid over $1,500. I just cashed out my first payment with ySense a few days ago; you can see the screenshot of $100 directly to my PayPal account below:
---
ySense.com Complaints
Limited Ways To Earn/No Passive Income
If you're in the United States, ySense doesn't have that many ways to earn and none of the ways to earn are very passive. Yes, you can 100% make money with ySense, but you'll have to be putting in the work to earn cents here and there.
This type of site is great for a few bucks a month, but it's not a legitimate way to build a significant online income.
If you're outside the US and struggling to find legitimate options to earn online, ySense is a good scam-free option, but know it's not going to build you a large online income.
---
Is ySense A Scam or Legitimate?
I know first hand that ySense.com is not a scam and is a completely legitimate rewards site that offers several ways to earn and a decent amount of cash out options. In my opinion, it's not the best reward site to use if you're in the US, but it's a great option for Worldwide readers.
If you decide to join ySense or any other rewards site, please keep in mind that these are just extra income sites that won't make you much. An income of $20 a month is an excellent income from sites like these.
If you're looking for an opportunity to earn more money online, I would check out My #1 Recommendation. It's how I make money online and the income potential is thousands a month instead of $10-$20.
But if extra income is your thing, feel free to sign up for ySense here.
If making a small extra income each month isn't for you, check out these helpful links:
Work From Home Jobs Hiring Now
How I Make a Full-Time Income Online
Do you think the Clixsense now ySense is a scam? Let me know your thoughts on this ySense review in the comments below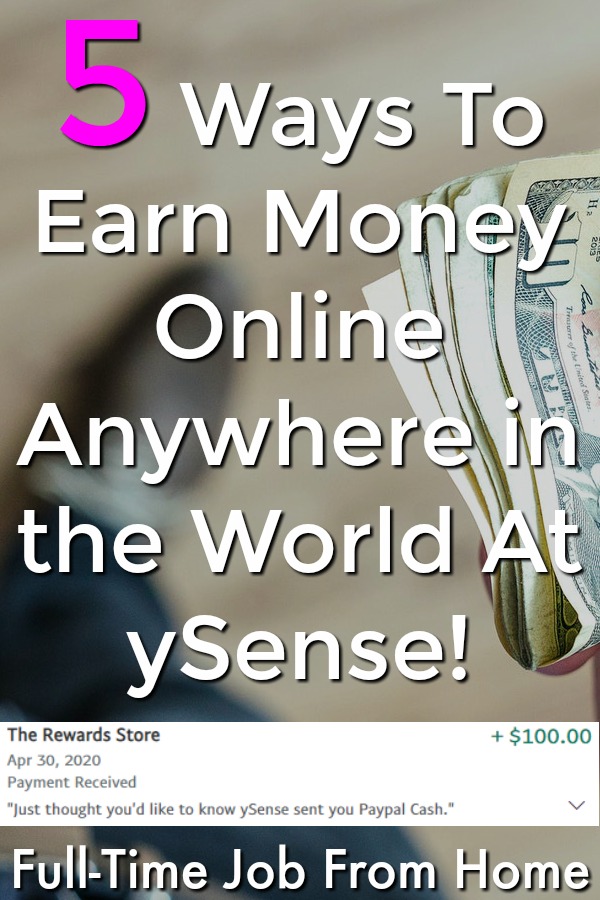 ySense Review
Summary
ySense is a rewards site, available worldwide, that was formally known as Clixsense. ySense pays you to visit websites, take surveys, complete offers, and refer friends. Once you earn $3 you can get paid gift cards to several stores including Amazon.
By no means will ySense help you quit your day job, but can be a small extra income each month. I've been using ySense (originally joined when it was ClixSense) for over 5 years now and have been paid over $1,700.
As long as you go in knowing it's just a small extra income, you should enjoy ySense, especially if you're in a country where available sites are limited!
Ease of Joining and Signing Up

Ways To Earn

How Easy is it to Earn

Income Potential

Reward Options Available

Minimum Cashout Amount

Payout Timeframe

My Overall Impression
Comments Rating
( reviews)
Pros
Available Worldwide
Low Cashout Amount
Cash Payment Available
Cons
Small Extra Income
No Passive Income