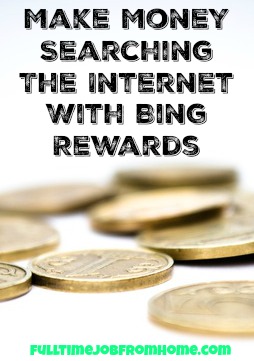 If you're wondering what is Bing Rewards you came to the right place. Bing Rewards is exactly what it sounds like. It's a program run by Bing that Rewards you for using their service.
In this Bing Rewards review, we will cover what Bing Rewards is, how to earn points, status levels, and how to join the Bing Rewards DashBoard.
Now Bing Rewards is not going to earn you a ton of money, but there is nothing wrong with making a few extra bucks each month just by searching the internet. If you refer some of your friends and combine this with a few other online jobs, you can receive a pretty fat check each month.
Visit The Bing Rewards DashBoard Here!
---
What is Bing Rewards
Bing Rewards is a simple program that rewards you for using the Bing Search Engine. This is great for people who already use Bing and a good reason for people who don't to switch. With Bing Rewards, you're not going to make a ton of money, but lots of little piles turn into big piles.
What makes this program great is it requires nothing more than to sign up. After that, use Bing as you normally would and you earn points!
---
How To Earn Points With Bing Rewards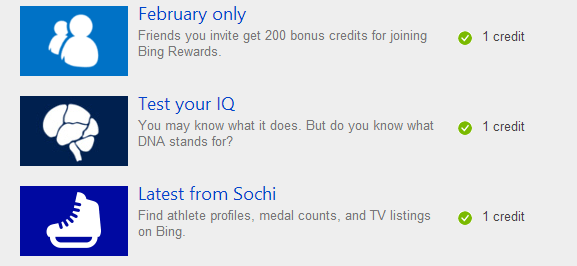 You can see that I keep using the word points. Points are the unit of measurement with Bing Rewards. You can earn points a few different ways with Bing Rewards.
Internet Search:
The most obvious way is through searching. You earn 1 point for every two searches you conduct, with a maximum of 15 points per day.
Mobile Search: Updated 6/19/14
You can now earn points by using the Bing Mobile Search App. The app can be downloaded on any smartphone. You will earn 1 point for every two searches you conduct, with a maximum of 15 points per day. That is a maximum of 15 mobile searches per day; you can now earn 15 points from computer search and another 15 points from mobile search in one day!
Daily Offers:
You can also earn points by completing the daily offers. Don't worry all it requires is you to click a link and you will receive one point.
Referring Others:
The last way to earn with Bing Rewards is by referring your friends. Your friends can join through your referral link and by inviting your friends on Facebook. For each friend that joins you can earn 200 points once they reach Silver Status.
---
Bing Rewards Status Levels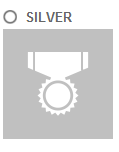 There are three different status levels in the Bing Rewards program. Member, Silver, and Gold. You achieve various levels by completing goals. Once you reach a new level, you will get rewarded with bonuses.
When you join Bing Rewards, you're automatically at the Member Status. You need to strive to get to Silver Status. The requirements for silver status are completing a few tours, choosing a reward you would like to shoot for, and earning your first 200 points. Once you reach Silver Status, you receive a 50 point bonus!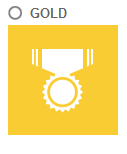 The next status level is Gold. To reach Gold you need to redeem your first reward, earn 750-lifetime credits, and 150 searches a month. Once you reach Gold status, you will get a 50 point bonus, ability to get 20 points a day through search instead of 15, and you can cash out rewards for a discounted price!
---
What Rewards Are Available?
Bing offers a variety of rewards through gift cards, donations, coupons, and sweepstakes. I prefer the gift cards because it's real money, but sometimes you can save more with the coupons available.
Some of the major gift cards include Amazon, Applebees, Burger King, Domino's, Fandango, Game Stop, and much more.
Most of the gift cards come in $3, $5, and $15. As mention above you get a discount if you're a Gold Status Member. An example of this is the $3 Amazon gift card is usually 340 points but as a gold member it's 330.
---
My Thoughts On Bing Rewards
Price: Free
Rating: 98 out of 100
Verdict: LEGIT!
If you use Bing, you're crazy if you have not taken advantage of Bing Rewards yet. If you usually use Google which I did before Bing Rewards, it is worth switching over to make some extra money each month.
I gave Bing Rewards a 98 out 100 because it pays you for doing what you already do. The only reason I did not give it a 100 is that you're not going to make a lot of money with Bing Rewards, but earning a few bucks a month for searching the internet is awesome!
---
Proof Of Payment
I know you all want to see that I got paid from Bing Rewards before joining so here we go. Here is a picture of my very first payment from Bing Rewards a $3 Amazon Gift Card. I know $3 isn't much, but it's pretty good for just searching the internet, and I have had quite a few more payouts since the first!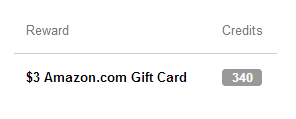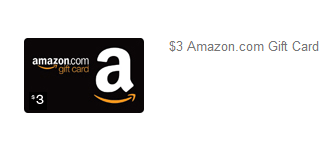 ---
How To Get Started With Bing Rewards
Getting started with Bing Rewards could not be any easier. All you need to do is click the join link below and sign up with a Microsoft account or Facebook. Once you're signed up, start searching with Bing!
Bing Rewards is not the only site you can use to get paid to search the internet. I highly recommend checking out Swagbucks and Qmee. Those are my two favorite ways to get paid to search the internet.
Bing Rewards is one of the sites I call supplemental income sites. It is not a site you will make tons of money with, but if you combine it with other sites, you can earn a decent amount online. To see the other supplemental sites I recommend click here.
If you would like to make a full-time income online visit Start Your Own Online Business!
Do you think Bing Rewards is a scam? Is it worth the small income? Let me hear your thoughts in the comments below! 🙂
Summary
Reviewer
Review Date
Reviewed Item
Author Rating