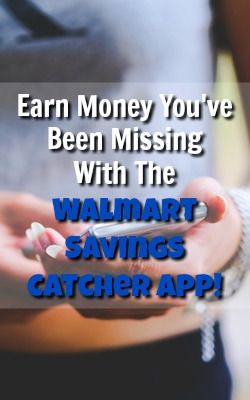 If you do a lot of shopping at Walmart you need to get the Walmart Savings Catcher App. This app will help you save money while shopping at Walmart by checking and matching competitors prices for you.
Since I've been on a spree of reviewing apps that pay you to shop, I thought I'd go ahead and write a Walmart Savings Catch App review as well. I did a lot of research on the internet and there's a lot of people saying that this app is a scam.
I've used it a few times over the last couple of weeks and have saved a bit of money, but there is a lot of limitations on what you can save money on with this app. If your a couponer this isn't going to replace the work you do, but if you're just looking for a few extra bucks for shopping at Walmart without much work, this is a good app for you.
Inside this Walmart Savings Catcher App review I'll cover how it works, how much you get paid, the limitations of the app, and of course answer is this a legit app or a scam!
---
How The Savings Catcher App Works
1) Download The App

You can download the savings catcher app on all Apple and Android mobile devices, just like you'd download other apps!
2) Shop Normally at Walmart
You don't need to do anything special, just go to Walmart and shop like you always do!
3) Upload Your Receipt
Once you're done with a shopping trip, make sure to upload a receipt on the mobile app. You can easily scan the bar code on the receipt, which only takes a few seconds.
4) Get Paid Cash Back
After you upload your receipt, the app does all the price checking for you. If they match any competitors prices you'll be paid the difference inside the app!
---
How Do You Get Paid?
There's only one way to get paid your savings by the Walmart Savings Catcher App and it's through Walmart store credit. As your savings build up you can cash out a Walmart e-gift card at anytime.
There is one other way to get paid, but it will only apply to some people. If you have a Bluebird card by American Express you can add your savings catcher balance to your cash back on your credit card account.
---
What Items Are Available For Savings
I will cover the limitations of the app in more detail next, but here are the different products available for savings within the Savings Catcher App.
Grocery: Basically anything that comes pre-packaged in a box such as cereal, rice, frozen foods, etc.
Consumables: paper towels, trash bags, cleaning supplies, etc.
Health and Beauty: Shampoo, Makeup, etc.
You probably noticed that grocery items are accepted, but a lot of the items you purchase don't fall into the pre-packaged category. That's where Savings Catcher has some limitations which I cover next.
---
What Are the App's Limitations
I mentioned that this app works pretty well, but there's some major limitations which I cover below:
1) Earnings Limitation
You can only earn $599.99 with the Savings Catcher app every year. The cut off for reporting income on taxes is $600 so they won't let you earn that much to avoid having to deal with it. For me I don't spend enough to come close to that, but it could be a major limitation for families.
2) Only Checks Advertised Specials
The only way to get paid is by Walmart matching competitors prices, but the only prices they check are printed or online advertisements for weekly/monthly deals. Deals that aren't advertised out side of the store won't be matched.
3) Some Deals Don't Apply
Really the only deal that does apply is you can buy this rice for $1.00 when Walmart has it at a $1.50. Anything like buy one get one free, 20% off, bulk purchasing deals, closeout prices, and mail in rebates do not apply and won't be matched by Walmart.
4) Only Certain Products
Here's the biggest limitation, only pre-packaged items such as rice, crackers, and frozen foods are eligible. All produce, items in bakery, items in deli, and store brand items do not apply. This is where the app gets most of its heat from, because it's a good portion of most peoples shopping.
---
Is the Walmart Savings Catcher App A Scam?
The Walmart Savings Catcher App is a completely legit way to save a few extra bucks each shopping trip. I've used the app a few times and have been happy with it so far. The app is easy to use and it only takes a few seconds to upload a receipt.
It seems that the people hating on the app are couponers, that put in the time to save a lot more than what the Savings Catcher app actually pays you. But for people like me that want to spend a few seconds and save a few extra bucks, this app is a good way to do so.
Yeah there's limitations, if you have a problem with it I'd suggest a different way to save money at Walmart, but if your happy with a few extra bucks you can learn more or join on the Walmart Savings Catcher Website. Or you can download the app on your mobile device!
Yeah this app can earn you money at Walmart, but what about other grocery stores? I highly recommend checking out Ibotta to earn cash back for your grocery shopping, or you can see the other ways to earn an extra income at home!
If extra income isn't your thing you can see how to make a full-time income at home, it's how I work from home as my own boss everyday!
Do you think the Walmart Savings Catcher App is a scam? Let me hear your thoughts on this review in the comments section below.
Summary
Reviewer
Review Date
Reviewed Item
Walmart Savings Catcher App
Author Rating