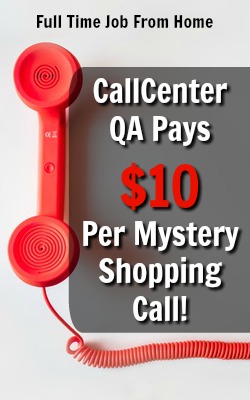 Everyone has heard of Mystery Shopping, but did you know you can get paid to Mystery Shop at Home?
Well with Call Center QA you can get paid to mystery shop over the phone within the comfort of your own home.
I came across these call Center QA jobs a few weeks back, and I'd never heard of mystery shopping at home before, but I did some research and it looks like a scam free way to make money at home.
Phone work at home jobs are a great way to make money online, but I prefer a much more passive income, check out My #1 Recommendation, it's how I made over $13,000 online last month!
In this Call Center QA Review I'll cover the requirements, what you'll be doing, how much they pay, and more.
---
What You Do As A Call Center QA Evaluator?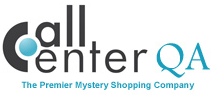 As a Call Center QA "Evaluator", you'll be conducting phone calls as a normal shopper, but really you'll be evaluating the call.
Most of the calls you make will be to a business that offers a service, but sometimes it will be a business that sells actual products.
When there are calls available CallCenterQA will contact you. You can call at any time during the business's hours. Most calls take around 5-10 minutes to complete.
After each call you'll fill out an evaluation and submit it. You'll get paid for every evaluation you turn in after the call.
---
CallCenterQA Requirements & Skills
The Call Center QA evaluator job doesn't have many requirements. They do not require you to have any experience in the field, but do say you should be a good listener, have great attention to detail, excellent writing skills, and the urge to provide a great evaluation.
To apply you'll need to be 18 years or older and live within the US.
You do not need a dedicated landline, calls can be made on any phone or online phone call programs.
---
CallCenterQA Application
If you meet the requirements, which most of you will, you can begin the application process. Fill out a form on their site that includes personal and demographic information.
After you submit the form you can move on to the test call and evaluation. Complete the test call and write out an evaluation of the call.
They do provide some information on what should be included, so you're not completely in the dark on what they're expecting.
Once you're done, you'll be contacted if you're accepted.
---
CallCenterQA Evaluator Pay
All mystery shopping calls pay $5. On their site, they say that most calls take 5-10 minutes and the evaluation form usually takes 5 minutes to complete.
It's pretty good money for the time it takes to complete a call.
Payments are made via PayPal once your evaluation is approved. Their site says you'll be paid within a week, but most members say they pay much faster, sometimes within 24 hours.
---
CallCenterQA Evaluator Schedule
The Call Center QA job schedule is very flexible. When there are calls to be made you'll be notified via email.
It's recommended to complete the calls asap, but keep in mind they must happen within the companies business hours.
This is not a full-time work at home job, there's no guarantee of work being available. This is a part-time extra income job, that gives you telephone mystery shopping work from time to time.
---
Is Call Center QA A Scam?
When I first heard of Call Center QA and their Evaluator position I figured it was a scam since there are so many mystery shopping scams out there. But I have to say that this is a completely legit work at home job.
There's a lot of positive feedback about the company which includes people saying that they pay fast! I like that the work is pretty flexible so you can do this in your spare time even if you have a full-time job.
If you have the skills you can learn more or start the application process at CallCenterQA Jobs.
Please understand that Call Center QA and other mystery shopping sites won't be a huge income, if you're serious about making a full-time income online, check out My #1 Recommendation, it's how I made over $13,000 online last month!
If earning free gift cards isn't for you, check out these helpful links:
Extra Income Sites That Pay Me Each Month
How I Made Over $13,000 Online Last Month
Work From Home Companies Hiring Now
Do you think this mystery shopping job at CallCenterQA is a scam? Let me hear your thoughts on this review in the comments section below!