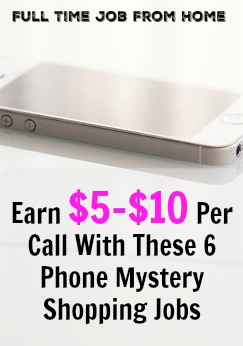 One of the most popular ways to make money online is through Mystery Shopping. Well today I have something you might not be aware of. You can actually get paid to mystery shop from home with these telephone mystery shopping jobs.
All of these companies hire a work at home position that is basically mystery shopping from home. All of these sites are scam free and legitimate ways to earn an extra income from home.
You'll basically be calling around to businesses asking questions, collecting information, and writing evaluations.
One thing that makes these jobs great is you're posing as a shopper that's interested in buying or using the businesses services. That means that being in a noisy environment and not locked in a room is perfectly okay, not like some other phone jobs.
Just like normal mystery shopping these phone jobs won't replace your income, but can be a source of extra income.
Below I've listed 6 different companies that hire work from mystery shoppers.
---
6  Telephone Mystery Shopping Jobs From Home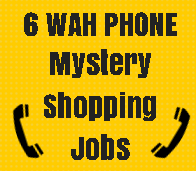 Call Center QA
CallCenterQA hires a work at home position making phone calls to businesses and evaluating the calls. There's very little requirements, but you will have to pass a sample call and evaluation.
They say that most calls take from 5-10 minutes to complete, and filling out an evaluation only takes a few minutes.
For every call and evaluation you submit you'll earn $5.
Payments are made via PayPal within a week of completing the call, but members say they get paid within 24 hours most of the time!
Hires a work at home mystery shopping position. You'll be calling businesses and asking a specific set of questions that are provided.
All calls last under 10 minutes and pays anywhere from $2-$10. They say they require mystery shopping experience and you'll need to include a resume when applying.
Hires a work at home mystery shopping position along with a few other positions. If accepted you'll have to attend a group training call before getting started.
Calls pay from $3-$12 depending on the length and information required to complete the job.
Payments are made monthly via Direct Deposit.
Hires mystery shoppers in the US. Call business and collect information about a set of questions that they provide. Calls can be made from any device with an unlimited calling plan.
There is some training that you must complete after being accepted and you're required to work at least 20 hours a week.
Pay is based on how much information your required to collect, but most calls take under 5 minutes. Some members report making around $100 a day.
Hires mystery shoppers to work at home making phone calls and collecting information at doctor's offices. Collect information off a set of questions that are provided to you and write a brief description of the call.
After applying you will have to submit a writing sample to gauge your writing level.
Most calls pay around $12. No requirement on how much you need to work.
Hires work at home phone mystery shoppers to collect information about rental properties. Calls can be made from any phone with an unlimited long distance plan.
During the application process you'll need to pass a test before being hired.
You'll be hired as an actual employee and be paid $6 hourly along with a per call structure ranging from $.40-$.10 depending on what information you collect.
---
More Information About WAH Mystery Shopping Jobs
Thanks for checking out these 6 legitimate companies that hire work at home mystery shoppers. Most of these jobs are very flexible and I really like that the requirements are pretty simple, not like a lot of other phone jobs.
One thing to keep in mind is these sites are "extra income" jobs. Although a few require you to work a certain amount of hours a week, there's no way for these to make you a full-time income. There's not always work to be completed so income really relies on how much time you can work and how many calls are available.
Overall Telephone mystery shopping jobs are a super awesome way to make a side income at home, without having to meet a bunch of company requirements.
If you're interested in any of these jobs listed above you can click the name to apply, or learn more by reading my review!
If phone mystery shopping jobs aren't for you, here's a free wah job directory, where I give you thousands of work at home job leads in many categories. You should also check out these other ways to earn an extra income from home.
If extra income doesn't sound like enough, check out how you can make a full-time income working at home.
Know of any other telephone mystery shopping jobs? Worked at home as a mystery shopper before? I'd love to hear your thoughts on this list and hear any feedback that you might have about this line of work!