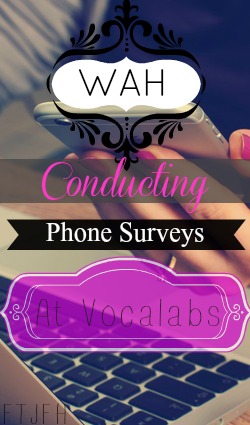 Have you ever been called to take a survey about a recent experience? Vocalabs is a company that hires people to work at home and conduct those surveys. The proper title is a Vocalabls Survey Administrator.
In this review, I will be sharing what exactly you need to qualify, what the work will entail, and of course payment information. Let's go ahead and jump into this review of working for Vocalabs.
---
What Do Vocalabs Survey Administrators Do?
One thing to understand is that you will not be selling anything when you call. Vocalabs has clients that are looking for information about recent experiences with their company. You will simply be calling to ask a few questions and get some feedback.
You will log into the Vocalabs website and see what calls are available for you. Vocalabs will have a form with the questions already laid out for you.
You'll need to fill out the form with the caller's responses and submit it to get paid. Based on feedback from current workers almost all calls take under 5 minutes to complete.
---
Vocalabs Requirements
Vocalabs has a few requirements that will have to be met to get the job. First off they are only hiring people located in the US. You must be fluent in English and be able to conduct surveys with a clear speaking voice.
Other then the personal requirements you'll need a landline phone with a cord. Meaning no wireless home phones. Along with a wired home phone, you will also need a computer with high-speed internet access.
---
Vocalabs Application Process
Vocalabs application is a bit different than most jobs I've reviewed in the past. Instead of filling out a form or sending over a resume, you'll visit their website and open a link with a phone number you must call.
On the next page, you will find a script that you must read on the phone. There is a bit of information you have to fill out on the phone like contact information, but the application takes no longer than 10 minutes.
If Vocalabs likes what it hears, they will contact you. They aren't always hiring, but it seems like they only contact you if they're interested so you may never hear anything back.
---
How Much Does Vocalabs Pay?
Vocalabs pays on a per call basis, not hourly. You will be paid $2.50 for every survey call you complete. As I mentioned above, calls usually take about 5 minutes, so it's a pretty good rate per call.
Vocalabs only pays with PayPal. They pay at the end of every week with no taxes taken out so you'll be required to report any income over $600 that you make in a given tax year.
---
Full Time Or Part Time?
Vocalabs is not a full-time job. They do offer a very flexible schedule where you can log on at any time and make calls if they're available. One thing to keep in mind is Vocalabs does not always have work.
You may log on and only have a few calls to complete, and sometimes you will have none. If you're going to be working from home, you will need another source of income because there is no guarantee of work.
You can see some other work at home jobs that can be combined to make a full-time income here.
---
Is Vocalabs Legit?
I did a lot of research on this company, and everything I've found is pretty positive from active workers. It seems to be a pretty easy job that can be done part time. One thing to keep in mind is that work isn't guaranteed. Don't expect to quit your job and have this replace a full-time income.
I found in this review that Vocalabs is paying their workers and everyone seems to be pretty satisfied. To apply or learn more visit the Vocalabs website.
Like I mentioned this would need to be combined with other work at home jobs. To see a full list of jobs I recommend visit scam free work at home jobs. To see how I work from home and make a full-time income visit my #1 recommendation.
Have something to add to this Vocalabs Review? Questions about working at home? Let me hear your thoughts in the comments section below!