UsabilityHub runs short tests and design surveys. You can sign up, participate in tests, and get paid cash for each one! This is what we call an extra income site. No UsabilityHub doesn't make you rich but can be an easy way to get paid for your opinion, and the tests are all very short. With that being said, please keep that in mind throughout the rest of the review and if you decide to join. Make sure to check out these other Extra Income Sites I use too! Let's get started with this UsabilityHub Review!
---
UsabilityHub Review

Site: UsabilityHub Type: Earn Cash Verdict: Legitimate!  I can say with certainty that UsabilityHub is Legit. I've made $10 off of them so far! It was super easy, but it takes a long time. This is not a job by any stretch of the means. It's just a way to add $10 to your pocket on occasion. You don't have to plan for this work, it just sneaks into your day, only 1-2 minutes at a time. It's perfect for someone who's already sitting at the computer. In this review, I'll tell you all about how it works!
---
How to Earn at UsabilityHub
UsabilityHub runs short tests and design surveys. You'll get paid for each test you take, and when you accumulate 100 points, you can request a payout. You get paid $0.10 per credit. Most tests are 1 credit per response. Each test is worth 1-5 credits. I noticed that when I started, all tests were 1 credit each. Then I started getting 2-credit tests. Then I started getting multiple tests per day.
---
How Does UsabilityHub Pay?
UsabilityHub pays via PayPal. When you've accumulated 100 points, you can request a payout. When you request a payout, they review your answers for quality assurance. There are tester guidelines that can be found in the payout FAQs. The tester guidelines tell you how to respond to ensure you will be paid for each test:
Read the instructions carefully so you know what they are looking for from you
Take your time
Give construction feedback; provide as much information as you can
Be honest, polite, and professional (here are examples of good and bad responses):

Good responses: "The logo looks unprofessional," "I didn't like the layout," or "I find the navigation confusing."
Bad responses: "This sucks" or "I hate it."

If a test seems inappropriate, report it; it could be unclear, in the wrong language, or missing instructions; in this case, it is best to report it or skip it, rather than submitting a bad response
If a test appears to be a duplicate, it might not be, so answer it just as thoroughly as you did the first time (some tests are variations of a previous test and there might be a very minute difference)
It takes approximately 30 days for the review process. When I did this, it took over 30 days: I requested a payout on March 23rd and received payment on May 3rd. So it was more like 40 days.
Here's proof that UsabilityHub pays: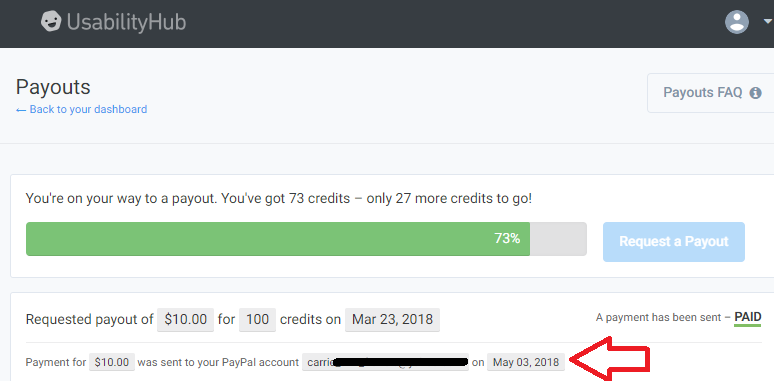 ---
How to Sign Up as a UsabilityHub Tester
If you want to sign up as a tester, go here and click on the sign-up button. You can only have 1 account per person. It took me about 2 minutes to create my account. I was asked questions about my age, education level, and household income. They're going to send you tests that are appropriate for you. When you sign up, you can select to get notified when tests are available. DO THIS! A little notification will pop up in the corner of your screen to let you know that a test is available. Click on the notification to be taken to the test. It will open a new page, so don't worry about what you were working on. If you wait too long, the test will disappear. If you see the notification just as it's disappearing, go to  Usabilityhub.com and go to your lobby to search for tests. If it's still available, you'll find it there.
---
How UsabilityHub Worked for me
I signed up for UsabilityHub on January 1st. On March 23rd, I had earned 100 credits and requested a payout. I received my payout on May 3rd. So from the time I joined to my first payout was basically 5 months. It's now May 7th, and I already have 71 credits. So once you get to taking tests, you seem to get more. But I don't know if this is just coincidence because the tests are sent to me as they become available. And like I said earlier, you get tests based on your age, education, and household income.
---
UsabilityHub Example Tests
Here are some of the questions I've received. The questions that say, "which would you choose?", Those usually give you 2 or 3 options and you pick which one you like the most. You'll most likely need to explain why you chose the one that you did.
When looking to play a Mahjong game, which would you choose based on the icons shown?
In your mobile banking experience, which menu navigation design do you prefer most?
Where would you click to find more information about the deals and prices for the Mondrian Berlin Hotel?
Click on the image to carry out the instructions or complete the set task
Please go thru all the on-boarding steps of this lifestyle mobile application and describe your experience. What do you think the app offers and who is it for?
Click on the image to carry out the instructions or complete the set task
Look at the interface for 5 seconds and remember as much as you can
---
Is UsabilityHub a Scam?
I enjoy UsabilityHub testing! The tests are random and short, so they give me a short little break from whatever I'm doing, yet don't take away from whatever I'm working on. I'll keep taking tests as long as they keep sending them! If you want to sign up to be a tester, go here to sign up! Keep in mind this won't make you rich or be a site that pays you overnight. It's a long-term small extra earner that you can add to your existing income. If that doesn't sound like what you're looking for UsabilityHub is probably not for you. If extra income is fine, feel free to join UsabilityHub and check out the other extra income sites that have paid me!
If you don't like the sound of this side gig, check out these helpful links for some other work at home ideas:
Summary
Reviewer
Review Date
Reviewed Item
Author Rating