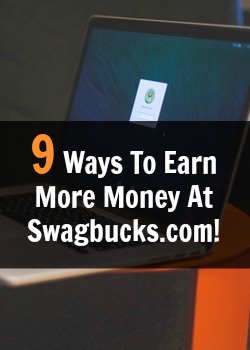 Welcome to My Ultimate Guide to earning more Swagbucks. I've been using Swagbucks for over two years now and in 2015 I made over $500 in PayPal payments from the site alone.
I usually can reach the $25 cash amount a couple of times a month without much work.
In this guide, I'm going to show you the different ways to earn Swagbucks and some great tips on how to make more with each method.
Obviously, you'll need a Swagbucks account. So if you don't have one, you can join Swagbucks here.
Let's go ahead and get started, here's how to make some easy Swagbucks and make the most money possible at Swagbucks.com.
---
Ways To Earn Swagbucks?
Before we get into details on how to earn more Swagbucks, I thought I'd include a list of all the ways to earn.
[one_half_first]Taking Surveys
Watching Videos
Searching
Shopping
Completing Offers[/one_half_first][one_half_last]Playing Games
Referring Friends
Viewing Websites
Short Polls[/one_half_last]
Now there're other great ways to earn at Swagbucks, but most fall into one of these categories. Next, I'll cover how to get the most Swagbucks out of each category and some great ways to earn more Swagbucks!
---
Guide To Earning More Swagbucks
Swagbucks Surveys
Just like most sites that offer surveys, you have to qualify for the survey to take it and get paid. From what I've found the gold surveys seem to be the easiest to qualify for, and they usually have some featured surveys that only take a few minutes to complete with a high payment.
For some reason I've never had much success with the partner's surveys, I'm not sure why, but I struggle to qualify for the partner surveys.
If you don't like trying to qualify, I highly recommend just taking the daily poll. There's only one per day, but if surveys aren't for you, it's the easiest way to earn Swagbucks by answering.
Swagbucks Videos
If you're familiar with Swagbucks video, you know that it's not a passive income type of thing where you can just start one video, and it keeps playing and earning. For that reason here's my recommendation for making more with videos.
When you visit the watch tab, you'll see playlists, where you'll get paid a certain amount of Swagbucks to watch so many videos.
If you're looking to maximize your earnings while not paying attention to the videos, find a playlist that has many videos in it and pays more than just 1-2 Swagbucks.
That way you don't have to pay attention until all of the videos are over. This is much more efficient than just watching videos individually!
Swagbucks Search
Swagbucks search is probably my favorite way to earn. I search the internet all day so why not get paid for it. If you haven't already, make Swagbucks search your default search engine. This will make sure that you're always searching through them.
As you probably already know you don't receive Swagbucks for every search and you need to search normally to earn.
What seems to work best for me is searching for products and services. I rarely earn when I search questions or information about something unless it's a product.
Also, when I accidentally spell a word wrong in my search, it seems to always reward me Swagbucks. I don't know if this helps or not, but it seems like it.
The key is using the Swagbucks search normally just like you would use Google, not trying to beat the system.
Swagbucks Shopping
Swagbucks shopping is probably the most lucrative way to earn at Swagbucks, but of course, it requires you to spend money.
I used to use Ebates a lot but have switched to Swagbucks; it seems that most of the rates are higher.
I highly recommend installing the Swagbucks Button (browser extension), because it tells you if you're on a site that you could get cash back on.
Before I installed the browser extension, I bought things without really thinking I could get cash back through Swagbucks. With the extension, you'll never miss a cash back opportunity.
I highly recommend comparing cash back rates on all the available stores before making a purchase. Rates differ from store to store.
---
Earn More Swagbucks Tips and Tricks
Daily Goals
A super easy way to earn a few extra Swagbucks each day is by hitting the daily goal. If you earn a certain number of Swagbucks, you'll get some extra bonus Swagbucks for reaching the goal.
This is just a simple way to get bonus Swagbucks each day you use the site.
Swag Codes
I highly recommend following Swagbucks on their social media accounts. From time to time they'll post Swagcodes on their Facebook page, Twitter, and Blog.
These codes usually award 3-10 Swagbucks and are super easy to find.
HINT: If you get the Swagbucks App it will notify you when there's Swag Codes available and where to find them!
Swagbucks Credit Card
Now I'm not a financial manager so I can't recommend this method, but Swagbucks does offer a credit card that pays you cash back in Swagbucks. I've used the card before, and it's an easy way to earn more Swagbucks just for using the card.
You'll earn 100 Swagbucks for every $2 you spend on the card. There's also additional bonuses of 500 Swagbucks when you spend a total of $500 and 1,000 Swagbucks when you reach $1,000 in purchases.
If you're already fiscally responsible and pay off your credit cards each month, this is a good option, but make sure to check out all the fees before moving forward.
Swagbucks App
If you have a smartphone, you need to have the Swagbucks app for a few reasons. The main one being that now you don't have to be sitting at a computer to earn Swagbucks. The app lets you earn by watching videos, visiting websites (inside the app), taking surveys and polls, and shopping.
I highly recommend getting the app because it unlocks an easy way to earn Swagbucks when you're away from the computer.
Swag Button
This is a browser extension that can help you get cash back on your shopping. When you visit stores, you'll be notified if Swagbucks offers cash back at the store. If they do, you can quickly click the Swag Button to enter a shopping session that earns you cashback.
Sometimes we forget about getting cash back, so this is a great way to make sure you never miss it!
---
Proof This Guide Earns More Swagbucks
This guide doesn't do much good if it won't earn you more Swagbucks. Here're some of my latest payments from Swagbucks. I usually cash out after earning enough for a $25 PayPal payment!
[one_half_first]
[/one_half_first][one_half_last]
[/one_half_last]
---
How To Earn More Swagbucks Now?
As you can see from the payments above, I use Swagbucks a lot and use the methods I talk about in this guide to make as many Swagbucks as possible.
Out of all the rewards sites out there, Swagbucks is one of my favorites. If you're not already a member, I highly recommend you join Swagbucks by using the button below!
[thrive_link color='blue' link='https://fulltimejobfromhome.com/ultimateguideswagbucks' target='_blank' size='medium' align='aligncenter']Join Swagbucks Here![/thrive_link]
I use Swagbucks a lot, but by no means are these all the effective ways to earn more Swagbucks, if you have anything to add to this guide, please leave comments with your methods below.
I make money online a lot of ways, not just at Swagbucks. Take a look at these other extra income sites and My #1 Recommendation to learn more about making money online?
So what do you think, will this guide help you make more Swagbucks?