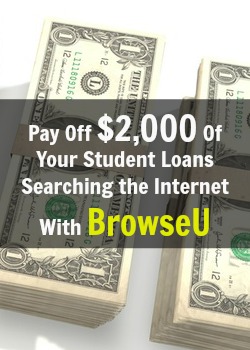 I recently ran across a pretty cool site called BrowseU and decided to write a review. Browseu is a search engine that pays back your college loans for using their search engine.
It doesn't work exactly as I thought when I first heard about the site, but in this review, I'll cover the details of exactly how it does work. If you jump on early and join now, you could be getting money back on your student loans very soon.
Also for readers who don't have student loans, you can still sign up and donate your earnings to anyone who does.
In this review, I'll cover the details of BrowseU, how you can get more of your student loans paid off, and decide if BrowseU is a scam!
---
BrowseU Review
Site: BrowseU
Price: Free To Join
Score: 85 out of 100
In this BrowseU Review, I gave them a pretty good score. I like the idea that you can get paid just to search and that the payment amount is so high towards your student loans.
Unfortunately, you do have to wait your turn until you earn anything, but as long as you join right away, you can start earning within the year.
BrowseU didn't work exactly how I expected to, but overall a cool idea and easy way to make some free cash towards your student loans.
---
How Does BrowseU Work?
Why Can BrowseU Give You Money?
The first question that most of you will have is how can BrowseU afford to give us free money just for using their search engine. It's actually pretty simple. BrowseU earns revenue for ad clicks within their search results, as they earn ad revenue they are paying you a portion to pay off your student loans.
How Much Money Can You Earn?
Everyone who joins can earn $500 towards their student loans just for joining, they do have some ways to raise the $500 limit, but the maximum amount is $2,000 towards your student loans
I Joined But I'm Not Earning
So here's the part that sucks, but does make it possible for someone to receive $500 plus towards student loans. Browseu doesn't pay everyone that joins right away. After joining, you're put on a list in the order that you joined. All Ad revenue generated goes to member #1 on the list until their maximum amount towards student loans is paid. Then the process continues with the next person on the list.
You will not earn right after you join, but eventually, you'll be number one on the list and based on how things are going for most recent grads, you'll still have some student loans to pay when that time comes.
---
Pay More Of Your Loans Off
When you join, you're limited to $500 of your student loans paid off, but there's ways to increase that number all the way to $2,000.
Here's a list of ways to bump up your payment and how much it increases it by.
Tweet About Them $100
Like On Facebook $100
Share On Google + $100
Refer 1 Friend $50
Refer 5 Friends $100
Refer 10 Friends $200
Refer 25 Friends $350
Refer 50 Friends $500
As you can see, you can easily earn a $300 bonus just by sharing with your friends on social media. All of the other bonuses have to do with referring your friends. I'm honest and tell people don't expect to refer many people to "make money online" sites without a consistent flow of traffic to a website.
But with BrowseU I think it should be pretty easy for college students to get referrals. If you live in a dorm you probably have at least 50 people on your floor that you could get to sign up.
If you're going to wait to get free money towards your student loans, you might as well do a little work to earn as much as possible!
---
BrowseU Complaints & Concerns
Having To Wait To Earn
I've seen a few complaints about this, but this is what makes it possible to earn $500 or more towards your student loans. As long as you join right away, you'll probably not be too far down the list and close to earning.
If they didn't set it up this way and paid each person individually based on your searches, you'd be earning pennies a month, and that's not going to pay off your student loans.
It sucks that you may have to wait a long time, but I think it's worth it to earn the dollar amount that's available.
It's Not Google Search..
Personally, I use Google because I think it's the best, and that's why it's the biggest search engine out there. The BrowseU search is nothing like Google but does remind me of Yahoo. The search doesn't suck, but it's not great either.
You can join and never use the search, but if you want to help earn ad revenue and work your way up the list, you'll want to.
---
Is BrowseU A Scam?
BrowseU is not a scam; it looks like a legitimate company, and they have a lot of information about the owners and their mission on their website.
I haven't been paid by them, and I'm still 500 people away from earning any cash, but I did see a forum post where someone said they got paid. At this time the company is still very small, so if you join now, you'll have a good chance of being high on the list.
To join you can visit BrowseU.com to get started.
Don't have student loans? Here're some other great ways to get paid to search the internet.
Free cash is great, but will $500 pay off your student loans? See how you can make a full-time online income by the time your student loans need to be paid with My #1 Recommendation!
Do you think BrowseU is a scam? I'd love to hear your thoughts on this BrowseU Review in the comments below! 
Summary
Reviewer
Review Date
Reviewed Item
Author Rating