4
Raise.com App Review: Buy & Sell Gift Cards At A Discount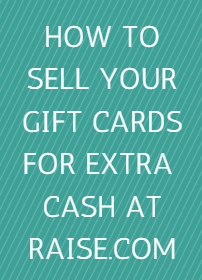 Raise.com is an awesome way to get rid of old unwanted Gift Cards and to get gift cards at a huge discount. I decided to write a short review to show you exactly how Raise.com works and how you can make some money selling gift cards.
Raise is a marketplace where people go and list their unwanted gift cards for sell, so if you decide to buy gift cards, you'll be buying from other people. Don't worry; the whole process is handled by Raise.com, so it's completely safe and scam free.
In this review, I'll cover the selling portion of this site. I'll include how it works, how much you can earn, and how to get paid.
---
Raise.com Review
Site: Raise.com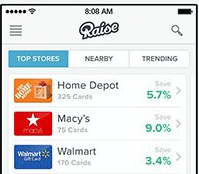 Price: Free To Join
Verdict: Legit
In my Raise.com Review, I gave them a good score and marked it legitimate. There're very few instances where I see selling gift cards as a good option. I'd recommend spending the gift card if you have the ability, but if you don't, you can easily list your gift card on raise and get paid cash.
Overall it's a super easy site to use, and everything is done electronically, so it's pretty much hassle-free. If you have an unwanted gift card, Raise.com is a good option.
---
How To Sell Gift Cards On Raise.com
The process of selling gift cards on Raise is super easy, but here're some details about the process.
1) Enter The Store & Serial Number
The first step to listing your gift card for sale is entering the store. Not every store is available, but nearly all major retail stores are.
Last Month I Made

$13,841 Online
I Bet You're Tired Of Making Pennies Online. No More BS. If You're Serious About Making A Full-Time Income Online You Need To See The TRUTH. Stop Wasting Your Time With The Next Big Thing When There's Already A Proven Method That Works!
Once you find the store, it's time to enter the serial number so they can check the balance and deliver the gift card electronically.
2) Check Balance & Add Additional Information
Once you enter the serial number, you can easily check the balance of the gift card. It's completely okay to list gift cards that you've used before.
If your gift card has an expiration date, you'll need to enter that in as well.
3) List For Sale At A Discount
Once you've added your gift card Raise will automatically suggest a selling price based on how much the gift card is worth and the price of similar gift cards sold on the site.
Most of the suggested prices are at a 3.5% discount, but you can discount less or more.
4) Get Paid When Your Gift Card Sells
Once you've listed your gift card, just wait for it to sell. I recommend selling your gift cards electronically, so you don't have to mess with shipping and funds become available much faster.
Once funds become available, you can cash out via Check, PayPal, or Direct Deposit.
---
How To Get Paid By Raise.com
There're a few different ways to get paid by Raise.com. They pay via Check, PayPal, or Direct Deposit. Once you sell a gift card, your funds will be available within a few days, usually instantly.
You can cash out at any time and payments are made shortly after. They do say on holidays payments will be delayed a few business days.
---
How To Earn More At Raise: Referral Program
Raise.com does have a referral program that can help you earn more. If a friend joins through your link and makes a purchase of a gift card, you'll earn $5 to spend on gift cards.
They also have an affiliate program for website owners. It's through an affiliate network, so some people will not be able to join unless you have a website.
You'll earn a flat fee for everyone who signs up and lists a gift card. It's more lucrative than the regular refer a friend program but has limitations on who can join.
---
Raise.com Complaints
Why Sell Gift Cards For Less?
Yes, you can make money by selling Gift Cards on Raise, but I think the obvious concern is why you would want to sell gift cards for less than what they're worth? The only real reasons I can think of is if you no longer shop at a store or don't have a location near you.
I know if I had a gift card somewhere I'd drive farther just to use it, but I guess some people aren't interested in the that. To me it doesn't make much sense, but if it fits into your situation Raise is an easy way to sell your unwanted gift cards.
---
Is Raise.com Legitimate or a Scam?
Raise.com is completely legitimate. If you have unwanted gift cards, this is a good place to get rid of them and earn some cash. I don't understand why you'd like to give away gift cards, but I guess there're a few instances when it makes sense.
I'd recommend using the gift card if you have the ability, but if not, head over to Raise.com to get started.
If selling your gift cards at a reduced price isn't for you, learn how to make an extra income online or a full-time income with my #1 recommendation.
Thank you for reading my Raise.com Review! Do you think this site's worth selling gift cards on? 
Summary
Reviewer
Review Date
Reviewed Item
Author Rating