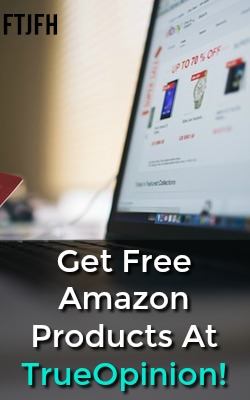 True Opinion is a site that lets you get free or discounted Amazon products in exchange for a review. I've reviewed a few different sites similar to this; you can see the full list of sites here.
It looks like True Opinion has some of the biggest discounts and some of the best products out of all the sites.
I've used the site once already and received an awesome deal on an even better product.
In this True Opinion Review, I'll cover how the site works, what products are available, and if this site is a scam.
---
True Opinion Review
Site: True Opinion
Type: Free Amazon Products
Verdict: Legitimate
In this True Opinion review, I marked it legitimate. Out of all the sites I've used in the past to get free/discounted Amazon products, True Opinion has the best selection of products.
It seems that the product owners are a bit more stingy on who they let use the discount code, but as long as you have some reviews on Amazon you should have no problem getting the products you want.
If you're looking for free/discounted Amazon products True Opinion is a good option.
---
How Does True Opinion Work?
1) Join True Opinion For Free
The first step is to visit TrueOpinion.org and sign up for completely free. You join via email, and you'll also need to provide your Amazon review URL (they show you how to do this.) Once you've signed up, they recommend completing your profile by linking your social media accounts.
2) Browse Discounted Items
Once your profile is complete, you can browse all the discounted products. You can clearly see the name of the product, pictures of the product, how much the product costs, and the discount amount.
As mentioned, True Opinion probably has the best variety of items available. You'll find electronic accessories, clothing, jewelry, bedding, and a whole lot more.
3) Apply For Code
Once you find an item you'd like to purchase, you can apply for the code. Depending on the seller, you'll usually hear back within 48 hours. I recommend leaving a few reviews on past Amazon purchases; you should have no problem getting approved.
If you are approved, you can order the product on Amazon, apply the discount code, and check out as normal.
4) Receive Item and Write Review
Once you receive the item, you should use it for a few days. After you use the product, it's time to leave your review. They are looking for detailed and honest reviews. They recommend around 250 words. Again, they are looking for honest reviews, so make sure to give your honest opinion. If you did not like the product your review should reflect that.
Once you complete your review, it can take about 24 hours for it to be approved. Once it's approved, you can apply for more discount codes.
---
What Products Are Available?
Most of the products available fall into these categories: Electronics, Camera, Computers, Home & Garden, Health & Beauty, Apparel, Children, and Pets.
Most of the items range from $10-$50 and after the coupon code, you'll at least receive 80% off the purchase price.
Out of all the similar sites I've reviewed, True Opinion has the biggest selection of products available.
---
True Opinion Complaints
Not Always Approved
I completely understand why sellers don't want to give the discount to just anybody, but it does suck that you have to wait for a response to find out if you get the discount code or not. With that being said, I highly recommend filling out your profile completely and linking your social media accounts. It also doesn't hurt to go back and leave reviews on some of your past Amazon purchase, so sellers have an idea of the type of reviews you'll leave.
What About Free Shipping?
Occasionally, the item will still require you to pay for shipping. If you're not a Prime member, you'll probably always need to pay for shipping, but even if you are some items are not available for Prime shipping.
It sucks that it takes away from the discount, but you can view the item on Amazon beforehand and make sure it has free Prime shipping.
---
Is True Opinion A Scam?
True Opinion is not a scam; it's a completely legitimate site that gives you discounts on Amazon Products. As mentioned, if you're going to use this site, I recommend leaving reviews on your past purchases. This will help you get approved for more discount codes.
If you're interested in learning more or joining, you can visit TrueOpinion.org.
Receiving free and discounted Amazon products is awesome, but you could be earning cash back on your purchases too! Here's a list of sites I recommend that pay you cash back on your online and your in-store grocery shopping!
Make sure to check out the other ways I make an Extra Income Online! Are you interested in making a larger online income? Learn how I make a full-time online income by blogging. My #1 Recommendation will show you how for free!
Do you think True Opinion is a scam? I'd love to hear your thoughts on this review in the comments section below! 🙂
Summary
Reviewer
Review Date
Reviewed Item
Author Rating