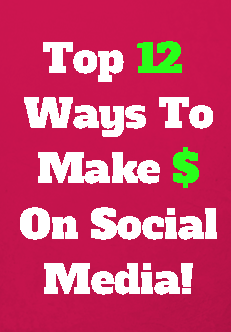 Almost everyone has at least one social media account. No matter what platform you use, you can make money with your accounts.
Today I'll cover some of the top ways to make money on social media sites; you should be able to take at least one of these methods and monetize your social media accounts.
Let me be very clear up front. To make money, you'll need a very large following that interacts with your content. Buying fake followers isn't going to help you make more money with your social media accounts. Your followers need to interact with your content to make money with most of these ways.
Now that we have that out of the way, here's a list of the top 12 ways to make money on social media.
---
Top Ways To Make Money With Your Social Media Accounts
Share Sponsored Posts On Social Media
ShareMagnet – Read Review
ShareMagnet lets you share social media posts that usually contain a link to a website. You'll get paid for each click your post receives. You can post on any social media network and even email.
Not only do you need a large following, but the only way you make money is if your followers engage and actually click the link!
Payments are made via PayPal once you earn $1! To learn more or to join visit ShareMagnet.com.
Sponsored Tweets
Sponsored Tweets pays you to send out tweets. Join and connect your Twitter account. If a company thinks you'll be a good match, they will request you send out a tweet promoting them. You get to set your own rate per tweet, but they do have a suggested price based on your following size.
They pay via PayPal once your account reaches $50. To learn more or to join, visit SponsoredTweets.com!
Viraliti – Read Review
Viraliti is a site that pays you to pin on Pinterest but is currently only open to a few members. Hopefully, it will be open to everyone who'd like to join soon. If you're able to join, you'll receive offers with the details of what you should pin. Get to pinning to get paid!
Cash out once you have $30 in your account via PayPal. To learn more or to join, visit Viraliti.com (if you're able to join, please let me know in the comments).
Loop88 – Read Review
Loop88 pays you to pin sponsored pins on Pinterest. This site only works with Pinterest. Join and create your profile, if you have a large following, companies might send you offers to promote their pins. You have the ability to turn down any offer, but if you decided to accept you'll be paid after you do some pinning!
You can cash out via PayPal once your account reaches $100. To learn more or to join visit Loop88.com.
AdDynamo
The same as Sponsored Tweets, where you can join and link your Twitter account. You'll get to set your own rate per tweet and start to receive offers from companies.
AdDynamo pays via PayPal or Bank Transfer starting at $20 on the first day of the month. To learn more or to join visit AdDynamo.com.
Social Network Sites That Pay
tsu.co – Read Review No Longer Available
tsu is a new social media site that pays you to be social. It's very similar to Facebook where you have your profile, picture, bio, header photo, and links to anything you're interested in. The way it works is there're ads on the social media site, just like Facebook has ads. But instead of keeping the ad revenue, tsu shares it with you. You earn a percentage of all the ad revenue your content generates.
The cash out amount is a bit high at $100, but it is reachable if you have a large following on the site. To learn more or to join, visit tsu.co.
3Tags
Extremely similar to tsu.co, where they share ad revenue with users, but it's more of a revenue sharing website than a social network. You can still follow, like, and share content, but posts on here are usually more like blog posts than just a photo or few words. If you're a blogger, it's a good way to get some exposure to your website if your post becomes popular!
To learn more or to join, visit 3tags.org.
We Are 8
This is a site that's still in beta, but you can still join and start posting photos and videos. Once the full version is released, you'll be able to place ads, if you choose, on and around your photos and videos. You'll earn a percentage of the revenue your content brings in from ads.
No information at this time about payments, but if you'd like to learn more or to join, visit WeAre8.com.
bitlanders
Bitlanders Is a site that pays you Bitcoins to post and engage on other people's posts. As you become popular and your "BuzzScore" begins to increase you'll earn more coins to spend on items in their online store or for gift cards to popular stores.
You can learn more or join by visiting bitlanders.com.
ChatAbout – Read Review
Chatabout is similar to tsu.co, but I have had some comments on my review that were negative. I'm not saying that ChatAbout does not pay, but some people have had issues, so join with caution. You can get paid to interact with other people's content and for others liking, commenting, and sharing your content!
Once you earn $25, you can cash out via gift card. Once again join with caution, but you can join at ChatAbout.com.
Other Ways To Make Money On Social Media
Fiverr Gig
I have personally used Fiverr to make money on my social media accounts, and if you have a large following, that falls into a particular target market or niche you can make some extra cash. I mentioned products and websites, but you can also help get them followers by mentioning them or retweeting (sharing) their posts for cash.
The cool thing about Fiverr is everything is $5, so there's no negotiating price, and you don't have to worry about getting paid. One thing to keep in mind is that you don't want to bombard your followers with a ton of ads!
I also prefer Fiverr over the paid to share social media post sites like ShareMagnet. You're paid an upfront fee, and you don't have to wait for big companies to choose you and send you offers.
It's super easy and free to get started. You can sign up for a Fiverr account in just a few minutes at Fiverr.com.
Social Media Manager
Some companies and business owners hire social media managers along with a few other social media work at home positions. It's hard to give you exact information because each social media job does differ, but you will need some experience, either working with another company or have a large engaging audience of your own.
Most of these jobs pay $10-$20 an hour, but it all depends. If you're interested and think you have what it takes, I recommend checking out the Social Media Manager School!
---
Best Way To Make Money On Social Media?
It honestly just depends on what you're looking for and how much work you're willing to put in. For any of these ways to be successful, you'll need a large audience that engages with your content. I don't have much experience with any of these methods other than promoting with my Fiverr gig, but I still do make money from my social media accounts in a different way.
I use social media to promote my content, bring visitors to my website, and make money through affiliate sales, Google Adsense, and a few other ways. It's much more profitable than getting paid a few bucks per 1,000 clicks! If you'd like to learn more about the process, head over to My #1 Recommendation to see how it works!
If you don't think you have a big enough following to make money on social media, no worries, here're some other great ways to make an extra income online!
How Do You Make Money On Social Media? What's the Top Way To Make Money With Your Social Media Accounts? I'd love to hear your thoughts in the comments below.