31
The 30 Best Paid Survey Sites That Actually Pay!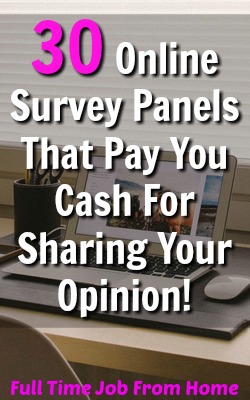 Most of the posts on my website are about online job reviews. Lately, I have done too many reviews on sites that make you pay for a list of the best-paid survey sites. Personally, I think that is ridiculous, and in the reviews, I tell people to just Google it and find survey sites that way. Well after doing some research I could not find any good free lists of survey sites, so I decided to create one myself.
I have put together a list of the best 30 paid survey sites on the internet. All of these sites are available for people who live in the US and some are even Worldwide. I don't use all of these surveys nor have I signed up for all of them, but I did my research and the following 30 survey sites are legit!
Now I am not like the people, I am not putting this list together to get as many referrals as possible. Like I said above I am not a member to most of these sites, but just to level the playing field if you sign up for the following sites you will become my referral: Cash Crate, Inbox Dollars, Send Dollars, Paid Viewpoint, Clixsense, and SwagBucks. If you don't want to become my referral and earn me money that is fine, I am just here to help. There are plenty of other sites on this list to choose from!
Please understand that taking surveys online with never earn you a ton of money, and usually works out to a terrible hourly rate. If you're serious about making a full-time income online, check out My #1 Recommendation, it's how I made over $13,000 online last month!
Now Let Us Begin! These sites are in no particular order, click on the name to go to the site's homepage!
---
The 30 Best Paid Survey Sites
Swag Bucks: (Favorite) 

is one of the newer legit survey sites around. Surveys

are just one thing they offer, Swagbucks has tons of different ways to earn cash. I

have been paid

over $100 in Amazon Gift Cards by Swagbucks. You can see my SwagBucks Review here!

CashCrate

: (FAVORITE) Was founded in 2006 and offers many other ways to make money other than surveys. Without a doubt, one of my favorite survey sites and I

have been paid

by them multiple times. You can see my Cash Crate Review Here.

Clixsense

: (Favorite) is a site that has surveys and pays you to visit sites. They also have a great referral program.

Clixsense

surveys are great, but I also promote this website has the best paid to visit sites website. You can see my review on

Clixsense

here!
Paid Viewpoint: (Favorite) Paid viewpoint is my favorite pure survey site. Paid Viewpoint does not have any other ways to earn other than surveys, but the big advantage with them is they only send you surveys that you're pre-qualified for. No more trying surveys to only be rejected! You can see my Paid Viewpoint Review here!
Send Earnings:  is a site that offers surveys and almost everything thing else you can think of. It's big claim to fame is paying you to read emails.

SendEarnings

parent company is Inbox Dollars which I prefer, but either one is a good option. Read my Send Dollars

review

here!
Inbox Dollars: As stated above Inbox Dollars is the parent company of Send Earnings. They are the same thing except for a few minor changes. I prefer Inbox Dollars, but you can decide for yourself. Read my Inbox Dollars Review Here!
Survey Savvy:: is a site that only offers paid surveys. It has been around for a while and is a well-known survey site with a great reputation. Survey Savvy is one of the best paying survey sites on the internet.
Toluna: is a site that only offers paid surveys. This is another well-trusted site around the web and is a great site to join to get high quality paid surveys.
Harris Poll: is another great online survey site. They are well trusted around the web and have excellent support.
Fusion Cash (Favorite): Offers many ways to earn including Surveys. Makes payments via PayPal, Direct Deposit, and Mailed Check.
Earning Station: Offers many ways to earn including Surveys. Has a low cash out amount.

Mysurvey

: is one of thehighest-rankingg survey sites with the BBB if that means anything to you. Excellent surveys and proof of payment. Great site to get involved with.
VIP Voice (Favorite): 

is run by the

highly trusted research NPD group. This site is reputable and easy to use.
Opinion Central: is run by insight express and is a great paid survey site. You will have to cash in your points for items, but still a good company to take surveys with. 
I-Poll (Favorite): is a relatively new survey site that actually has an extremely useful mobile app. Surveys and tasks

can be

completed on the app. Without a doubt best site to join if your going to want to use your phone!
Opinion Outpost is an extremely trusted survey site, that always pays on time and offers some good surveys. One I recommend joining!
Zoom Panel: Zoom Panel lets you earn points and cash them in for rewards. This survey site is highly trusted and proof of payment is all over the internet.
American Consumer Opinion: is one of the most trusted survey sites on the internet. Get paid to take surveys and test products!
Mommy Talk Surveys: Don't worry you don't have to me a mom to join this site. Anyone male or female can join this site and it's a great one!
Harris Poll: Highly trusted online survey company that will pay with PayPal
Opinion Square: Great survey site that pays you with cash & prizes!

FGI

Research: Highly trusted research group that offers paid surveys having to do with their clients!

ISurvey

: No it's not Apple's survey site, but is a good join!
Get Paid Surveys: Will send you surveys straight to your inbox!
Treasure Trooper: A castaway theme survey sites that gives you multiple ways to earn!

Vindale

Research (Favorite): Is one of the most trusted research groups on the internet a must join!
Survey Spot: Get paid by PayPal for taking surveys

MindField

Online: Is a research group that pays you to take surveys. Surveys come straight to your email!
Valued Opinions: Get paid in prizes for taking surveys
CVS Advisor: You will only get contacted a few times a year, but these surveys have to do with shopping within CVS stores!
---
There you go. Above is the top 30 Survey Sites on the Internet, like I mentioned above I am not a member of all these sites, but I did do my research when putting this list together. All are completely safe and will pay you!
I highlighted a few sites above as sites that I found to be best of the top 30.
Please keep in mind that the money you can make taking surveys is always blown out of proportion throughout the internet. It's not realistic to earn more than $10-$20 a month taking surveys. If you're serious about making a full-time income online, check out My #1 Recommendation, it's how I made over $13,000 online last month!
If you didn't find what you were looking for here, check out these helpful links:
Last Month I Made

$13,841 Online
I Bet You're Tired Of Making Pennies Online. No More BS. If You're Serious About Making A Full-Time Income Online You Need To See The TRUTH. Stop Wasting Your Time With The Next Big Thing When There's Already A Proven Method That Works!
Extra Income Sites That Pay Me
Work From Home Companies Hiring Now
How I Made Over $13,000 Online Last Month
I hope you call enjoyed my list of the best 30 survey sites online. Feel free to join as many or few as you would like.