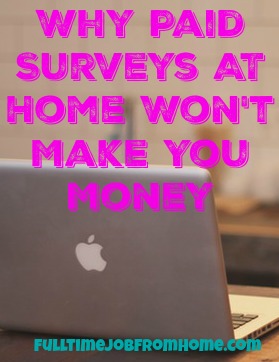 If you plan on purchasing the Paid Surveys at Home program wait one second! Your about to waste your money! I stumbled across Paid Surveys At Home a few days ago and I had to buy it to do a review for you all. From the front sales page, sales video, embarrassing up sells, and poor members area there is tons to tell you about in this Paid Surveys At Home Review.
I have come across a few other sites just like this and they all have one thing in common, they charge you money for worthless information and list of survey sites. Pretty much all this site did was search Google for survey sites and put all the results into a list.
They promise you they have  a secret to making more money with survey site, but there is no secret, survey sites won't make you a lot of money.
Paid Surveys at Home will be a complete waste of your money, if you would like to find out why continue to read my Paid Surveys at Home Review.
---
What Is Paid Surveys At Home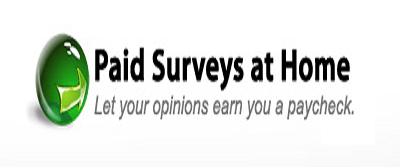 Paid Surveys At Home was started by Patricia Johnson a so-called successful survey taker who has learned a way to make more money online with online surveys. Paid Surveys At Home promises you a list of survey sites and training on how to earn more with surveys.
---
What You Receive When Joining
Basic $14.50 Package
List of over 200 survey sites
Free 5 part course on surveys
List of Paid To Shop Companies
Other Work At Home Opportunities
$64 Up Sell
Get Paid To Shop & Eat
Get Paid To Blog
Make Money On eBay
Make Money On Google
Make Money Marketing Online
Work At Home Mom
Everything that you pay for is available on the internet for Free your basically paying for a list.
---
How Paid Surveys At Home Works
I know your probably wondering how does this all work. Well All Paid Surveys At Home does is give you the list of survey sites and other online job opportunities. They are in no way affiliated with them other than as you may know most survey sites have referral programs.
Basically not only did Paid Surveys At Home charge you to get access to their list, but every site you sign up for and earn money with will give Paid Surveys At Home a commission.
---
My Paid Surveys At Home Review
Website: Paid Surveys At Home
Owner: Patricia Johnson
Cost: $17.50 + Up Sells
Rating: 40 out of 100
Verdict: SCAM!
I gave Paid Surveys at Home a 40 out of 100 because it's a flat-out scam. The only thing it has going for it is its list of survey sites. I highly recommend a few survey sites on the list, but there is no reason for you to pay for them! I will give them to you for free here!
Continue reading on to learn about all the problems with Paid Surveys At Home.
Landing Page
Honestly the landing page for this website only has a few false statements and isn't that bad. But still of course it claims that you can make $20 for a 20 minute survey. Which if you have ever taken surveys before you know that is no the case.
Sales Video
The sales video which your brought to after you click get started on the homepage starts off with the extraordinary story of a man who started making money with online surveys. Of course he was having money troubles before surveys, but after he became financial free! I found this kind of funny since the owner and founder of Paid Surveys at Home is a women. But never less more false income claims occur during the video and claims to having the secret to making more money from surveys. All that is BS and you will figure that out once you get inside.
Once You Pay
This is what bothered me the most about Paid Surveys at Home. Immediately after paying $17.50 to get into the members area I was bombarded with up-sells. Not only was I offered up sells, but I was offered the same up sell for three different prices. To me that is saying I don't care what you pay I just want more money from you! I took some screenshots so you can see what I mean!


Keep in mind that it says this is the only time you will receive this offer!

Man it would have sucked to pay $64 when you can get it for $14, but either way don't buy this product or the up sells!
Members Area

Inside the Paid Surveys at Home Members Area is the training and list of survey sites. Other than those two main things the rest is just a promotion to get you to try to upgrade your account with up sells!
Training
The Training within the members area is almost worthless. Basically it gives you a brief overview of what paid surveys are and why they are available. You know the "companies want to hear your opinion" speech.

The only part of the training I thought might be helpful was Chapter 5: Helpful Tips. But all that section includes is always read the privacy policy and don't make more than $600 on one site or you have to report it during taxes. Not exactly what I was expecting
Survey List
You can see the list of survey sites in the picture below. Like I have mentioned above most of the sites on this list are reputable and companies I recommend.
The list shows the company's name with a link to their homepage, plus what region the survey sites is available in.
Advantages
 Good List Of Survey Sites (I recommend a few you can see them here!)
A list of other online money-making opportunities. (such as writing and freelance work all

can be

found through a search)
Easy to Refund Money through

ClickBank
Disadvantages
Paid for access to Free information
Training and secret is a complete joke
Sad up sells
Unrealistic Expectations on income potential
---
What To Do Now?
By now you have probably figured out that I do not recommend Paid Surveys At Home. It's not that I don't like some paid survey sites, but paying for a list is just crazy to me. If you're interested in survey sites you can see my FREE full list of 30 best survey sites here. 
I must warn you that most people give you unrealistic earning expectations. In total I make right around $100 a month in survey sites and that is just because I have over 100 referrals to all the sites I promote.
If you're looking to earn more online than you will from surveys, I recommend affiliate marketing. If you would like to learn how to get started in affiliate marketing for free click here!
Thank you for reading my Paid Surveys At Home Review. There is no reason to waste your time with this company, but hopefully you let me help you make money online by using the helpful links above. If you have had experience with this company I'd love to hear about it in the comments section below!
Summary
Reviewer
Review Date
Reviewed Item
Author Rating