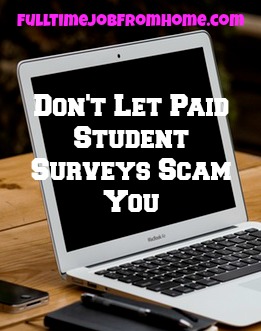 Paid survey sites are one of the most popular ways to make money online. For that reason there are more scams than you can imagine. Paid Student Surveys falls right into the scam category.
Paid Student Surveys will take your money, promise you outrageous income from surveys, give you what they call training,  and then give you a list of survey sites to join.
I have done many reviews on sites like these and they all have one thing in common they charge you for information that you can get anywhere on the internet.
Companies like this drive me crazy because they take advantage of people who are looking to make money online the honest way. Unfortunately for those people they are getting involved with dishonest people!
In this Paid Student Surveys Scam review I will be telling you about the company, what you receive when joining, and the long list of problems with this site!
---
What Is Paid Student Surveys

Paid Student Surveys was founded in 2007 by a Michael Stevens. Michael claims to make $5,000 a month off paid surveys and knows the secret to making more with online surveys. Paid Student Surveys mission is to give back to those looking for online surveys, but really they are charging you for Free information.
---
What Will You Receive When Joining
Once you join and pay $39.95 you will receive the following things
List of over 350 survey

sites

.
Free Training (secret to making more with surveys)
4 Free bonuses
---
How It Will All Work
Basically Paid Student Surveys will work like this. Once you have become a member a list of survey sites will be available. You click the link to the sites you would like to join. Once you join the different survey sites all contact and payments come from those survey companies.
Paid Student Surveys is just a list of tons of survey sites  you will not be contacted or payed by them ever. Not only did they charge a fee to see the list, but for every survey site you join they will be earning a commission on your earnings for referring you.
---
Paid Student Surveys Review
Website: paidstudentsurveys.com
Owner: Michael Stevens
Cost: $39.95
Score: 30 out of 100
Verdict: SCAM!
I gave Paid Student Surveys a 30 out of 100 based on the fact they charge you for information that you can get free all over the internet. Also on the homepage they give you unrealistic expectations on how much you can earn from survey sites. The training they have is worthless and they are completely scamming you! The only reason they received a 30 is because they have compiled a pretty good list of survey sites. Some of which I highly recommend to my visitors here.
It should be no surprise to you by now that I claim Paid Student Surveys as a scam. This is 100% a company to stay away from and I will go into more detail below!
Advantages
Long list of survey sites,

some

I highly recommend joining
Bonuses

include list of

other online job opportunities
Disadvantages
Paid for a list of survey sites that

can be

found anywhere on the internet.
Misinformed on the amount of money you will make
Terrible training, more like the Wikipedia page for survey sites.
You're giving your survey commissions to a dishonest person.
---
Things That Drive Me Crazy About Paid Student Surveys
The Home/Landing Page
Right off the bat I have a lot of problems with the home page of this website. Keep in mind this is their sales pitch to you. Unfortunately Paid Student Surveys has a lot of incorrect and unrealistic information on it.
Problem #1
First off the owner says that he makes $3000-$5000 a month from taking online surveys. If you know anything about surveys this is not possible. Most surveys take at least 10 minutes and may pay a $1.00. Its impossible for him to even take that many surveys in that period of time. Now in no way am I doubting he makes that much money. Honestly I bet he does from scamming people into buying his program and their survey commissions. But he is not making that much from taking surveys alone
Problem #2
Above is another picture from the landing page of Paid Student Surveys. These people never seem to fail at giving you outrageous hopes on how much you can earn through survey taking. If you don't know you will not find many if any surveys that pay $75. It's hard to even find surveys that pay $5. Most surveys that you will see range from the $.50-$5.00 with very few exceptions.
List Of Survey Sites
The list of survey sites, which is the main portion of this website, is a good list of survey sites. There is no doubt about it. I have already said this, but I actually recommend quite a few on this list. But still there is no reason to ever pay for a list of survey sites. These survey sites are all Free to join and can be found anywhere on the internet.
Training
If your aware that there is no reason to pay for a list of survey sites the only other thing that might appeal to you is the training. Or what Paid Student Surveys calls the secret to making more money with surveys. Here is the thing there is no secret.

You can see the picture of the different training lessons above. As you can see most of the training just explains what online surveys are and why people get paid to take online surveys. For some you may want to know that, but it's no big secret.
The only training that could be helpful is chapter 5 Helpful Tips to Increase Your Success. Guess what's on that page. Three tips 1) don't miss focus group meetings. 2) Always read companies privacy policies and 3) Don't make $600 or more through one survey site or you have to report it as income on your taxes.
Yeah those are all helpful I guess, but there is no secret or advice on how to earn more with paid surveys.
Bonuses
When you sign up and pay for Paid Student Surveys your given 4 bonuses.
Get Paid To Shop & Eat Out: Just another list of companies that

can be

found anywhere on the internet.
Get Paid To Blog: A promotion for different poor blog training systems nothing worth your time here. I do highly recommend blogging to make money, but none of the systems that he promotes are worth your time and money!
Get Paid To Drive: A list of companies that will pay you to put advertisements on your car. Just Google it!
Over 300 Additional Work At Home Opportunities: A list of oddball online jobs that won't make you any money!
---
Final Verdict
I know 100% that paying $39.95 is not worth the survey list and to me the training and bonuses all together aren't worth it either. Stay away from this company basically you paying for a compiled list of stuff you can find through a Google search.
I would not recommend joining Paid Student Surveys because it's a flat out scam, but one company that is completely legit is Wealthy Affiliate. You can see how they compare below.

---
What To Do Now?
Now you know to stay away from Paid Student Surveys, but what do you do now. Like I said before in the review all the survey sites can be found for free on the internet. If your looking for legit survey sites check out the ones I recommend here.
Some of you may be heartbroken over learning your not going to earn $5000 a month taking surveys. But there is a way to do that online. It's called affiliate marketing and it's how I earn 95% of my online income. Click here to learn more for Free!
Hopefully you enjoyed my review of Paid Student Surveys Scam. If you have dealt with the company in the past or have any questions please leave comments below!
Summary
Reviewer
Review Date
Reviewed Item
Author Rating