Fliiby Review: Is Uploading Pictures At Fliiby A Scam?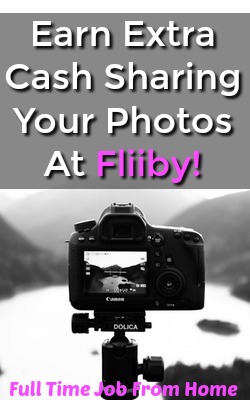 Fliiby is a relatively new site that pays you to upload images and videos. Share your content links with friends and family to earn cash based on views.
If you have content to share you might as well get paid for it. This won't be a huge income, but if you can accumulate 1,000s of views it's better than earning nothing.
In this Fliiby Review, I'll cover how it works, how much you'll earn, some complaints, and if this image sharing site is a scam.
---
Fliiby Review

Site: Fliiby
Type: Image Sharing
Verdict: Legitimate
In this Fliiby Review, I marked it legitimate. It does look like they are making payments and members are getting paid for their ad earnings.
Last Month I Made

$13,841 Online
I Bet You're Tired Of Making Pennies Online. No More BS. If You're Serious About Making A Full-Time Income Online You Need To See The TRUTH. Stop Wasting Your Time With The Next Big Thing When There's Already A Proven Method That Works!
With that being said, this will not be a huge income, unless your content goes viral and you get 1,000s of page views.
For most, this can be a small extra income from sharing photos/videos with your friends and family.
---
How Does Fliiby Work?
Create A Free Account & Fill Out Your Profile
Anyone can join Fliiby, and it's completely free. To get started enter in a bit of information and complete your profile. You can upload a profile picture and header image similar to a Facebook page. Once you have your profile filled out it's time to apply for the monetization program.
Apply For The Monetization Program
I highly recommend checking out the program guidelines before wasting your time applying. If you can meet the restrictions, you can apply by including a mailing address and selecting a form of payment. You can get paid via PayPal, Payoneer, Skrill, or Bank Transfer. You should hear back within a week if you're accepted.
Start Uploading Content
Once you're approved, you can start to upload original pictures and videos. Fliiby reviews every photo that you upload, it usually takes about 24 hours to get content approved. Once your content is approved, they will add display ads to your content.
Every time your content's approved, you'll unlock more storage space to upload more content.
Get Paid For Views
Once you have some content published, you'll earn a percentage of the ad earnings your content generates. From what I've seen most people make $1.50-$2.50 per 1,000 page views.
---
How Does Fliiby Pay?
Fliiby pays via PayPal once your account reaches $25. It seems that they make payments monthly.
You'll earn money from the ads displayed around your content. From what I've seen you'll earn $1.50-$2.50 per 1,000 views.
Based on the pay rate, it's not going to be easy to reach the cashout amount each month.
---
Fliiby Referral Program
Fliiby does offer a referral program that pays up to $5 per user you refer. Here're the details of the program. All new members start off as Silver status; you'll earn $1 per referral that joins and gets accepted into the monetization program.
Once you refer enough members (I saw in the forums 100), you'll become a Gold member. Once you're a gold member, you'll earn $3-$5 per referral depending on what country your referral's in.
---
Fliiby Complaints
Small Income/Cash-Out Amount
Every 1,000 views will make you around $2.50 on average (what I've seen in the forums). Let me be the first to say that getting 1,000 page views is not easy. If you just plan on sharing photos with your friends and family, you probably won't get many page views.
For you to get a ton of page views, you'll first need to produce excellent content, and then your content needs to be popular among Fliiby members. To make good money, your content needs to go viral on social media.
I'm not saying it's impossible, but it's not very likely.
Strict Program Guidelines
Before you can earn any money, you'll need to apply for the monetization program. There're some complaints from members that the program has some strict guidelines that might not fit the type of content you produce.
They have all the guidelines listed, so I recommend checking them out before joining here.
---
Is Fliiby A Scam?
Fliiby is not a scam. It seems like a completely legitimate way to make money from your pictures/videos. With that said, you'll need to receive 10,000 or more page views to make $25-$50. Your content needs to go viral to earn real money.
As long as you know that this won't be a huge income, you'll probably be happy with this site.
To learn more or to join visit Fliiby.com to get started!
Fliiby won't be a big income for most, but here's a long list of ways to get paid for your pictures online. It might be larger income to try and sell your photos.
Selling photos not for you? Here's an extensive list of ways I make an Extra Income Online.
Extra Income not for you? Have you thought about starting a Profitable Blog? My #1 Recommendation will show you how to start a blog, drive traffic, and make money. You can even post your pictures there and earn much more than you would on Fliiby!
Have you used Fliiby? Think this sites a scam? I'd love to hear your thoughts on this review in the comments section below! 🙂
Summary
Reviewer
Review Date
Reviewed Item
Author Rating