Survey Savvy Review: Is SurveySavvy A Survey Scam?
Survey Savvy is a market research company that has been around since 1999. I've reviewed them in the past and received several payments from them over the last 4-5 years.
I used to recommend Survey Savvy, but a lot has changed since I started using the site in 2011. Today I'd like to write a review of Survey Savvy and give you my opinion of why it's not the best survey site to join.
I'll also give you alternatives that I recommend over Survey Savvy. You can see all of the extra income sites I recommend here.
In this Survey Savvy Review, I'll cover how it works, how they pay, some complaints, and if SurveySavvy is a scam!
---
Survey Savvy Review
Site: SurveySavvy
Type: Survey
Verdict: Legitimate Not Recommended
In this SurveySavvy Review, I marked them legitimate because they do pay. But this is not a site I can recommend. There're several other survey sites out there that are much better.
If you join SurveySavvy and take surveys, you'll earn money and get paid, but you'll waste a lot of time trying to qualify and can wait up to 3 months to receive your check.
I don't recommend Survey Savvy, but do recommend these Survey Sites!
Last Month I Made

$13,841 Online
Make sure to learn how you can get started for free!
---
Making Money At Survey Savvy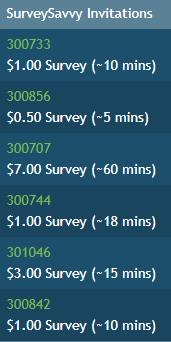 Once you join SurveySavvy for free, the only way to make money is by taking surveys. Make sure to fill out your profile, and you'll begin to receive survey invitations.
You'll see the survey number (not what the survey's about), how much it pays, and the estimated time to complete the survey.
Click on the survey number to begin the survey. A new tab will open, and you'll start by answering some screening questions to make sure you qualify.
Most of the time you'll answer 5-10 questions and be told you do not qualify for the survey. Occasionally you'll qualify and get to complete the survey for cash.
Most surveys range from $.50-$2.50 and take 10-30 minutes to complete. Sometimes you'll find surveys that pay more but they have very specific qualifications and usually take an hour or more to complete!
---
Earning More At Survey Savvy
SurveySavvy does have a referral program that can help you earn more, but it's very vague and hard to understand how much you can earn. Most referral programs say you'll earn this much when they sign up and a percentage of their earnings.
At SurveySavvy it says you'll "earn every time a referral takes a survey" but does not give an amount or percentage.
When I first joined, in 2011, I remember seeing you'd earn $1 every time a referral completes a survey, but this is no longer mentioned. I referred members 4 or 5 years ago, and I know that this was never the case.
You can earn money from referring friends; I'm just not clear on exactly how much!
---
How Does SurveySavvy Pay?
SurveySavvy pays via check only. Once you earn $1, you can request a payment via Check. Once you request a check, it could take 4-12 weeks to receive your payment.
I've been paid by SurveySavvy, from my experience 8-12 weeks is more of the average to receive your check.
Obviously, most sites pay much quicker, and you can see some sites that pay instantly here!
---
Survey Savvy Complaints
I Can't Qualify!
One of the biggest complaints with survey sites, in general, is not being able to qualify. When companies create surveys, they have a specific demographic they're targeting, and the truth is, most of the time it won't be you!
Survey Savvy is no exception, you can start any survey, but that does not mean you'll get to complete the survey and get paid.
Most of the time they will tell you after answering ten questions or less, but occasionally you get half way through a survey and get kicked out. Which means you just took your precious time to give out information in exchange for nothing.
The only survey site that only sends you surveys you're pre-qualified for is PaidViewpoint. You'll earn for every answer you give!
Check Only
I love to get paid cash from Extra Income Sites, but I prefer PayPal or Direct Deposit. The type of payments that are usually instant or within a few days.
At SurveySavvy you can only get paid via check and payments can take up to 3 months to receive!
Only One Way To Earn
Most of the extra income sites I recommend have several ways to earn. At Survey Savvy the only way to earn is by completing surveys. When you factor in not qualifying for many surveys, it limits your earnings!
---
Is Survey Savvy A Scam?
SurveySavvy is not a scam, I've been a member for several years and have been paid several times, but I can no longer recommend SurveySavvy as a good site to join to get paid to take surveys. You'll waste a lot of time trying to qualify, and you'll wait forever to get paid.
I highly recommend checking out PaidViewpoint, if you'd like to get paid to take surveys. They only send you surveys you're pre-qualified for, so you earn for every answer you give them. They also pay within 24 hours via PayPal! Check out my PaidViewpoint review to learn more!
If you'd like to see other ways I make money, check out all of the Extra Income Sites That Pay Me!
If you're looking for a bigger online income check out these helpful links:
Do you think Survey Savvy is a scam or a legitimate way to get paid to take surveys? I'd love to hear your thoughts on this review in the comments below!
Summary
Reviewer
Review Date
Reviewed Item
Author Rating