If you've been on my blog before, you know that I'm a huge fan of making money online anyway I can.
Although I make most of my income blogging, there's still one survey site that I use all the time. That survey site is PaidViewpoint.
The reason I love PaidViewpoint is that they only send you surveys that you're pre-qualified for. This means you never have to answer a few questions just to be told you're not eligible for the survey!
Another reason I love PaidViewpoint is it's available in any country that PayPal is available!
Please understand that although PaidViewpoint is my favorite survey site, you will never earn a ton of money taking surveys. If you're interested in making a full-time income online, check out My #1 Recommendation, it's how I made over $13,000 online last month!
On this page, I'll show you how PaidViewpoint works and how to get started making money taking online surveys!
---
How Does PaidViewpoint Work?
1. Join PaidViewpoint For Free & Earn $1 For Joining
Joining PaidViewpoint is completely free. You can do so by visiting PaidViewpoint.com. Once you join, confirm your email, and complete your profile, you'll earn $1 just for joining!
2. Take Surveys To Earn Cash
Once you complete your profile, wait for surveys to come in. There're two types of surveys at Paidviewpoint. I covered both below:
Trait Surveys: Trait Surveys are ten questions each and pay $.10 for each survey. With these surveys you'll see questions repeated, that's because they're building your profile and want to see consistent answers.
Market Research Surveys: Occasionally PaidViewpoint will send you Market Research surveys that you're pre-qualified for. These surveys vary in length and pay, but most take under 5 minutes to complete and pay $.25-$1.50.
3. Raise Your Trait Score
The key to earning more at PaidViewpoint is raising your trait score. To do this, you need to complete all the trait score surveys they send you. Make sure to be consistent with your answers; slowly your trait score will rise. As you raise your trait score, you'll be sent more surveys and earn more for every market research survey that you complete.
4. Cashout Earnings
Once you make $15, you can cash out your earnings via PayPal. You'll see the payment in your account with 24 hours of cashing out.
5. Invite Friends To Earn More
Once you join PaidViewpoint, you can invite your friends to make more. You'll receive 20% of all their earnings from market research surveys!
---
How Does PaidViewpoint Pay?
PaidViewpoint pays via PayPal, which means it's available in every country you can get a PayPal account. You'll need to earn $15 before requesting a cashout. Once you request payment, earnings show up in your account within 24 hours.
---
PaidViewpoint Payment Proof!
I've been using PaidViewpoint now for over three years and have made over $600 (includes some referral earnings.) Below I've included screenshots from my account and proof of my latest PayPal payment!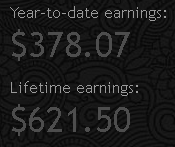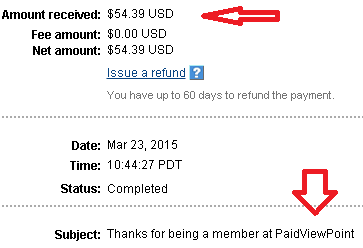 Join PaidViewpoint and Earn $1
---
How To Join PaidViewpoint
Now that you know how PaidViewpoint works and that it's a legitimate site, it's time to join for Free. As mentioned, when you join and complete your profile you'll earn a $1 sign up bonus!
To signup, visit PaidViewpoint.com.
If you're interested in making money online, I highly recommend checking out all the Extra Income Sites I use to earn money online.
Extra income not enough? Check out My #1 Recommendation, it's how I made over $13,000 online last month!
Do you have questions about PaidViewpoint? Make sure to leave comments below!